The moment Ross Taylor smashed Mohammed Shami for a four to deep square leg to bring an end to this roller-coaster ride, New Zealand players were all pumped up inside the dressing room. It was a defining moment in their sojourn that saw them attaining the peak and standing tall to bury an excellent Indian team. That an unbeaten 96-run partnership between Kane Williamson and Ross Taylor guided them to this achievement would be spoken for a long, long time as Cricket's very own eureka moment. 
However, a few hours before the final touch, it seemed like it would be a miracle. For absolutely no cricketing reason at all, but Rishabh Pant could make you feel like that. Despite a control factor of 74.6% in this innings, which was the lowest in an innings in which he has faced at least 30 balls, Pant briefly made Indian cricket believe to walk away with a draw. 
His partnerships with Ravindra Jadeja and then with Ravichandran Ashwin were few telling minutes in the game but the door was virtually shut on India's face the moment Virat Kohli and Cheteshwar Pujara fell prey to Kyle Jamieson's induckers. The duo were cleverly set up with a barrage of outswingers and a few seaming-in deliveries before they committed the biggest blunder by playing across the line. India lost four wickets for 74 - with an effective lead of 42 runs, lurking at the eventual danger. 
Pant frustrated the Kiwis following Rahane's dismissal and negotiated the swing bowling from Southee and Jamieson. The duo came around the wicket to test Pant's defense but an impeccable judgment of off-stump helped the Indian wicket-keeper settle down. The only option that Pant provided in the form of a slip catch to Southee was duly spilled, opening up a host of possibilities later.
However, New Zealand had their restless Neil Wagner to do the donkey's job. In the second spell, the Northern Districts' pacer bowled 52.8% of his deliveries on back of length and short length area, forcing the batsmen to fend to most of them. It was laden with a cost as well with Williamson bringing his close-in fielders further in while stationing a short mid and a backward square leg. It reaped dividends when Pant went full risk mode to hand a leading edge to Henry Nicholls. Mohammed Shami's quickfire cameo of 13 runs just delayed the inevitable as India folded out for 170 to give the Kiwis a target of 139 runs.
England might be a country where rain interruptions are quite common yet since the last decade, 83.3 percent of the matches have yielded results. Only in South Africa (88.7%) and India (83.9%), result percentages are higher. In Southampton, the wicket was hardly doing anything and was tailor-made for batsmen to take the game head-on. With no rain interruption in sight, a result was a foregone conclusion.
Ishant Sharma and Jasprit Bumrah's discipline coupled with odd inswingers from Mohammed Shami troubled Tom Latham and Devon Conway right from the outset. Just when Latham wanted to break free, Ashwin dismissed him stumping for 9 before scrapping out an in-form Conway with an in-drifter.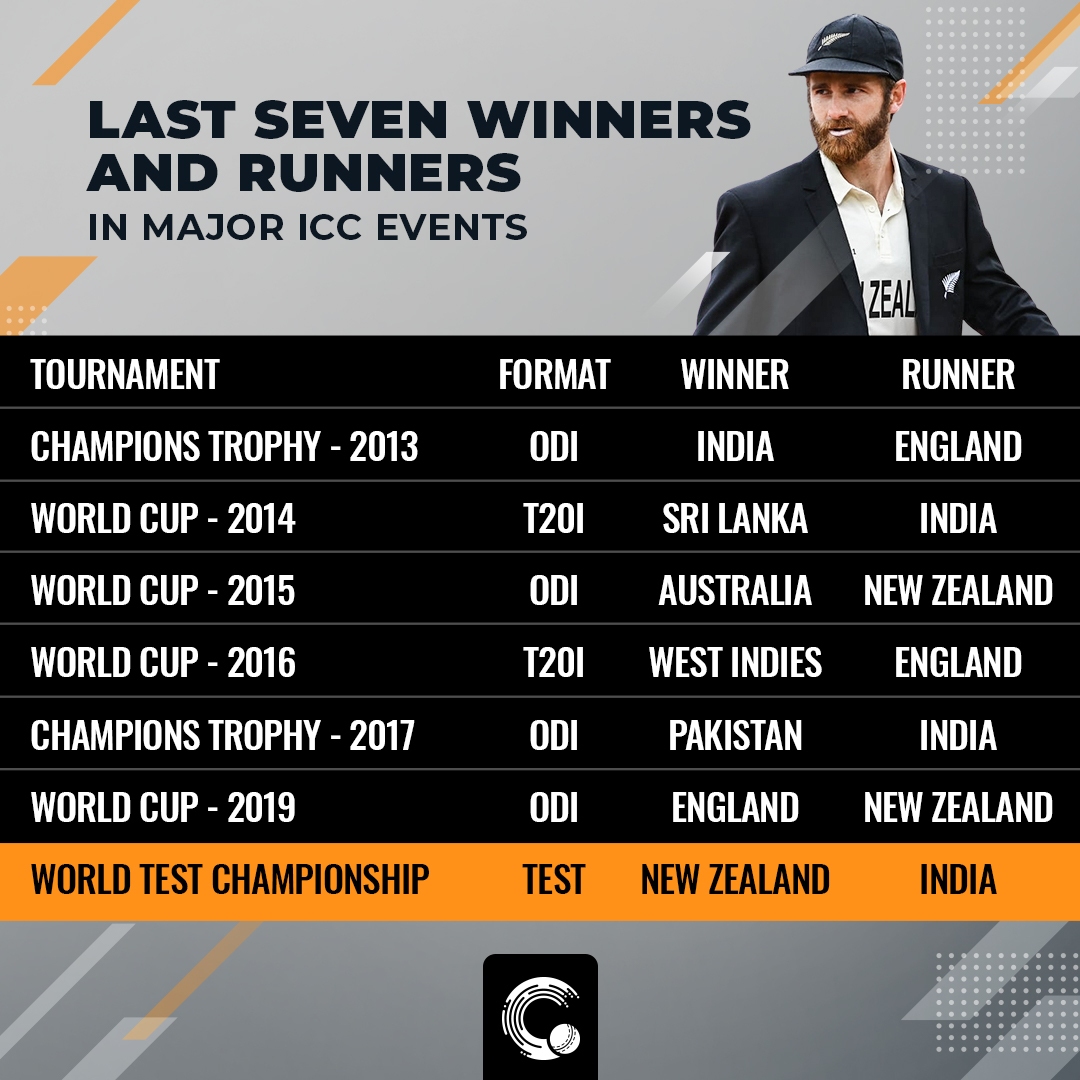 Subsequently what transpired would go down as the most memorable moment in New Zealand Cricket history. Kane Williamson and Ross Taylor punished the Indian batsmen with absolute authority and tracked down 139 runs to redeem themselves from the horror of the 2019 World Cup final and crowned Champions of the inaugural edition of the World Test Championship.