For a sport to flourish in a country, among other things, one needs stars whom the young boys and girls can look up to. And Indian women's cricket has been quite lucky in that respect. Although, there is still a long way to go in terms of facilities and the importance given to it by the board, but the heartening aspect has been the emergence of players who are ready to take over the baton.
The latest entrant to this premier club is teenager Shafali Verma. She is still a few months shy of being eligible to play a role in choosing the government in the country, but she has done more than enough to be the talking point for millions of its citizens. Hailing from Rohtak in the northern state of Haryana, she became the youngest cricketer to represent India in a T20I in 2019. 
Her story has all the ingredients of a blockbuster. Be it disguising as her brother to play in an Under-12 tournament or practicing with the Haryana men's Ranji team, she has defied odds at each stage. For a girl to take up cricket as a profession in India is easier said than done. There were quite a few struggles on the way and she withstood all of them. 
India's first Test captain Shantha Rangaswamy who knows a thing or two about struggles for women's cricket is mighty impressed by the youngster. "I think she is a player who comes once in a generation", said Shantha who with few others can be credited to have laid the foundation stones of women's cricket in the country. 
Although Shantha hasn't watched Shafali play live on the ground yet, she does follow her exploits on television. For a player who began as a T20 hitter, Shafali has come a long way and this was evident in her performance in the recently concluded Test against England where she scored 96 and 63. "Since the T20 World Cup last year, her repertoire of shots has vastly increased. Earlier she was on the front foot always and there was some hesitation in her backfoot play, but now she has cultivated that also. You should see her backfoot punches now", elaborated Shantha.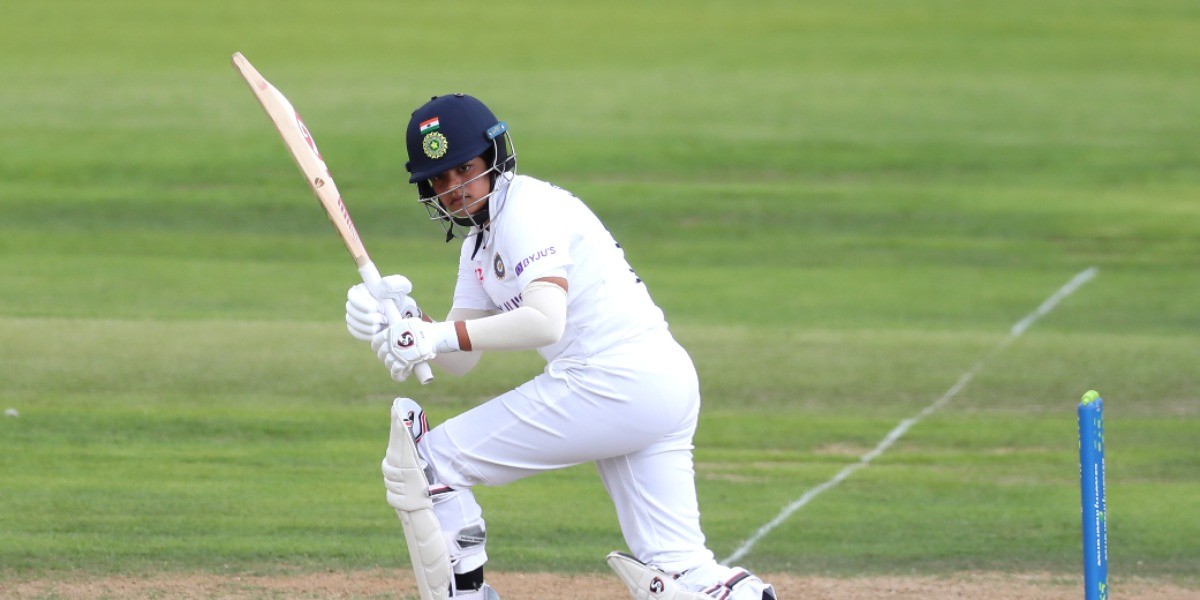 The former captain has also observed a remarkable improvement in Shafali's technique. She played perfect defence and stood tall while the seniors in the team struggled. But the best part about Shafali which has caught the eye of many people is her uncomplicated approach and fearlessness while batting. She does not hesitate to hit the ball over the bowler's head or heave it across mid-wicket. Concurring on this, Shantha stated, "She plays the ball on its merit and that's her best trait. I don't think it matters to her who is bowling. If the ball is to be hit, she will hit it. She doesn't worry about failure while batting and doesn't carry any baggage. She is devoid of all that."
But one area which the youngster still needs to focus on is fielding. Although there has been quite a lot of improvement in her fielding, but as per Shantha it is still a work in progress. And if Shafali continues the good work, there is no reason for her to climb greater summits. "She is definitely going to be one of the batting icons. I won't be surprised if she is the next Mithali (Raj) for India. Only thing is that she needs to ensure that she stays grounded and works on her fitness and fielding", told a hopeful Shantha. 
Given the rigors of competitive cricket, it will certainly not be easy, but she does have all the ingredients to succeed. For Shantha and other pioneers of women's cricket, it is gratifying to see the success of all the youngsters like Shafali, Deepti Sharma and Jemimah Rodrigues among others. The future of women's cricket in India seems to be in safe hands and with some support they can do wonders. 
While all this analysis of Shafali's game going around, I am certain given her simple approach, she would take one game at a time and not think much about the future. This quality of hers has often drawn comparison with the legendary Indian opener Virender Sehwag. Shantha too brought up his name, "It is exhilarating to watch her bat. The end product should be as good as Sehwag. I mean I can't praise anyone more than that."
Mark Twain had once said that 'Comparison is the death of joy', but cricket fans, scribes and players still indulge it in. The successful players use it to their advantage while few others succumb under its pressure. Shafali's fans would certainly hope that she doesn't get burdened by such comparisons and continues with her fearless approach which has brought her laurels till now.