Yuvraj Singh retired without any regrets. Or so he claims. A life right in the alley of a well-staged drama, Yuvraj had it all: starting as a teenage sensation, overcoming friction in the family, being at the forefront of one of the greatest triumphs in the country's sporting history and a bout with a deadly disease. Post-retirement, the one tinge of dissatisfaction with his cricketing journey was on not getting more opportunities in Test cricket. If only to get his father to "stop talking about Test cricket like it was unfinished, incomplete business".
Rohit Sharma's initial journey draws many parallels with Yuvraj. Earmarked the next big thing since the under-19 level, he was in the national side soon after turning 20. Rohit was to debut in Tests in 2010 against South Africa at home. But, an injury during war-up while playing football on the morning of the first Test delayed his debut in the format by three years. In limited-overs cricket in 2009-10, whenever there was a spot available, Rohit even received a preference over Virat Kohli. But, the class did not materialize into numbers. He soon fell by the wayside. Until 2013, when the decision to have him open in white-ball cricket turned his career around.
Six years later, it was the same move that gave a new life to his flagging Test career. As luck would have it, he got a chance to restart his Test career playing the same side against whom he missed his debut about a decade earlier. South Africa arrived in India in October 2019 for the latter's second series of the World Test Championship cycle. With only one half-century opening stand in the last 15 away Tests, India were desperate for someone to step up. Time was ripe to attempt one last experiment before moving on to the next generation of openers. 
Till then, Rohit's career had followed the Yuvraj curve. A match-winner in white-ball but frustrating due to inconsistency in Tests. During his time, Yuvraj was attempting to break into perhaps the best Test batting line-up of that era. "In Tests, I don't have the kind of relaxed confidence I bring to the field in the one-day game. Test cricket tantalizes me." wrote Yuvraj in his autobiography, maybe because he knew he will not get a longer rope.
This is where Rohit's journey took a different turn to Yuvraj's. Rohit, the Test opener was not an overnight phenomenon. On paper, Rohit's Test average was still a decent 39.62 then but it was largely due to a difference of around 60 in his home and away average. But owing to his success in the limited-overs, there was a consensus that he deserved a final look-in on the Test front. For Ajinkya Rahane it was tough to see a player like Rohit sitting outside. Which he did in India's first series of the WTC cycle in the West Indies. 
India's head coach, Ravi Shastri had asked Rohit to open in domestic cricket in 2015-16. In addition to the leadership group, those watching from outside from Ian Chappell to Sourav Ganguly were convinced that opening with Rohit was a good idea. Especially after five hundreds in English conditions as an opener in the 2019 World Cup. 
When the opportunity arrived, Rohit was mentally prepared. "The communication to me happened a couple of years ago that I might open at some stage. So even when I wasn't playing Tests, I was batting against the new balls in the nets."  Rohit scored a century in both innings in his first Test as an opener and hit a double hundred later in the series. After the league stage of the WTC, he is the only opener with more than 1000 runs. 
There is a reasonable argument here that most of these runs have come in easier conditions at home as he sat out during the West Indies tour and did not travel to New Zealand because of an injury. The difference between his home and away average in this period is still around 43.
But, an argument based on an embedded image of Rohit struggling against a moving ball from his early days blinds many to the tough runs he has scored in recent times. A dodgy hamstring had Rohit miss the first two Tests in Australia. In the last two, Rohit looked the most assured opener of the series from both sides. Though he has only a 52 and a 44 as innings of substance, facing the new ball delivered by the best pace troika was not an issue. A misjudgment outside off cost him his wicket only once. It was his aggression that cost him twice, caught at deep square-leg and long-on.
Back home early this year, the England pacers had Shubman Gill on toast. But, Rohit scored a 161 on a rank turner in Chennai and saw off the England new ball bowlers with a 66 and a 49 in the next two. Since he is has started opening in Tests, Rohit averages 46.6 to the balls moving in and 92 against those moving away. In contrast, Shubman Gill averages 21.7 against balls moving away, Mayank Agarwal averages 22.6 against balls moving in. Prithvi Shaw has struggled against movement on either side.
Since August 2018, while playing in England, 37% of openers have lost their wicket in the first 20 balls they faced. Rohit Sharma's control percentage of 81.3% as an opener in the first 20 balls is in line with his counterparts from other nations. It takes a slight dip after that but that is because his aggressive instincts take over.
All this does not guarantee success in the WTC final and the subsequent England tour. This just validates the success of the experiment to have him at the top so far. A Tim Southee out-swinger or a nip-backer from Trent Boult might send him back to the pavilion on a cloudy first hour. But, what if he survives till the time clouds choose to make way for bright sunshine?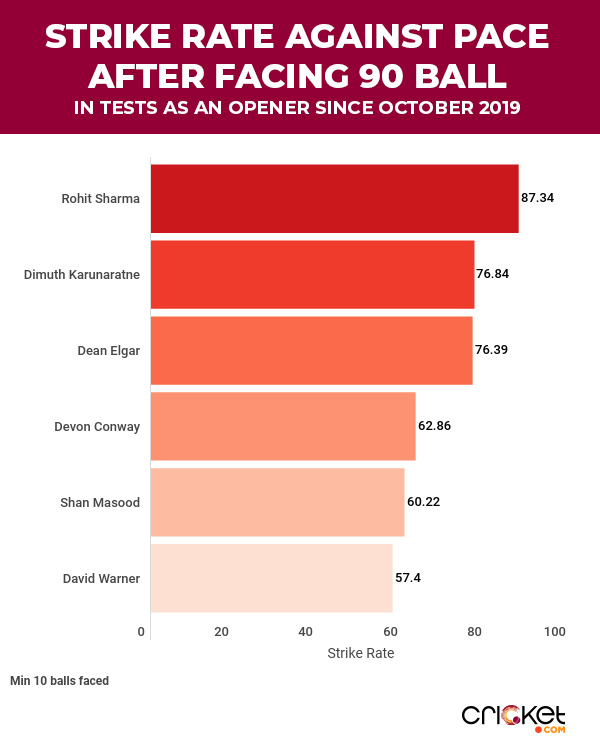 A strike rate of 87.34 against pace after facing 90+ balls stands unmatched. Moreover, due to his affinity to such type of bowling, he is India's best bet to counter the metronomic hit the pitch stuff from Neil Wagner. 
Since his early days of ODI struggle, Rohit has never been able to convert a few of the detractors. At this stage of his career being unproven against a swinging ball is the last straw they hang on to. Even to the extent of suggesting him faking an injury to give the tough tours a miss. But, to those who feel that faith in his ability might prove worthwhile in Test cricket as it did in ODIs, examples like him going through a quarantine just to play the last two Tests of the Australian summer is a testament to his desire to succeed at the Test level. "I kept telling myself I want to be there, I want to get a big score and take my team to a good position," said Rohit during his first series as a Test opener.
With the demands of modern-day cricket and a body not sculpted like some of his peers, it is uncertain as to how long can Rohit Sharma the Test cricketer go on. But if he can fulfil the promise he has shown so far in the next few months, there will be no time for regrets or dissatisfaction.