After bowling 48.5 overs in the first innings for his record feat of 10 wickets in an innings, Ajaz Patel was given a breather of just over 120 minutes as New Zealand were bundled out for mere 62 in 28.3 overs, not even half of what Ajaz bowled. India not enforcing the follow-on despite having a lead of 263, ended the second day with 69 runs on board without the openers being separated.
Starting the third day, Mayank Agarwal registered his second 50+ score of the match before he was dismissed for a score of 107. Once again, it was the man from Mumbai playing for New Zealand, Ajaz with the breakthrough. He continued his merry way as he bagged Cheteshwar Pujara as his 12th of the game. It was a one-way traffic for New Zealand bowlers until Rachin Ravindra became the first bowler for them apart from Ajaz to provide a breakthrough as he dismissed Shubman Gill. Virat Kohli in search of form battled his way through for 36. But, it was Axar Patel's late cameo of 41 from 26 balls that propelled India to a target of 500+. Ajaz ended up with 14 wickets in the match.
New Zealand batters once again crumbled, but this time it was Ravi Ashwin in the second Innings. Daryl Mitchell and Henry Nicholls resurrected the innings with a 73-run partnership for the fourth wicket. Mitchell completed a well compiled half-century, but a filthy shot caused his demise. India are five wickets away from a win in the second Test. Here are a few notable stats from the third day's play:
Monumental effort by Mayank
The second Test has all been about two players, Mayank and Ajaz. While Ajaz's feats hold a higher rank, Mayank's efforts aren't to be discarded. Following a fabulous 150 in the first innings, Mayank registered another 50+ score and became the 12th Indian opener to register a century and a half-century in the same match. To add more, he became the first ever Indian opener to achieve this stupendous feat against New Zealand in Tests.
Ajaz continues his merry way
India declared at the fall of their seventh wicket and that was the only way of stopping Ajaz from picking up more wickets in this match. Though he was born in Mumbai, Asian conditions are foreign to him as he has played most of his cricket in New Zealand. After a mountainous feat in the first innings, Ajaz went on to pick up four more in the second innings, taking his match tally to 14 wickets. This is the most wickets a non-Asian bowler has bagged in Asian conditions. Previously, Sir Ian Botham against India at the same venue in 1980 and Nathan Lyon against Bangladesh in 2017 had 13.
In Tests for New Zealand, only bowler has more wickets in an innings and it belongs to Sir Richard Hadlee who had picked up 15/123 against Australia in 1985 in Brisbane.
Also, this is the best spell by any bowler against India in Tests. Previously, Botham's figures of 13/106 were the best for a bowler.
Left-arm spinners delight
All the 17 wickets bagged by New Zealand in this match belonged to the left-arm spinners. In fact, all the wickets in this match have belonged to Indian origin bowlers, pardon the pun! But it's true. Coming to the point, Ajaz bagged 14 wickets in this match and Ravindra chipped in with his three wickets. This is the joint most wickets bagged by a team's left-arm spinners in a Test match. To emboss more, this is the most wickets taken by left-arm spinners where all-wickets in the Test have belonged to them. In the first Test of the 1909 Australia's tour to England in Birmingham, England's left-arm bowlers (spin and pace) had bagged all 20 wickets, the only instance of left-arm bowlers picking up all the wickets for a team.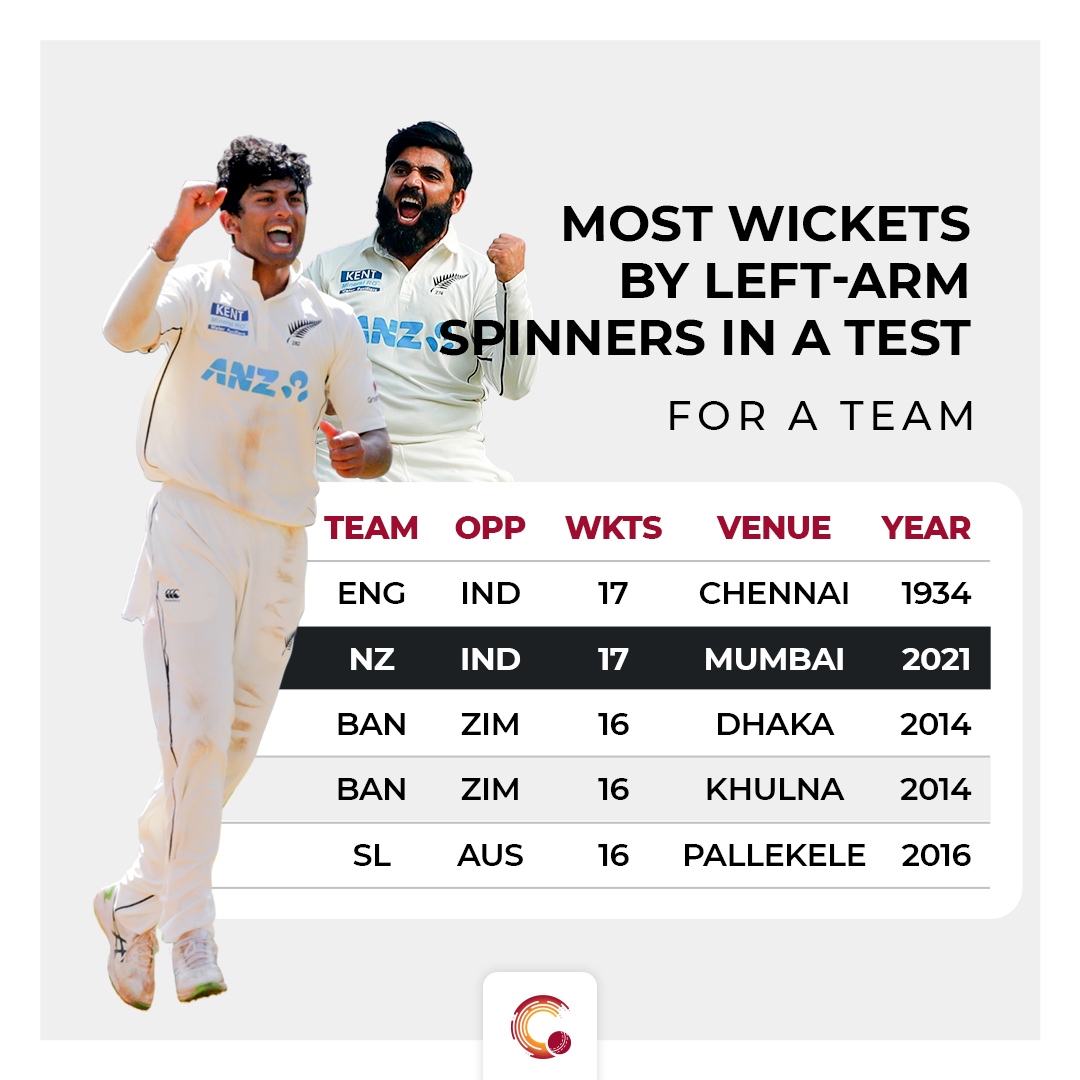 India's attacking instinct
The impact of T20 cricket has witnessed an attacking instinct in India's batting approach. Since the inception of the ICC World Test Championship, Indian batsmen have hit 157 sixes. Whereas, no other team has hit more than 100. Out of those 157, Indian openers alone have hit 64, the next best is 15 by Pakistan. In this series, Indian batsmen hit 25 sixes, which is the most they have hit in a two-match Test series.
A mammoth target
India's home dominance in Tests has been the most commendable one, especially in recent times. In the second Test, India had a 263-run lead when they stepped out bat in the third innings. Adding to that, they posted another 276 runs and took the lead to 539 and set a target of 540. In home Tests, this is their highest target set in Test. Overall, against the same opposition in 2009 in Wellington, India had set 617 as the target which is their highest and against Sri Lanka in 2017 in Galle, a target of 550 is their second highest.
Ashwin goes past the two Indian spin legends
In the first Test, Ashwin went past Harbhajan Singh's tally of 417 wickets in Tests to be the third highest wicket-taker for India. In this match, Ashwin registered another notable record. With the wicket of Will Young in the fourth innings, Ashwin notched up his 50th wicket in the year 2021 in Tests. This was the fourth year (2015, 2016, 2017 & 2021) in which Ashwin had breached the 50-wicket mark. By virtue of it, he became the first Indian bowler to pick up 50+ wickets in a calendar year four times. Anil Kumble (1999, 2004 & 2006) and Harbhajan (2001, 2002 & 2008) had done it thrice.  
Ross Taylor's poor run in India worsens
The highest run scorer and the most experienced player for New Zealand, Ross Taylor has endured another agonizing Indian tour. Throughout this tour, Taylor's scores read: 1, 6, 2 & 11 (recent first). In the four innings this series, Taylor has averaged five. Only once has he averaged less in a series and that was against South Africa in 2016 in South Africa. In the three innings in that series, Taylor averaged 1.5.