After ending up on the wrong side of the result in the inaugural World Test Championship final, Team India are all set to commence their campaign in the upcoming WTC cycle. A five-match Test series in England is their first assignment, and perhaps the toughest one too. Along with the WTC final, India have lost their last three-match Test series in England since 2011.
The Virat Kohli-led side fought hard in 2018, barring the second Test at Lord's - only to end up with a scoreline of 1-4 as they failed to 'grab their moments'. India might have won one more Test or two in a parallel universe if the other Indian batters had supported Kohli consistently throughout the series. One such batsman, you may think should have been Ajinkya Rahane.
Ajinkya Rahane against England in 2018
It was extremely difficult to score runs in the 2018 series as the challenging conditions and potent seam attack resulted in an exaggerated movement of the ball in the air and off the deck. Since the English pacers were more experienced in those conditions, the Indian batters' job was harder in particular. However, Ajinkya Rahane could have produced better returns.
On average in that series, the top-order batsmen (batting position: 1-7) averaged 30.2 with a median score of 18. Rahane, despite being one of India's blue-chip stock batsman, averaged just 25.7 with a median score of 16.5.
James Anderson and co. were outstanding in that series as they posed a big challenge against Rahane. He faced over 81% of the balls from the pacers within the height of the stumps and 75.31% in the fourth-stump line and the wide outside-off line combined. Their pace battery was ridiculously consistent.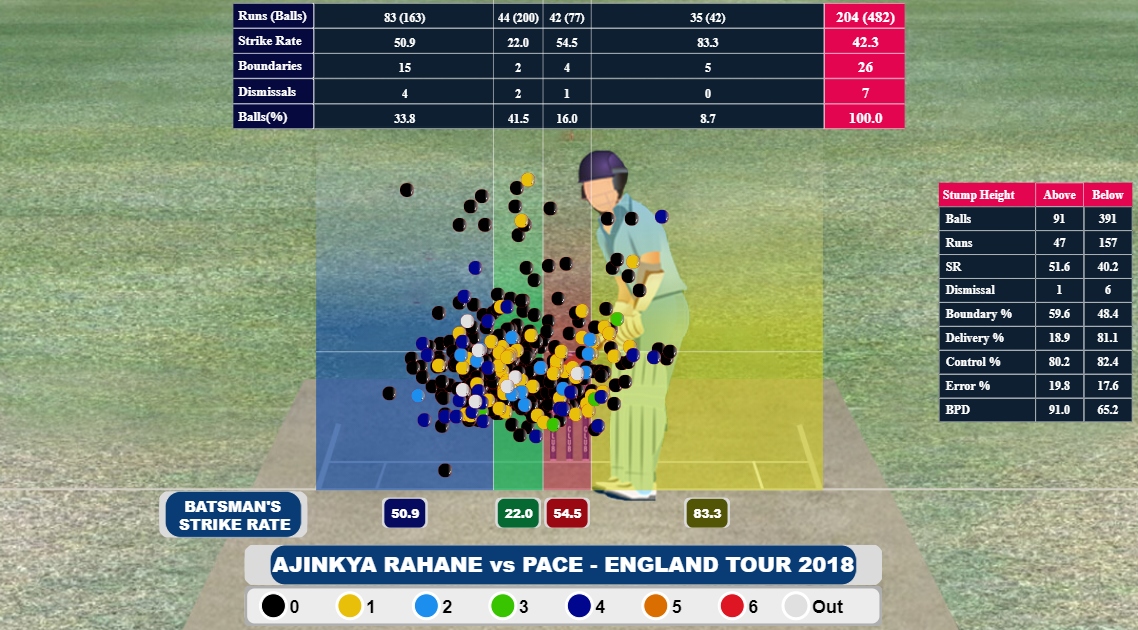 With the Dukes hooping around the corners, the corridor of uncertainty - the fourth-stump line - is the biggest threat in such conditions. Rahane received 41.5% of deliveries in that channel and was rightly sedate as his strike rate suggests. However, the 33-year old could have done better in the wide outside-off region. 
Rahane was dismissed on four occasions in that specific region, having a balls-per-dismissal ratio of just 40.75. Watching the videos of his dismissals, it can be concluded that he chased the ball and poked needlessly at times. The right-hander could have avoided three dismissals in the first two Tests of the series.
Overall, the last three Tests were pretty decent for him, especially given the kind of series it was. Arriving in the 27th over at the crease in the first innings of the third match, the Indian vice-captain capitalised well and added 159 runs for the fourth wicket with skipper Kohli. Rahane also displayed his skill and temperament in the fourth innings of the fourth Test as he scored a half-century on a turning track under pressure. 
Assessing his performance throughout the series, Rahane struggled with his footwork at times as he was low on confidence heading into the series, and some sort of uncertainty, regarding whether to play the ball or leave it, crept into his mind. He could also have been a bit more disciplined in the wide outside-off line.
What lies ahead for Rahane on this tour?
Rahane's technique against pace-bowling is not an issue for him; he has shown his class on many occasions. The Mumbaikar, along with his fine defensive technique, has a good range of classical shots in his repertoire. If he is in the right mindset and his footwork coordinates well with his body movement, Rahane should enjoy a good time in the upcoming series. 
Back-foot shots against pacers on the off-side can be really useful in English conditions. And Rahane does have them in plenty, particularly square cut and square drive. He is pretty good at ensuring a stable balance while playing the horizontal-bat shots. Rahane averages 36.5 with a strike rate of 166 while playing 44 square cuts on the back-foot against pacers in Tests since 2018. He has also accumulated 56 runs while playing 29 square drives without being dismissed. The elegant batsman also plays cover drives on the back-foot occasionally. 
All that being said, Rahane needs to get better at defending on the back-foot and while steering in the third-man region. It is a good idea to defend with soft hands to avoid getting caught behind. Furthermore, Rahane will have to dab to the third-man region wisely, to avoid needless edges. 
As far as the main challenges are concerned, Anderson and Stuart Broad will be supported by Ollie Robinson this time. Robinson can also swing the ball and seam it as well. His skill-set combined with his height and accuracy makes him a mighty weapon for England. Rahane will have to maintain a good head position for the inswingers and nip-backers. 
Sam Curran, also capable of swinging the ball, is expected to ask tough questions. While Jofra Archer and Chris Woakes are not there in England's squad for the first two Tests, they are likely to increase India's troubles once they are back. 
Rahane has top-scored for India in a bilateral Test series of two or more matches only once in his career - against South Africa in 2015. This doesn't mean he has always failed to play big knocks or score consistently; he top-scored for India in the first WTC cycle.
It is an excellent opportunity for Rahane to have a cracker of a series, and boost his value as a batsman in the side. He would want to have a stable start rather than a nervous and shaky one, and then be completely determined to bat long with discipline and contribute massively to the batting unit.