England beat Sri Lanka comprehensively in the first ODI by five wickets. Joe Root nurdled his way to an unbeaten 79* off 87 deliveries, also notching up his 34th ODI fifty. Eoin Morgan, England's limited-overs captain said Root is still very much in contention for this year's T20 World Cup. Root was England's leading run-getter in the 2016 edition but the classy batter hasn't played a T20I since 2019. 
"I think there are a lot of people who are in contention and certainly you can't rule Joe out. The role he played in 2016, the runs he scored and how he scored them went a long way towards getting us to the final. His knock in the final as well was outstanding," Morgan after the victory in the first ODI victory on 29th June. England are the world's best T20I side and the brand of cricket the side has resorted to in the last five years imposes an important question. Can Root make the cut to England's XI for the T20 World Cup? Does he make a compelling case? Let's deduce. 
Root is up against the very best
Root's numbers in T20Is are not poor by any means. In 32 matches, the right-hander has scored 893 runs at 35.72. The strike rate isn't the worst either - a reasonable 126.30. But where can Root be slotted in, in the current England side? England have a plethora of clean ball-strikers at the top of the order. Jason Roy and Jos Buttler make a formidable opening pair and at one drop they have the number one ranked T20I batsman, Dawid Malan. The southpaw has been a part of the English set-up since 2017 and has been piling on runs at a phenomenal rate. An average of 47.39 after 27 innings and a staggering strike rate of 143.04. To sneak in at number three Root is up against the very best in the world. 
For England at three, Root has scored 572 runs at 35.75. His strike rate - a decent 119.91. Compare this with Dawid Malan who has amassed 898 runs at 49.88 and has managed to score 143.45 runs per hundred balls at the same batting position. As far as boundary hitting is concerned, Malan smashes one every five deliveries while Root's collects a boundary every 6.6 deliveries. Malan trumps Root comprehensively. And, why would England even incorporate a churner at number three? England's approach has been aggressive from the outset, their ball-striking has been relentless and has worked wonderfully for them. Since 2019, England have operated at a run-rate of 9 - the second-best among teams, they have won 71.4% of the games in this period (the second best) for teams in the top ten ICC rankings. At number four, Root will be up against Jonny Bairstow and at three drop against skipper Eoin Morgan. Both irreplaceable in the current England set-up.
Joe Root in Domestic T20s
"I think circumstances in the last two years, given how busy the schedule is but also Test matches being a priority, hasn't allowed Joe to play as much T20 as he'd have liked. But he's one of the best in the world in most situations", added Morgan. But how well has Root done for his county side Yorkshire? How many T20 matches has the England Test skipper played in the last few years? Here's a look. 
Root has played 80 T20 games in the last decade. England play plenty of Test cricket but from the number of games he has played, Root's inclination towards the shortest format does not stand. Since 2019, Root has played as few as 15 T20 matches. Root's averaged 40 in these games but his strike-rate (128.3) compared to the likes of Alex Hales (151.4), Liam Livingstone (137.8) and Tom Banton (160.6) – the other players on the fringe seems rather feeble. 
2020 was Root's best T20 year. The right-hander scored 278 runs in five matches, averaged 69.5 and stroked runs at a brisk rate of 144.8 runs per hundred deliveries. Root is leading Yorkshire in the vitality blast this season. He's played three games for them so far (scored 49, 1 and 15) and has at least ten more to play. Root is one of the best Test batters, his numbers are staggering in the fifty-over format, but he has played way too little T20 cricket to warrant a call to the England side.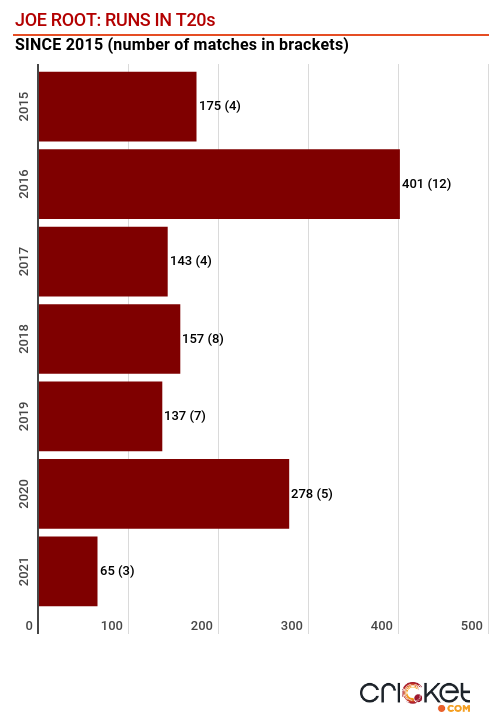 A ray of hope for Root?
The International Cricket Council (ICC) on the 29th of June confirmed that the ICC Men's T20 World Cup 2021 will be staged in the UAE and Oman due to the ongoing COVID-19 situation in India. How can this work in Root's favour? In the 2016 World T20 played in India, Root top-scored with 249 runs in six innings at an impressive strike rate of 146.47. The conditions in the UAE and Oman are roughly similar to that of India's and this is where Root's strike churning abilities coupled with a few lusty blows can come in handy for England.  
Also, run-scoring at venues in the UAE and Oman isn't as effortless as it is in England. Since 2019, the scoring rate (8.6 runs/over) at Sharjah comes close to what it is in most of the venues in England. At the other venues finalized for the 2021 World T20, the run rate hovers in the range of 7.6 to 8. Pacing the innings, holding one end might become equally crucial as taking the attack to the opposition. Root's T20I record in Asia is quite noteworthy and for once better than Dawid Malan's. While Malan has scored 148 runs (@37) at a strike rate of 120.32 in Asia, Root has garnered 427 runs, averaged 47.44 and struck them at 129.86 runs per hundred deliveries. As per Chris Woakes Root is the 'glue through the middle' which is what England will be needing in the World Cup later this year. 
Malan's technique will be put to the test but the southpaw is a proven match-winner and is likely to retain his spot for the big tournament. England like to take the attack to the opposition and they have done it with aplomb over the last few years. Root might walk into any other international side but the competition for a place in this England T20 team is super stiff. His omission from England's T20 side is more reflective of the depth of talent available in England than his ability to succeed in the shortest format of the game. Root has got a few games up his sleeve in the T20 Vitality Blast. Can he bring his power game to the fore to force a call? For now, though, the chances of him making it to England's T20 squad seem rather bleak.