The CPL 2020 has started with a bang, making a statement that the business of competitive T20 cricket is back. While the 'Trini Posse*' is not quite there at the venue to keep the party going in the stands, the organisers are doing their bit to have them in spirit, by involving fans online.
In the first leg of the tournament (first 10 matches), most of the usual suspects have performed on expected lines. Our CPL Most Valuable Player (MVP) until the first 10 matches are as follows. The MVP score is accorded to rate performances relative to other players.  It takes into consideration strength of the opposition into account and to find the impact of performance in boosting a team's chances of victory. The Criclytics MVP goes deeper in finding the impact of a performance and aims to show fans the real picture. The factors that go into the MVP calculation include some of the following parameters.
Batting: Runs scored, Batting strike rate
Bowling: Bowling Strike Rate, Dot Balls, Economy Rate
Fielding: Catches Taken
Sunil Narine
Sunil Narine seems to have put a higher price on his wicket in this edition of the CPL, eschewing the famed 'risk free approach' of slogging from the get-go. Narine's Balls-Per-Dismissal (BPD) in the last couple of years in his new-found top-order role before CPL 2020 was about 10.6 balls. In this edition, Narine's BPD has been almost 3 times higher at 27.3. 
Narine's Achilles Heel in run-scoring in the past 2 years (T20s) in the lead up to the CPL had been yorker length balls, bouncers and slow bouncers. He has been dismissed the most to balls that move away, though he had a strike rate against such deliveries above 150. This CPL, he has curbed that instinct to preserve his wicket, while he continues to plunder other types of deliveries.
Narine's remarkable rise in this year's CPL so far has been fuelled by two things. 
An ability to take lesser risks against deliveries that may trouble him. He strikes a tad lower at 120 and has played out 45 such balls getting out only once to a ball that was in that zone (Googly)
A Miller-esque 'If it's in the arc, It's out of the park' approach to balls in his zone especially against balls that move in, plain vanilla offspin, legspin and full-tosses. Strikes at 154 and has got out twice to such balls. 
Mohammad Nabi
Mohammed Nabi's addition to the Zouk's squad has bolstered their team as a whole. His vast T0 experience has brought maturity to the line-up. In the game against SKNP, the Zouks were ambling on a slow wicket with Nabi struggling to get the ball off the 30-yard circle. From a sluggish 7(12) to finish with a cameo of 35(22), Nabi was able to get the Zouks believe that they had enough on the board. 
His skills with the ball have largely been exploiting match-ups against left-handers and keeping them quiet (economy rate of 4). His 3 wickets so far though have come against right-handers with his stock offspinners at an economy rate of 5.
Roston Chase
The one holding fort for the 'troubled offspinner's' association has been Roston Chase after cricket resumed from its pandemic break. In an era where wristspin has found it's way into strategy decks of T20 teams, Chase has been quite a revelation so far, along with his mates at St Lucia Zouks with offspin finding a way to ward off teams from scoring runs. 
Chase found a way to get wickets against England in Tests, and continues finding a way in the CPL 2020 so far. Not just that, he also has scored two half-centuries in their 4 games so far, helping the pre-tournament weak-links St Lucia Zouks to express themselves and pilot themselves to the 2nd position in the table
Imran Tahir 
Imran Tahir is 41, and while age can be a factor that could go against bowlers, it's not quite the case for Tahir, who has got better. Tahir featured in our all-time top CPL bowlers and has been on a roll in this edition of the CPL
Tahir has bowled 70% of his deliveries to right-handed batsmen in this CPL, with 58% of his deliveries as dot balls. He has picked up a wicket every 12 deliveries. Tahir has been used well by his young Australian skipper Chris Green to deliver at key moments.  His match up against left-handers has been ordinary by his standards with an economy rate of 9.5 and a strike rate of 14.5. But one trusts Tahir to find a way through this as he has done in the last couple of years, with a better match up against lefties (ER- 7.4, SR-13.7) than right-handers (ER- 6.5, SR-15.6) when it comes to picking wickets.
Apart from this Top-10 MVP so far in the CPL, a few who have the potential to climb the ladder as the tournament progresses are the following. 
Scott Kuggeleijn (Rank 12)
With 10 wickets in 4 matches, Scott Kuggeleijn has been a standout performer in St Lucia's rise to the top 2 in the points table. His repertoire of variations has helped the skill-level the Zouk's bowling possesses. At the beginning of the innings his outswing has fetched him 4 of his 10 wickets and troubled the batsmen the most, while his off-cutters and straight lines have got him 2 wickets each. 
Colin Munro (Rank 17)
Colin Munro has been on a roll every alternate year at the CPL and his team will hope his contribution to the team's total stays well above a quarter of the runs. His ability in finishing chases and also getting through tougher periods in the middle order by grafting has helped TKR. In the 3 games so far he has made close to 25% of the team's runs.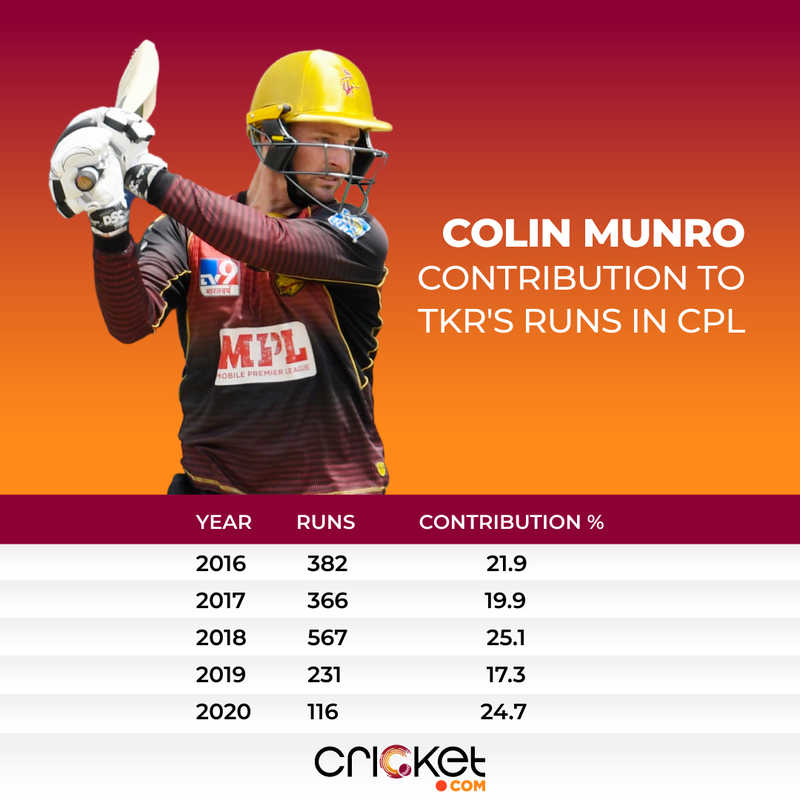 Shimron Hetmyer (Rank 20)
Shimron Hetmyer has clearly made some changes to his game this CPL and the results are there to see. His emphasis on more percentage cricket early on and backing himself to attack balls has made a difference this CPL from his overall T20 career. Hetmyer has started to leave balls at the start and go after the ones that are in his zone. He starts off with a run-a-ball for his first 10 balls and then tees off with an emphasis on finding boundaries.
To catch up on up on all the action this CPL 2020, do check out the stats, points table and the coverage we do for the games.
*Trini Posse - A collection of cricket enthusiasts from Trinidad who crank up the volume at the Queens Park Oval, resulting in great music, revelry and festivity in the stands.