On day 11 of CPL, the Barbados Tridents and the Guyana Amazon Warriors collide for the first time this season. The Tridents need to put their lackluster performance against the Zouks behind and focus ahead. With 4 points on the board and three matches left, they need to win every match to stay in contention for the play-off qualification race.
As for the Warriors, the win against Patriots after three consecutive loses was a relief. Overall in CPL, the Warriors do have an advantage over the Tridents with a 66.7% win%. Apart from the 2019 CPL final, in the last 5 matches, Tridents haven't won. 
HEAD TO HEAD
Overall: Matches – 15 | BT – 5 Wins | GAW – 10 Wins
At venue: Matches – 1 | BT – 1 Win | GAW – 0 Wins
Last 5 Matches: BT – 1 Win | GAW – 4 Wins
SUGGESTED TEAM 
While you could go for the above team, you also have the option of choosing your own team from cricket.com Fantasy Research Centre. Based on algorithms we come up with six different team that could fetch crucial points.
 GROUND DETAILS
This whole season of CPL has belonged to the bowlers, especially the spinners. The spinners have bagged 121 wickets, which is nearly 53% at a bowling average of 18.7 and a balls/dismissal ratio of 18.2. 
Considerably, the pitch at Tarouba was better for the batsmen as compared to Port of Spain this season. On an average 147 runs has been scored this season in Tarouba in the 1st innings. 
Bowlers have enjoyed early success in Tarouba since 2019 in CPL. The balls/dismissal ratio of 16.9 is the second-best among all venues in this timeframe. The bowling average at the venue as well is on the lower side, which suggests the bowlers have picked up wickets for lesser runs. 
TEAM COMBINATION
In comparison with Port of Spain, where the spinners dominated, at the Brian Lara Stadium, the pacers have picked up wickets a tad more than the spinners this season. However, in terms of average and balls/dismissal, spinners are still better than pacers. 
With bowlers dominating this season in both venues, it would be better to pack the team with bowlers. Both teams have some power-performers, especially in the spin department.
There are world-class spinners, legspinners mainly in both sides. The 41-year-old, Imran Tahir has been the pillar of Guyana's bowling this season. He is a definite choice in the fantasy team. The T20 maestro from Afghanistan, Rashid Khan is also one of the hot picks.
As for the batsmen, it's a hard one, as most of them have failed on a consistent basis. But, there might be few exceptions and Shimron Hetmyer is definitely one of them.   
Nicholas Pooran's sensational century in the last match is a positive sign for the Warriors. He alongside Johnson Charles, who himself is having a decent tournament can be the choice of wicketkeeper-batsmen. Kyle Mayers and Jason Holder could be the top picks among the allrounders. 
There could be a few interesting match-ups too.
JOHNSON CHARLES vs IMRAN TAHIR
It has not been easy for Charles when he is facing Tahir in T20s. In the 4 innings he has played against Tahir, he has been his prey on three of those at an average of 7.0.
 JOHNSON CHARLES vs KEEMO PAUL
Charles is generally good against the pacers and against Paul, he has been extra special. In 11 balls, Charles has scored over 30 runs at a strike rate of over 250 in T20s.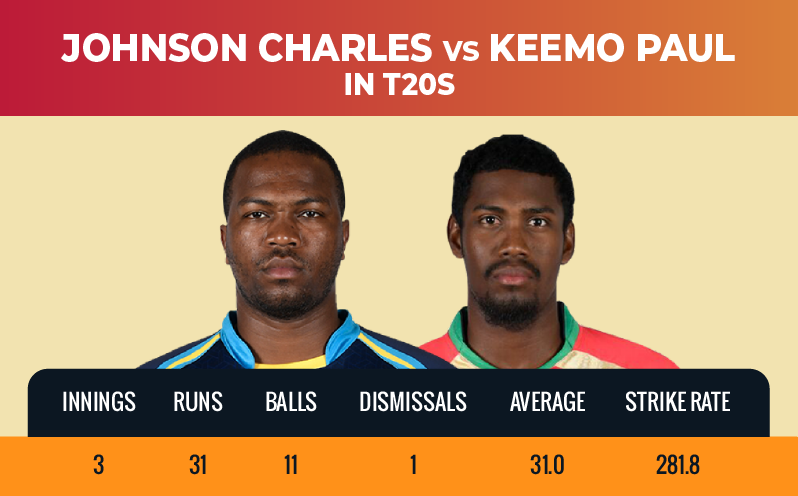 SHIMRON HETMYER vs RASHID KHAN
In a tiff between two young guns, both of them have blown hot and cold. Rashid has had the better of Hetmyer in 3 out of 4 innings and Hetmyer has managed to score at a strike rate of 180 against the leggie in T20s.
 NICHOLAS POORAN vs HAYDEN WALSH
In a battle between these two, it has been a massacre. Walsh has been bludgeoned in the 8 balls he has bowled to Pooran in T20s. The left-hander has scored runs at a strike rate of over 350. 
SUGGESTED CAPTAIN 
IMRAN TAHIR: The joint-second highest wicket-taker in the tournament has been the leader of the Guyana bowling attack. He has 11 wickets at an average of 15.9 and a balls/dismissal ratio of 15.3. Bowling in the powerplay is a new responsibility shouldered on Tahir this season. The experienced leggie has excelled in that as well.
The balls/wicket ratio of 8.0 is the best among bowlers who have bowled 5 or more overs in the first 6 overs this season. The quality cricket he produces makes him an ideal captaincy material in the fantasy team. 
Our Criclytics player projector predicts he would pick 0-3 wickets in Match-22 against Tridents.  
X-FACTORS
KYLE MAYERS: The allrounder has been the best batsmen for Tridents this season. He did find it difficult in the first few matches, but of late he has found form as a batsman. With 205 runs, he is the third-highest scorer this season. Since his shift from number 4 to number 3, Mayers has shouldered the responsibility well. Among the few batsmen who have excelled, the left-hander is also one of them and he is certainly an X-factor.
JOHNSON CHARLES: Charles isn't far from the highest run-scorers this season. He is just one run behind his team-mate Kyle Mayers. Out of those 204 runs, his 158 runs have come during the powerplay overs. Which suggests he is a good starter, but the only problem has been his conversion. His 158 runs in the powerplay is the most by a batsman this season. If he can repeat the same, he is for sure an X-factor that can fetch points. 
Our Criclytics player projector predicts he would score 13-36 runs in Match-22 against the Warriors.
RASHID KHAN: Countering Rashid Khan on a pitch that is suitable for spinners is really difficult. In this season as well that has been the case. Rashid with 9 wickets has struck every 16.6 balls. What makes it better is that it has come in the powerplay. He has had a wicket every 9 balls in the first 6 overs, which is the second-best among bowlers who have bowled a minimum of 5 overs. On any surface, Rashid is a handful, which is why he is an X-factor.
Our Criclytics player projector predicts he would pick 0-3 wickets in Match-22 against the Warriors.