How many Indian Test batsmen have made more away Test centuries than they did at home? – Sahil Joshi on Twitter
If you look at the leading Test century makers for India, several of them have made more centuries away from home during their careers. Among the 16 Indian batsmen who have the distinction of making 10 or more Test centuries, half of them (8) have made more away centuries, and this includes the top four centuries makers for India in Tests. Among the leading Indian century makers, Virender Sehwag has more home centuries than away – 13 at home and 10 away, while Sourav Ganguly has an equal number of centuries at home and away – eight each. In terms of away Test century percentages, Mohinder Amarnath is by far the best with nine away hundreds and with just two coming at home. 
Below is the list of Indian batsmen (with 10 or more Test centuries) with their away Test hundreds exceeding their home centuries. 
Australia recently lost the T20I match at Rose Bowl despite a good start. Openers David Warner and Aaron Finch put on nearly 100 runs while chasing England's total and yet lost. Is this a record in this format? – Ajay Paul on Twitter
The Warner-Finch opening stand in the Southampton T20I match was of 98 runs during their chase of England's 162. This incidentally is now the second-highest opening stand in a losing cause in a T20I chase. Last year in February at Dehradun, Irish opening pair Paul Stirling and Kevin O'Brien put on 126 against Afghanistan while chasing a world record target of 279. Once these batsmen were dismissed, Ireland could only muster 194 to lose the game by 84 runs. Below is the list of all such cases in T20Is.
In the Southampton Test match, England wicketkeeper Jos Buttler was involved in a huge stand of 359 runs with Zak Crawley. Is this among the highest Test partnerships that involve a wicketkeeper? – Biswajit Saha on Facebook
Jos Buttler's 359-run stand for the sixth wicket with Zak Crawley occupies the joint third position in Test cricket history involving a wicketkeeper. The highest still remains the 399-run stand also for the 6th wicket between Ben Stokes and wicketkeeper Jonny Bairstow at Cape Town in January 2016. Then comes the unbeaten 365-run stand, once again for the sixth wicket between Kane Williamson and keeper BJ Watling against Sri Lanka at Wellington in January 2015. Wellington once again saw a huge 359-run stand for the fifth wicket between Bangladesh all-rounder Shakib Al Hasan and wicketkeeper Mushfiqur Rahim in January 2017.
Could you please provide details for MS Dhoni and Suresh Raina while batting together in IPL? – Arun Venkat on Facebook
A4) The first time they batted together for Chennai Super Kings (CSK) was against Rajasthan Royals (RR) at Jaipur on May 4, 2008. They added six runs for the fifth wicket while taking the score from 38/4 to 44/5, when Dhoni was dismissed. CSK lost the match by 8 wickets. The last time they batted together was against Delhi Capitals (DC) at Chepauk on May 1, 2019. During this period - from 2008 to 2019 - their partnership aggregate is 1454 runs in 53 innings at an average of 30.29. They have put on 50 or more on 10 occasions, with the 74 against KKR at Centurion on May 18, 2009, being their best effort, but in a losing cause. Their top partnerships in IPL is listed below: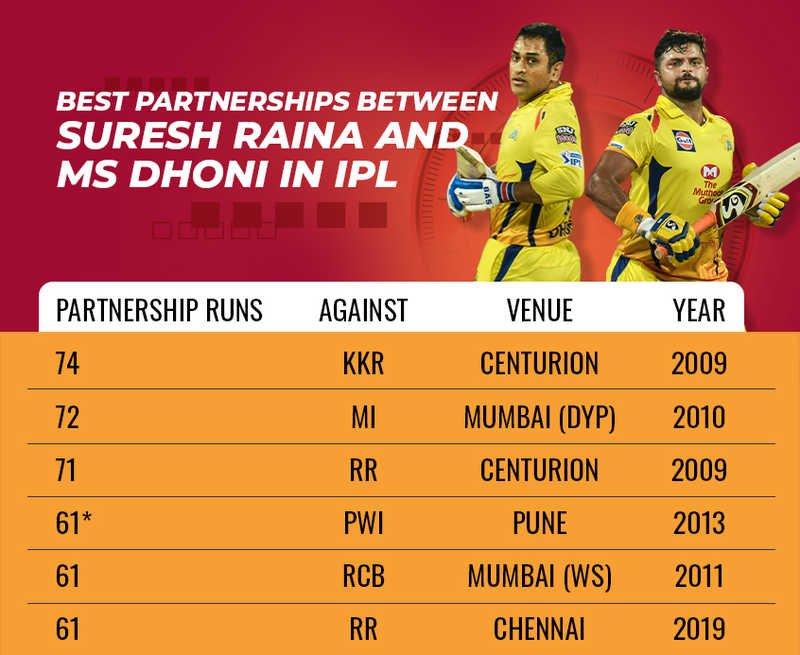 Note: Except for their best stand 74, the rest of the above instances have come in winning causes.
In the 3rd ODI match at Old Trafford, England 0/2 managed to reach 300. Is this the highest total for a side after losing the first two wickets without a run on the board? – Anand Kumar on Twitter
A5) England at Old Trafford became the first side to reach a total of 300-plus from such a disastrous position. While batting first, only on nine occasions sides have managed to make 200-plus scores, after losing two wickets without any runs of the board. Australia have done it on four occasions, while India twice, and once each by New Zealand, Pakistan, and now England. Listed below are such totals in either innings.
+ Lost match
# batting second
All records mentioned above are correct and updated as on 20 September 2020
If you have any cricket-related questions, then ask them using the #AskMohan and #StatsBurst hashtags on our social media channels. Reputed statistician, Mohandas Menon will be answering the selected questions.