Who is the best Indian captain in ODIs post-2000, and why? - Supratim Haldar on Twitter
Since 2000, two Indian captains stand out in ODI cricket. First MS Dhoni in 200 matches as captain has won 110, lost 74, drawn/tie 16, thus giving him a win% of 55.00, then Virat Kohli, the current captain in 89 matches, has won 62, lost 24 and drawn/tie 3, with a win% of 69.66. This win% for Kohli is fourth best among all ODI captains, with at least 50 matches while leading their respective sides. Only Clive Lloyd (76.19), Hansie Cronje and Ricky Ponting (both with 71.74%) have a better win% than Kohli in ODI cricket. MS Dhoni overall with 55% is positioned at number 23. 
However, it should have be noted that MS Dhoni has the distinction of being the only Indian captain to win a 50-over World Cup (2011) and the Champions Trophy (2013). And also, a T20 World Cup title (2007)! Therefore, my vote goes to MSD!
Who was the youngest Indian cricketer to score an ODI 50 against Australia? - Vinod Kumar Reddy on Twitter
Note: Tendulkar has two more fifties before the age of 22 years. One at 18y-271d at Sydney in 1992 and the other at 21y-138d at ColomboRPS in 1994, when he scored his maiden ODI century.
Who's played the most deliveries in ODI cricket and T20Is? - Gautam Bajpai on Twitter
Which cricketer has scored the maximum number of runs batting second in a losing cause in their international cricket career? - Arnab Ganguly on Twitter
When you say international career, I assume you mean in ODIs and T20Is while chasing. The combined figures for ODIs and T20Is are:
As ICC has imposed a ban on using "saliva" for shining the ball. Will it take the game away from bowlers? Or sweat will do the job? - Vinay Kalra on Twitter
There is no doubt both saliva and sweat are the required components to maintain the shine on the ball. Moreover, according to a leading ex cricketer, the third substance - Vaseline is lighter and it doesn't even ensure conventional swing. It can keep the shine but doesn't make the ball heavy. Under the circumstances, the bowler will have to do good with sweat. 
On the brighter side, England captain Joe Root has favoured the 'no sweat, no saliva' policy. He feels the ban could favour the bowler, as he believes the bowlers would be forced to better their skill sets in the absence of assistance. Root said they would have to find angles, wobble seam, and trying out new thing up their sleeves. He also added it can help develop the bowlers. "Not having the assistance that you might normally have means your accuracy has to improve." Meanwhile, several bowlers feel that this is a big advantage for the batsmen. By not using saliva the bowler's skills are diminished considerably. But then if saliva is not available then sweat can be used by the bowlers.
Chris Rogers scored a double hundred against Australia while playing for Leicestershire in 2005. Who are the other batsmen to have scored a first-class hundred against their native country? - Shubh Aggarwal on Twitter
Former New South Wales batsman Bill Alley also achieved this unique feat while scoring two first-class centuries against the 1961 touring Australians. He made 134 for Somerset in June 1961 at Taunton and then two months later in Sep 1961 he made 102 for AER Gilligan's XI at Hastings. Alley later in his career, became the famous umpire, officiating in 10 Tests and 9 ODI games from 1974 to 1981.
How many 5 Test match series have ended in a 0-0 draw, across all cricket playing countries? The first series India vs Pakistan in Pakistan had that scoreline. Any others? - Akshay Kumar Indian on Twitter
So far only four Test series of five Test matches have been drawn 0-0. India has been involved on three occasions, while Pakistan twice and once each by England, West Indies and New Zealand. India hosted two of these series, while Pakistan and West Indies one each.
Note: There were two other Test series of six matches where five matches were drawn, with one result. Interestingly both came in India.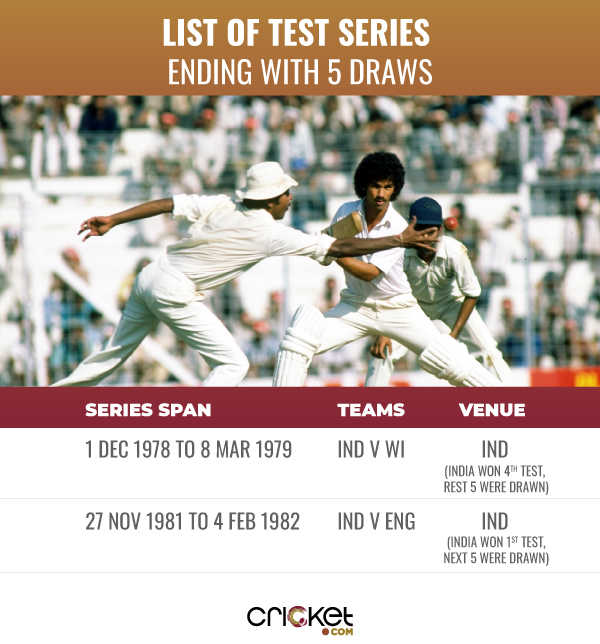 What is the least number of runs a bowler has defended in the last over of an IPL match? Who are the other bowlers to defend the least number of runs in the last over in IPL?
Four runs is the fewest number of runs defended by a bowler in IPL off the last over of the match (the 40th). 
The only instance came at Durban on 14 May 2009, when Mumbai Indians needed just four runs off the last six balls from Rajasthan Royals. Munaf Patel had the ball with still three wickets in hand. MI lost all three wickets (two by the way of run out), with Munaf conceding just 1 run in his five balls (0RoRo1X).
All records mentioned above are updated until 25 May 2020
If you have any cricket-related questions, then ask them using the #AskMohan and #StatsBurst hashtags on our social media channels. Reputed statistician, Mohandas Menon will be answering the selected questions.