How many players have made their Test debut for India at the MCG? – Shirish Deshmukh on Twitter
In all seven Indian players have made their Test debut for India at the Melbourne Cricket Ground (MCG) since the team's first official tour of Australia in 1947/48. The table below has the details and the results of the matches.
How many Boxing Day Test matches have India played in? – Ajay Kanwal on Twitter
Including the recent MCG Test match India has in all played in 16 Boxing Day Test matches since their first also at the MCG on 26 December 1985.  Their record in such Test matches is - won 3, lost 10, drawn 3, with a dismal win% of 18.75, which incidentally is one of the worst by any top Test side, barring West Indies and Pakistan. India's only Boxing Day Test at home came at the Eden Gardens in Kolkata against the West Indies on 26-31 December 1987, which was drawn! India has so far played maximum Boxing Day Tests at the MCG (9), followed by Durban (4), and one each at Kolkata, Port Elizabeth and Wellington. 
For the record, Australia has played in maximum number of Boxing Day Test matches (40) since their first in 1968. They have won the most (23), lost 8, drawn 9, with a %win of 57.50 – the only side with a 50+ %win, thus making it the most successful side in these traditional Test matches!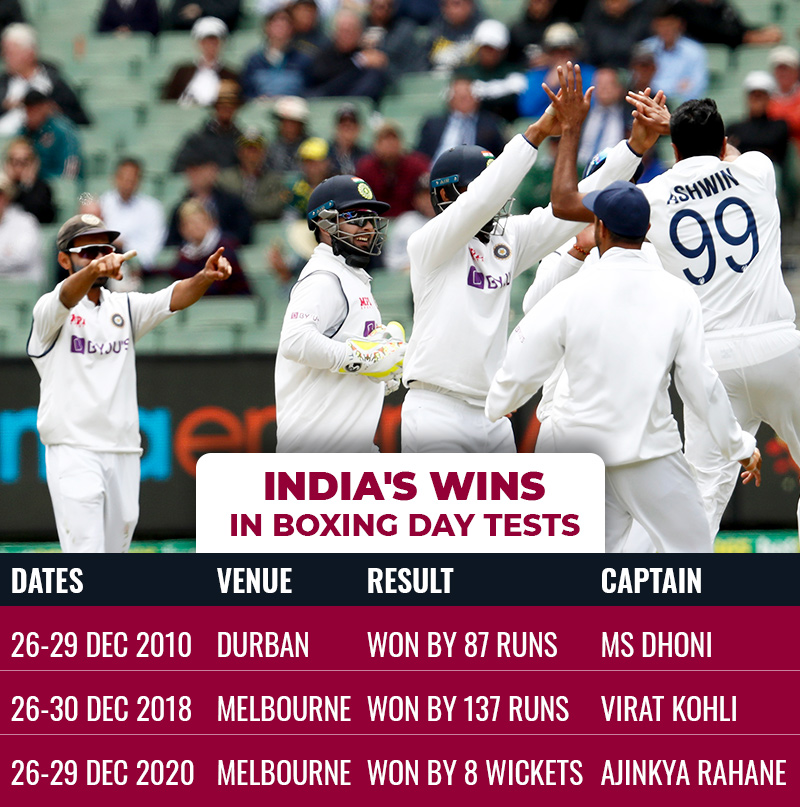 How often two Indian Test debutants have combined to claim a wicket? – Kartik Sunder on Twitter
This has occurred quite often since India's inaugural Test match in 1932. The last five instances by the two Indian debutants are listed below.
What's has been Sunil Gavaskar's record in Australia? - Praveen S. on Facebook
In his three tours to Australia Sunil Gavaskar has aggregated 920 runs at an average of 51.11 with five centuries. Only five other Indian batsmen have made more Test runs in Australia. Incidentally, he is the only Indian player to register a century at all five Australian Test venues. The tables below provide the details.
What is India's record when both Ashwin and Jadeja play together at home and away – Bhararthwajan on Twitter.
Since their first Test match together on 13 December 2012 at Nagpur against England, the combine of R Ashwin and Ravindra Jadeja have appeared in 38 Tests together, while winning 30 Tests, losing 2 and drawn 6. The only two defeats coming at Old Trafford, Manchester on 9 August 2014 by an innings and 54 runs and at Pune against Australia on 25 February 2017 by 333 runs! 
All records mentioned above are correct and updated as on 29 December 2020
If you have any cricket-related questions, then ask them using the #AskMohan and #StatsBurst hashtags on our social media channels. Reputed statistician, Mohandas Menon will be answering the selected questions.