Former India pacer Venkatesh Prasad has got nearly 300 international wickets across Tests and ODIs. He had a memorable tour of England in the summer of 1996 where he not only made his Test debut but also finished with 15 wickets in a three-match series. Now, Team India is gearing up for one of the most important assignments in English conditions and has assembled perhaps the best bowling attack for any overseas tour with Jasprit Bumrah, Mohammed Shami, Ishant Sharma, Umesh Yadav and Mohammed Siraj who have contrasting skill sets besides being genuinely quick. 
If you were to play today, who you would like to be among the current pacers? This writer initiated the conversation with Prasad who was the bowling coach of the Indian team which toured England in 2007, the last time when India won a Test series in that country.
"I want to be myself! It's the wrong thing to be someone else. Everybody is different and has their strength and weakness. No two players are the same," says former India pacer. "I have my own way of bowling. I was not the fastest but fast enough to extract bounce from high arm action and had the change of pace. And now you see the present fast bowlers, all are very fit and have a lot of variations and I can easily count 10 fast bowlers and that speaks volumes about Indian cricket's strength and it's same in other departments," says Prasad who is now involved in the game as a commentator and part-time bowling coach-mentor across various T20 leagues. 
Any discussion on Indian pace bowlers is incomplete without the mention of Bumrah who picked up 14 wickets in 3 matches at an average of 25.92 and strike rate of 57 in the 2018 series in England.
 "Bumrah is a completely different bowler because of his unorthodox action and is like Lasith Malinga.  Bumrah comes like 11 o' clockish and not the other side. He is opposite to Malinga and it's not easy to pick such bowlers. That creates doubt because a batsman is not sure if it's coming into them or pitching straight. So that's why he is much more successful. His unique action is helping him a lot, actually. Indeed, it's a combination of a lot of things," adds the 51-year-old Prasad in his complete admiration for the Gujarat pacer. 
Besides Bumrah, Indian captain Virat Kohli has got the luxury of the experienced Ishant Sharma who has 43 wickets across 12 Test in England at an average of 33.9 and strike rate of 61.3. However, Shami has just 21 wickets in 8 Tests across two tours in England at an average of 47.04. Yet, there is perhaps little doubt that the trio could be lethal as a combined force. "I will give you an example of (Javagal) Srinath. He was very difficult to hit so batsmen would not try to take chances against me and I used to pick up wickets because of that. It was not that I was (specifically) a wicket-taking bowler. He used to create the pressure. That is how you need to go about as (partners). You need to understand one another.  When Bumrah is bowling, everyone is trying not to attack him but the pressure is building," explains Prasad the virtue of being a fine support bowler as and when the situation demands.  
The former India bowling coach also feels that the fast bowlers, in general, have benefitted from the exposure to T20 cricket. "The game has been evolving so is pace bowling. Runs are being made at a rapid pace in Test cricket and similarly, in T20, the variations you see in bowling are amazing. Back of the hand, off-cutter, off-cutter bouncer then knuckleball and even yorker itself has gone into so many variations," says Prasad indicating that fast bowlers have not only learnt to survive but the learning of (various wicket-taking delivery from shortest format) is also helping their red-ball cricket. 
It's not that Prasad is extremely pleased with all the aspects of the current bowling attack.  The former Chennai Super Kings bowling coach is a bit concerned with the lack of options in the off-spin department. An upcoming talent who can challenge Ravichandran Ashwin in the coming years.
"We are seeing a lot of wrist spinners and not too many off-spinners. We need to develop off-spinners because I was just thinking after Ashwin who is the next big offie for India? Someone who is a genuine off-spinner and is conservative and orthodox. The next best we have is Washington Sundar who is quicker through the air and not the traditional off-spinner who flights the ball. Someone who can fox the batsmen with the seam position and turn and bounce and that sort of things like drift. You are not seeing that. So, who is after Ashwin that is a big question for me? The NCA has to take the responsibility and need to look for that kind of bowlers," says Prasad.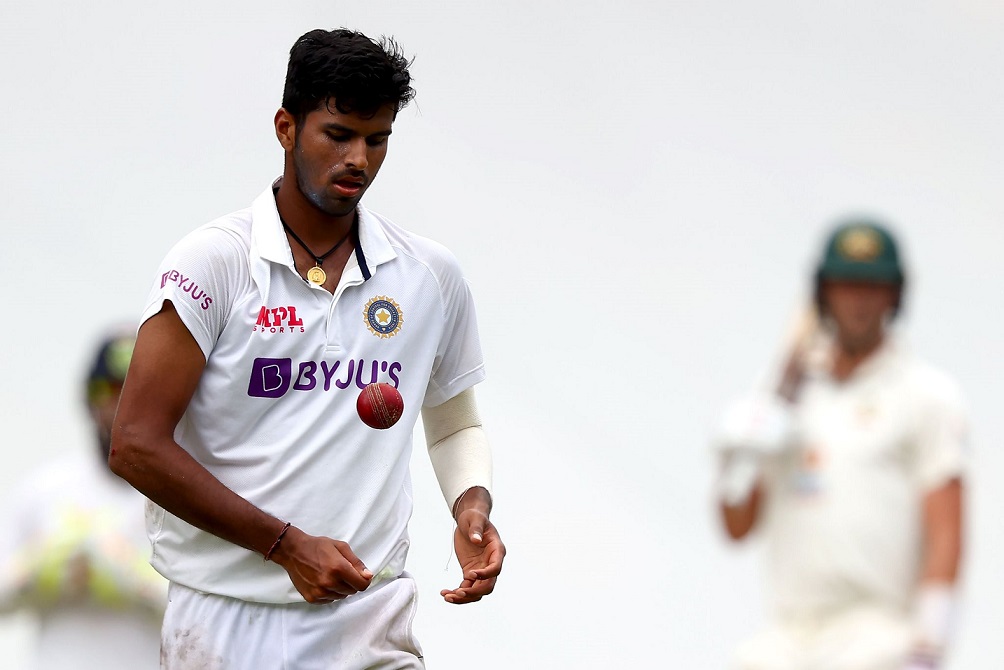 However, Prasad must have been delighted with the fact that from the 2016 Under-19 batch, Rishabh Pant and Sundar have made the transition from white-ball players to game-changers in red-ball cricket. Prasad was the head of that selection committee which picked some fine young talents very early.  "They have worked very hard. It is difficult to say who is really going to make it to the big stage but you can identify the talent and give them the opportunities and you can fast track them as we also did in 2005 when I coached the Under-19 team which had the likes of Rohit Sharma, (Ravindra) Jadeja, (Cheteshwar) Pujara and Piyush Chawla," says Prasad who was just four short of 100 Test wickets.
The genial cricketer still gets excited when he sees an upcoming pacer from any part of India. A lot of experts often talk about the need for raw speed or great control but for Prasad, something else is more important in a budding pacer. 
"For me, the attitude is a very important factor. Fast bowlers' job is not easy because you need to come back every time because you can't allow batsmen to dominate you. You have to step up your game the moment you realize that a batsman is trying to dominate you," advises Prasad. 
A lot has changed since Prasad retired in 2001. The demands and expectations from a pace bowler have changed significantly. "(The days of) bits and pieces kind of bowlers are gone (as team needs) genuine bowlers. Nowadays, you need to be a very good fielder as well besides being a quality pacer. And if you can add few runs with the bat that gives you a bit of advantage," signs off Prasad.