India will begin their five-match Test series against England, which are the last international matches before the T20 World Cup in October. As far as England are concerned, they will be looking to avenge their 3-1 series defeat in India. The last time India toured England it was a resounding defeat for the visitors. In fact, India haven't won a series in England after 2007.
But, symmetrically can India repeat what they have been doing? India's first series win in England came in 1971. Then, after a gap of three series defeats, India won their second in 1986. Again, two series defeats (1990 & 1996) and a draw in 2002, was followed up by a win in 2007. Since their first series win in England, India have won a series every three years. 2011, 2014 & 2018 have seen defeats, can they repeat the pattern? Before we head to the first Test, here are a few noteworthy stats:
Most series played against opponents  
India will be playing England in a series for the 35th time in Tests, which is the most series played by them against an opponent. As a result of this, India have played 126 matches against England, which is the most for them in Tests. India will be playing their 19th series in English conditions, with the remainder coming at home. In the 34 series prior to this, the 11 wins is the joint most against an opponent for India. A win will create history.
Joe Root to lead in most Test series 
Root has certainly been one of the successful captains for England. He is recorded 26 wins as captain – the joint most for an English captain is a testimony of it. In the first Test, Root will embark another milestone as he steps into his 18th series as England's captain, which is the most. In addition, a series win here, takes his tally to 10, which would be the joint most alongside Michael Vaughan.
Virat Kohli to equal MS Dhoni
Just like his English counterpart, Kohli has been the best captain for India. He has the most wins for an Indian captain in Tests (36) and also the most away wins. In the first Test, Kohli will be captaining India in his 22nd series, the joint most alongside MS Dhoni. In terms of wins, Kohli is way ahead of all the captains with 15 series wins.
The James Anderson threat
The highest wicket-takers among pacers, Anderson is a threat to any team. However, against India, he has been even more special. He has bagged 118 wickets against India, which is the most against them. The only other bowler to bag 100+ wickets against India is Muttiah Muralitharan. Out of his 118, 84 have come at home, the joint second for a bowler against an opponent at home. Only Harbhajan Singh against Australia in India has more scalps (86).
India's poor record on English Soil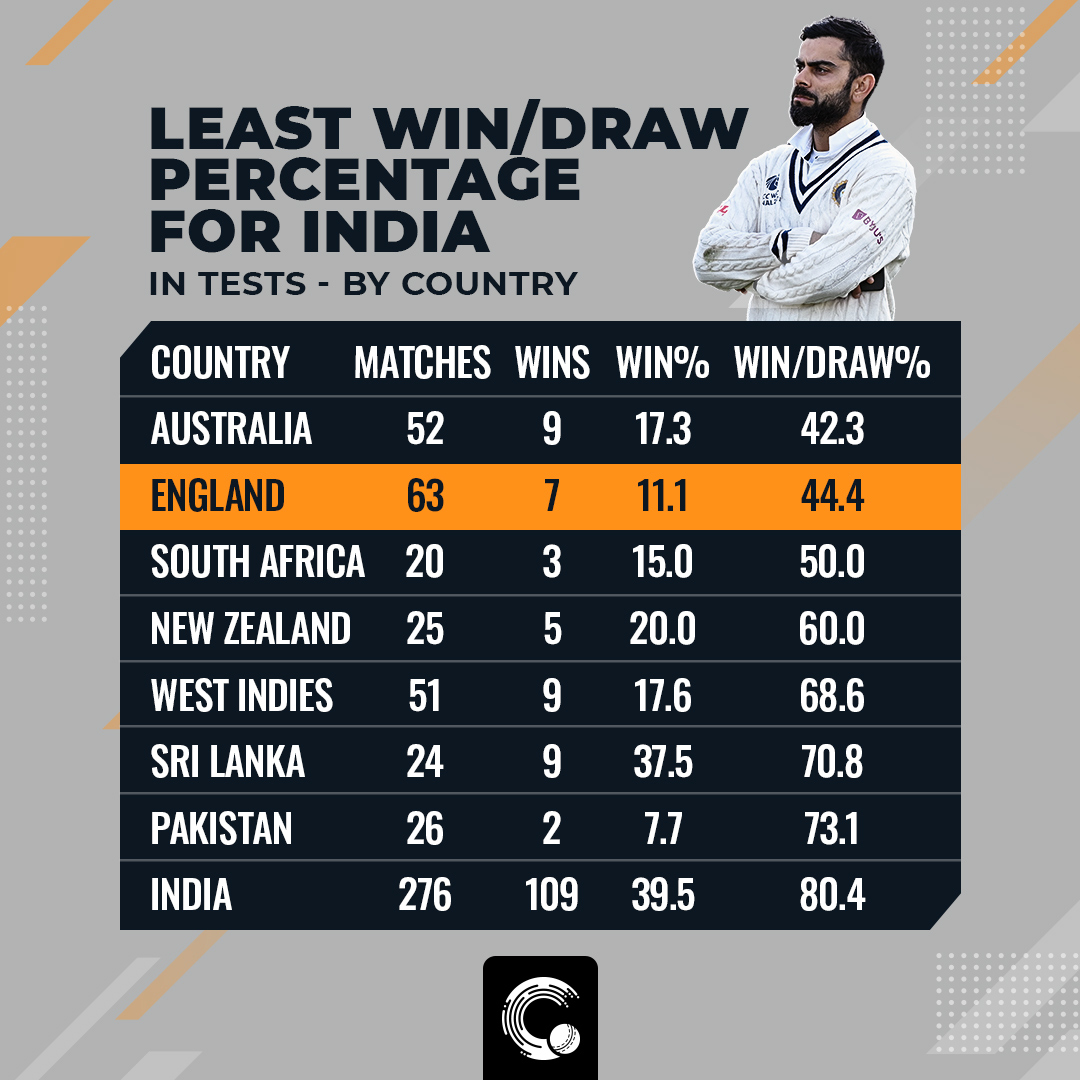 For any Asian team, English conditions are difficult to conquer. Among the three Asian nations, India, Pakistan and Sri Lanka, India has been the poorest. In 63 matches played on English soil, India have won only seven matches and lost 35. They have a win or draw percentage of 44.4 percent in England, their second worst in a host country. Though their win/draw percentage is lesser in Australia, they have a higher win percentage compared to England. When it comes to only wins, India have won only two matches in 26 encounters in Pakistan.
England's favorite home opponent
One team's agony is another's joy. India's poor record in England is directly proportional to England's success story against India. In fact, India has been England's bunny in their own backyard. In 62 matches played against each other, England has won 34. Their win percentage of 54.8 percent is the highest against an opponent in home conditions (among teams that have played 10+ matches).