It's not easy to be an overseas player in the Indian Premier League. These are the players who are paid big bucks and the franchise expects them to deliver almost every single time. On top of that, there are only four spots available in the playing XI and as a foreign player, you always have to be on your toes. Despite all the pressure, there have been many overseas stars in the past and present who have made their presence felt in the lucrative T20 league, and this year was no different.
Mumbai Indians won the title for the fifth time and the likes of Quinton de Kock, Kieron Pollard and Trent Boult played massive roles in that. Then there were batsmen like AB de Villiers, Eoin Morgan, Chris Gayle and a few more who lit up the 13th edition of the tournament with their destructive batting. Meanwhile, Kagiso Rabada, Anrich Nortje, Jofra Archer, Trent Boult and few others hunted batsmen with their pace and swing.
So, let's try to form a playing XI out of overseas players who did well for their respective franchises in the 2020 edition.
David Warner (captain)
The dynamic opener from Australia has arguably been the best overseas batsman in the history of the tournament. This year, Warner scored 548 runs at an average of 39.14 and a strike rate of 134.6, it was his sixth successive season with 500+ runs in the IPL. The left-hander played a conservative brand of cricket in the first half of the tournament and despite scoring runs, Warner looked far from his best.
Warner however changed his approach in the second half and played a huge role in propelling Sunrisers Hyderabad to the playoffs. He formed an outstanding opening combination with Wriddhiman Saha and helped Hyderabad win four games in a row. Warner is someone who scores on a consistent basis and that's exactly what you want from your star opener.
Quinton de Kock (wicketkeeper)
The wicketkeeper-batsman from South Africa has now played a massive role in two IPL titles for Mumbai Indians. Since joining the franchise in 2019, de Kock has scored 500+ runs in two consecutive seasons, with MI finishing as the champions both times.
In IPL 2020, the left-hander scored 503 runs at an average of 35.93 and a strike rate of 140.5. His quick starts at the top of the innings were pivotal to MI's success this year, with no-one scoring more runs than him (309) during the Powerplay in the tournament. No batsman hit more boundaries than de Kock (45) between overs 1-6 during IPL 2020 either. With Warner at the other end, de Kock would have the option of going berserk from the word go.
AB de Villiers
De Villiers might have retired from international cricket more than a couple of years ago, but that doesn't seem to have lowered his prowess on a cricket field. In IPL 2020, he scored 454 runs at an average of 45.4 and a phenomenal strike rate of 158.7, hitting as many as 23 sixes along the way.
The South African was crucial to Royal Challengers Bangalore's run to the playoffs. In fact, out of the seven matches that RCB won in IPL 2020, he scored 50+ in four and was the Player of the Match in three. If not for his stunning performances, Bangalore might have had to endure another season outside the top four. Considering the middle-order this team has, de Villiers could bat more freely and the No. 3 spot would give him ample time to wreak maximum havoc.
Eoin Morgan
The World Cup-winning captain mostly batted at No. 5 and 6 for Kolkata Knight Riders and despite that managed to emerge as their second-highest run-getter. The left-hander smashed 418 runs in 14 innings at an average of 41.80 and a strike rate of 138.41. Morgan brought that much-required calm presence in the middle-order and finished quite a few games for Kolkata. The 34-year-old is versatile and could easily bat at No. 4 from where he could dictate terms and play according to the situation or what the team demands.
Marcus Stoinis
The big man from Australia has been a part of the IPL for a few seasons now, but in no previous edition did he look like a world-beater. Hence, it was no surprise to see Bangalore releasing him ahead of the 2020 auction. In hindsight, you wonder if they have regrets about that decision after watching Stoinis star for Delhi this season. The all-rounder scored 352 runs and took 13 wickets in the recently-concluded edition of the IPL.
He was the only player this season to finish with 350+ runs and 10+ wickets. The most impressive aspect of Stoinis' game was his batting strike rate of 148.5, easily his best in an IPL season. Stoinis could bat at any position and you could also get a couple of overs out of him if needed.
Kieron Pollard
When it comes to causing chaos in the last few overs, there aren't many better than Pollard. The Mumbai stalwart scored 268 runs at a strike rate of 191.4, the best this season, and also took four wickets. He didn't get much chance to bat this season and not once played more than 25 deliveries. Pollard was only dismissed five times in 12 innings and ended the season with an average of 53.6. Pollard smoked quite a few fiery match-winning cameos and you need a player of his caliber down the order.
Sam Curran
The all-rounder from England did well in an under-performing team, taking 13 wickets and scoring 186 runs in what was a disappointing season for the Chennai Super Kings. Chennai failed to make it to the playoffs for the first time but Curran for sure made a solid impression. Apart from a couple of blistering cameos, Curran also scored a gritty fifty against Mumbai in the league stage. He also did a decent job with the ball in hand and is going to be a vital part of Chennai's revamp next season. He can bat, he can bowl and that's exactly what you need from your No. 7.
Rashid Khan
Rashid has conceded less than seven runs per over in every edition of the IPL that he has played in yet. In IPL 2020, he had his best season yet, with regards to the economy rate. The Sunrisers Hyderabad legspinner was as miserly as ever this season, conceding just 5.4 runs per over – the best by far by any bowler. By keeping the scoring rate of the opposition down in the middle-overs, Rashid played a huge role in guiding his team to the playoffs.
He was also among the top wicket-takers in IPL 2020, with 20 scalps. Yuzvendra Chahal (21) was the only spinner to take more. The oppositions these days try to play him out but Rashid always finds a way to get wickets. The 22-year-old would fit in perfectly in this team and mostly operate in the middle overs (7-15).
Jofra Archer
For the first time ever, the Most Valuable Player in an IPL season was from the team that finished at the bottom of the table. But there could be a little argument here. Criclytics, our predictive cricket algorithm, also had the Rajasthan Royals pacer as the top player of the tournament.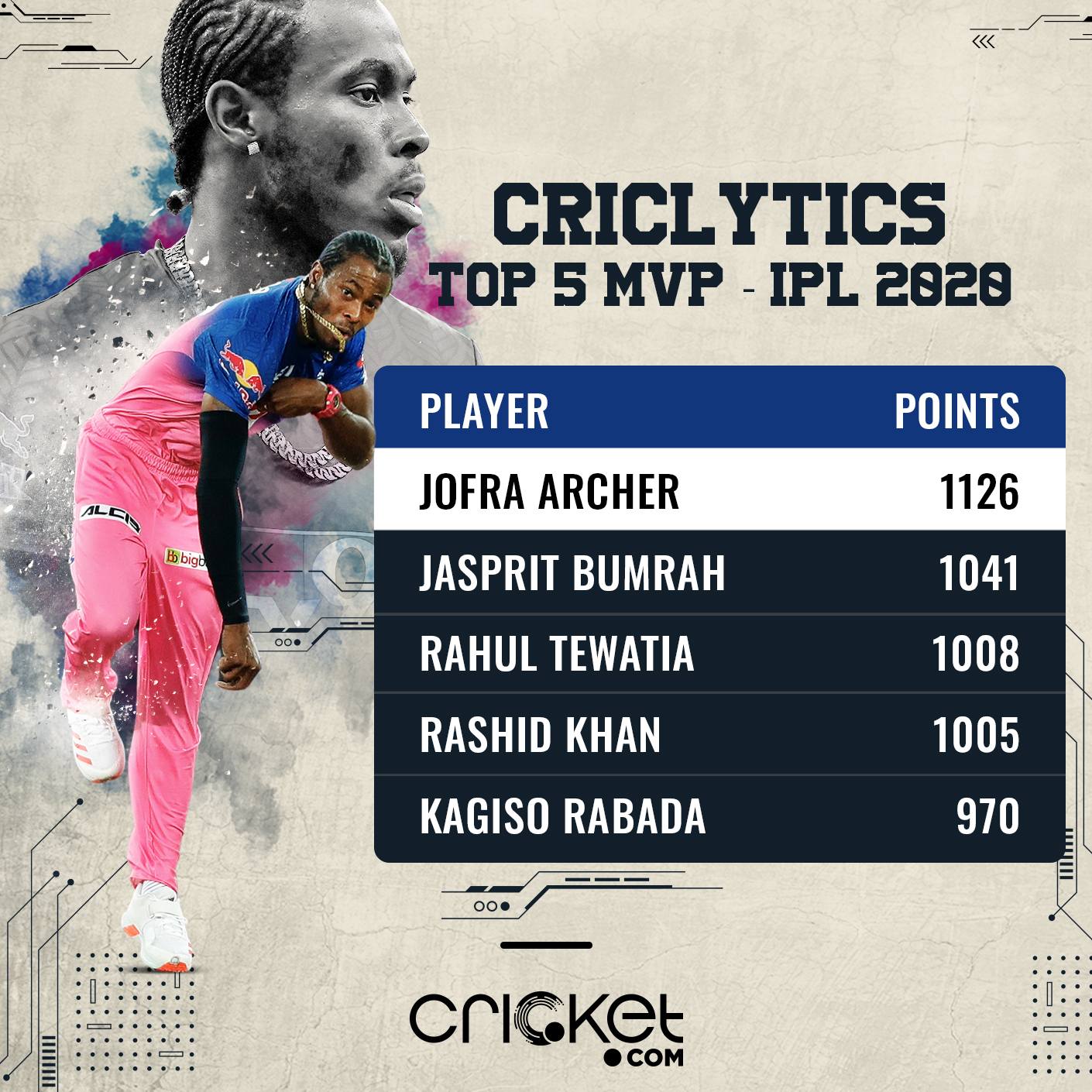 Archer took 20 wickets in IPL 2020 at a strike rate of 16.7. The most impressive part of his bowling, though, was how batsmen simply struggled to score against him. He ended the season with a dot ball percentage of 52.6, unsurprisingly the highest in the tournament. The right-arm paceman is someone who could bowl at any stage of the innings. The England cricketer also displayed his skills with the bat, hitting 10 sixes – one every 6.3 deliveries he faced.
Kagiso Rabada
During his three seasons in the IPL, you could say that the word 'wickets' has been synonymous with Rabada. It was no surprise then that the Delhi Capitals pacer won the Purple Cap this time around after having narrowly missed out last season. In IPL 2020, Rabada took 30 wickets at a superb strike rate of 13.1 which helped Delhi reach the final for the first-ever time. 20 of those wickets came in the final five overs, the most by any bowler during that phase.
The fast bowler took at least one wicket in his first 11 matches in the season, part of a run of 25 games in total across IPL seasons. In fact, considering a minimum of 25 wickets overall, no-one has a better bowling strike rate than Rabada (13.2) in IPL history.
Trent Boult
While Boult has had decent seasons in the past, never could you say that he was ever truly outstanding. After all, until IPL 2019, he had taken 38 wickets in 33 innings at an economy rate of 8.8. Hence, at the time, Delhi's call to let him go to Mumbai wasn't seen as an outrageous decision. In IPL 2020, though, Boult was magnificent, playing a huge role in Mumbai's title defence.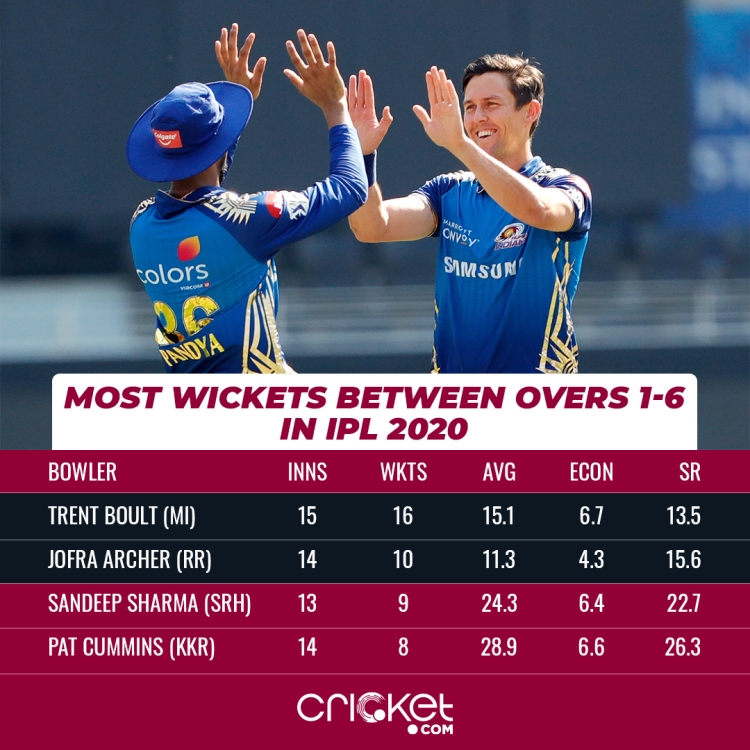 In total, he took 25 wickets at a strike rate of 13.8, but it was during the Powerplay where he made his mark. Between overs 1-6, he accounted for 16 dismissals in IPL 2020, six more than the second-best. He was the Player of the Match in the final, which was the icing on the cake. With Rabada and Archer in the team, you could simply bowl all of Boult's four overs upfront and the left-arm seamer could win you games just with the new ball.