Kohli is the first in IPL to 200 sixes and 500 fours; Stokes helps achieve highest successful chase ever against Mumbai
Chennai put in a complete performance to overcome Bangalore while Ben Stokes turned up at the right time as Rajasthan stunned Mumbai. Here are the significant statistical milestones from the double-header on Sunday (25th October 2020).
Joint-most 50+ partnerships in IPL 
Maverick and Goose from Top Gun, T-bone and Razor from Swat-Kats, Tom and Jerry, Buggs Bunny and Daffy Duck, these are some of the best fictional combos of all-time. Just like that, In IPL, Virat Kohli and AB de Villiers are one of the best pairs ever seen. With 3129 runs as partners, the duo is already at the top in terms of runs. Today (25th October 2020), they equalled the record for most 50+ stands in IPL. En route their 82-run partnership against Chennai Super Kings, the duo reached their 21st fifty-plus partnership. It is the joint most 50+ partnerships in IPL alongside Chris Gayle and Kohli.
Most sixes in IPL history
In his previous match against Kolkata Knight Riders, Kohli brought up his 200th six as a captain in T20s. Against CSK, when he lofted a six off Ravindra Jadeja, he got to his 200th six in IPL. He is the fifth batsmen overall and the third Indian to post 200 sixes in IPL. On a special note, Kohli became the first batsman in IPL to hit 200 sixes and 500 fours. The highest run-scorer of the marque Indian T20 league, pockets another record to his name.
Most singles taken by a team in an innings this IPL
When Kohli is batting, the other batsman needs to be on his toes. With quick runners like de Villiers, MS Dhoni and few others, it is a treat to watch Kohli run between the wickets. Against CSK, RCB batsmen had completed 65 singles out of the 145 they scored. The 65 singles taken by RCB is the most by a team in an innings this season.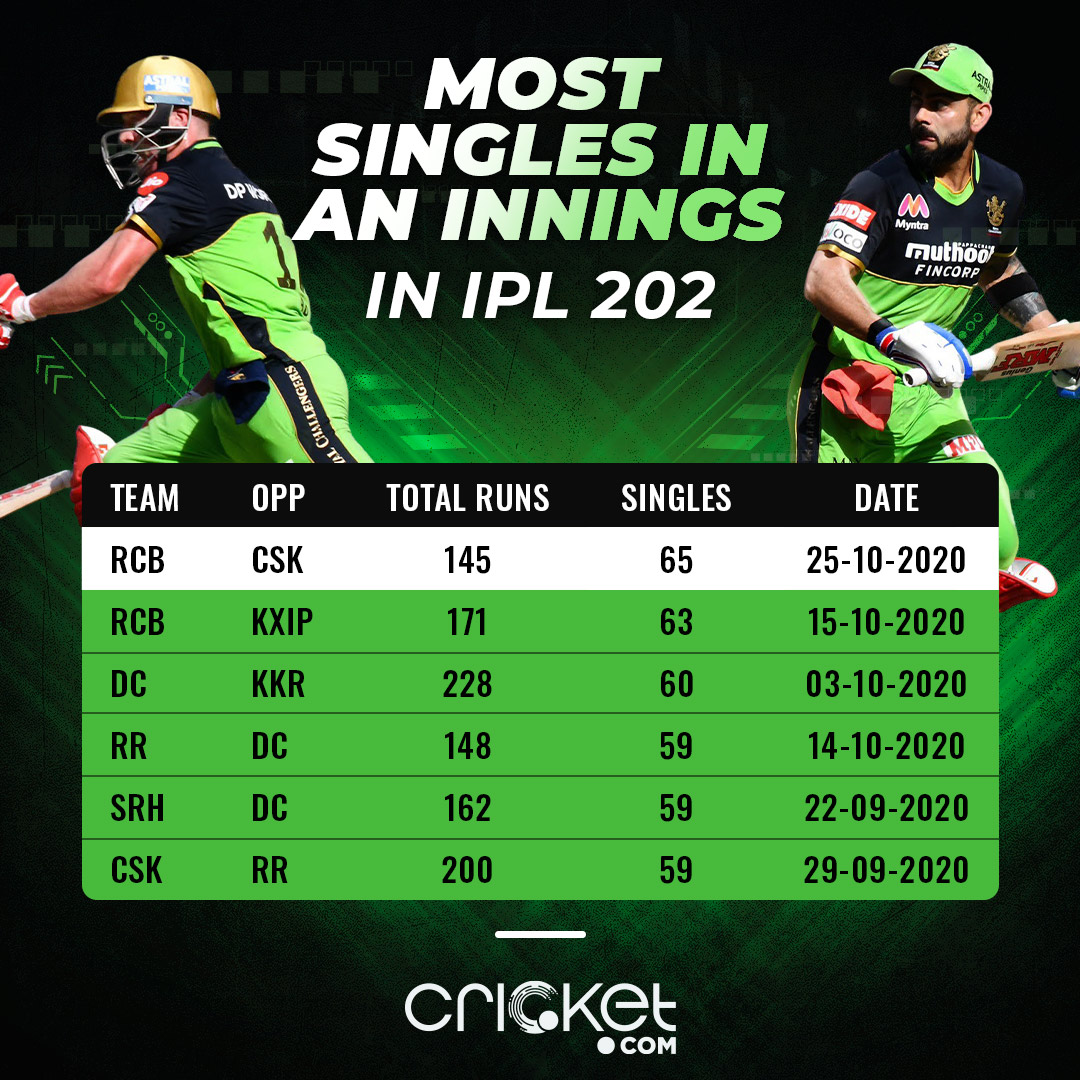 Best Powerplay score for Mumbai Indians this year
The absence of Rohit Sharma hasn't seemed to affect Mumbai Indians at the start. Ishan Kishan in both his innings as an opener has proven his worth. Though MI lost Quinton de Kock early, the run-flow didn't falter. Suryakumar Yadav alongside Kishan, played out Jofra Archer, the biggest threat and against the other bowlers they were brutal. MI put on board 59 runs for the loss of one wicket at the end of the Powerplay. This is their joint-highest Powerplay score this season, against KKR in Match 5 also they had scored 59/1.
Lowest middle-overs (7-15) score for Mumbai Indians this season
It was a match of highs and lows for MI against Rajasthan Royals. First, they set their joint-highest Powerplay score and then they posted their lowest middle overs (7-15) score. At the start of the middle overs, Kishan in particular, who had been going well in the Powerplay, was struggling for timing. The RR spinners made it more miserable for the MI batsmen. Finally, Kishan's innings ended with a screamer by Archer at third man in the 11th over. Then, in the 13th over, Shreyas Gopal accounted for Suryakumar and Kieron Pollard. At the end of the 15th over, RR bowlers who had been poor in the middle-over phase this season, had restricted MI to 57 runs for the loss of three wickets. The score of 57 is the lowest for MI in this phase this season.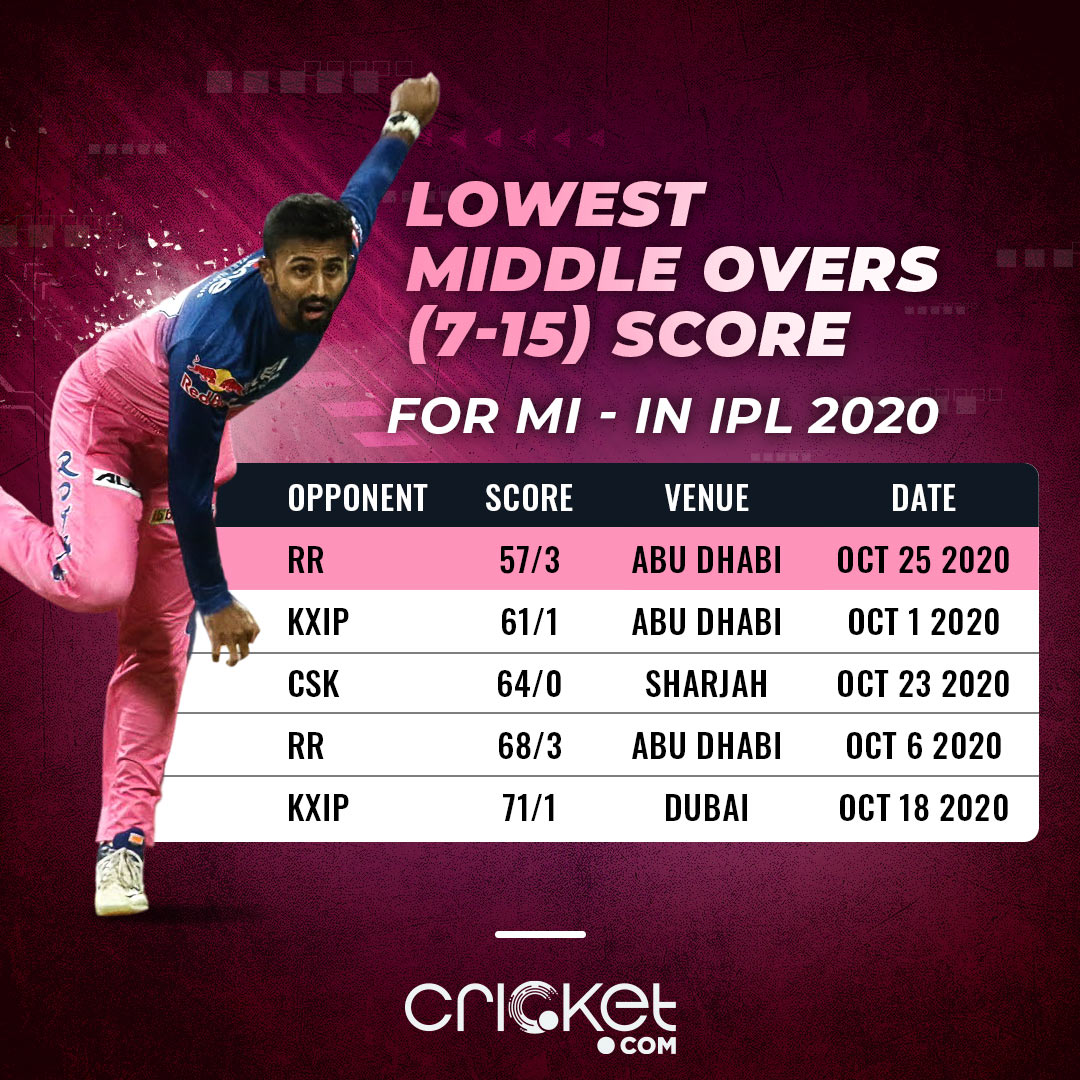 Costliest spell by a Rajasthan Royals bowler in IPL
Though RR bowlers had gone through an exceptional middle-over phase, it was Hardik Pandya's blitz that propelled MI to a score of 195. Hardik Pandya had blown hot and cold this season, but against RR, he was back to his usual self. When he is in that attacking mode, let alone domestic bowlers, world-class bowlers tend to struggle. Unfortunately, it was Ankit Rajpoot who suffered the most. Before he started his fourth over, Rajpoot had conceded 33 runs. Pandya seized the opportunity and went berserk as he amassed 27 runs. At the end of his fourth, Rajpoot had conceded 60 runs, which is the costliest by a RR bowler in IPL.
300 catches in T20s for Kieron Pollard
The big man from West Indies is one of the safest fielders. Against RR, when he pouched Robin Uthappa at mid-on, Pollard became the first non-wicket-keeper to 300 catches in T20s. No other fielder has more than 250 catches, the next best is Dwayne Bravo at 230. In IPL, he is 10 catches away from 100. Most of the time, Pollard is seen at long-on or long-off, which is the hottest area for opportunities.
Highest middle overs (7-15) score for Rajasthan Royals
Chasing a mammoth target of 196, the batting team expects a superlative start up front to continue the momentum. But, in RR's case it has always been the other way around this season. Ben Stokes, opening the innings alongside Uthappa, lost the latter early in the innings. The RR skipper, Steve Smith was also of no help as he perished in the penultimate over of the Powerplay. However, both Stokes and Sanju Samson came good in a crucial match to put 102 runs on the board in overs 7-15. The 102 runs scored is the most RR have achieved in this phase this season.
Highest partnership ever for Rajasthan Royals
RR couldn't have wished for more after two of their main batsmen struck form at the right time. Stokes and Samson were going through a horrid time heading into this match. Samson after his Sharjah heroics looked like he was too anxious and Stokes had starts, but couldn't convert. In a must-win match, both batsmen put on their best performance. They posted an unbeaten 152-run partnership against one of the best bowling line-ups of this season to fetch RR two crucial points. This was the first 150-run partnership by a RR pair in IPL. Prior to this Ajinkya Rahane and Shane Watson had put on 144 against CSK in 2015 in Ahmedabad.
Highest run-chase against Mumbai Indians in IPL
MI set high standards when it comes to batting, bowling or fielding, which is one of the reasons why they have the most titles to their name. Thanks to a blazing innings by Hardik, MI had posted a huge target of 196. But, the bowlers had an off-day, the likes of Trent Boult, Jasprit Bumrah, fell prey to a monumental innings by Stokes. RR hunted down the target with 10 balls to spare. This is the highest target that has been chased by a team against MI in IPL. Previously, Delhi Capitals had chased 195 in 2018 at the Wankhede.  
Second century in a chase in IPL for Ben Stokes
There is something about Stokes and big matches, whether it is for England or in any other team, he finds form at the right time. There were bursts of thirties and forties this season, but never the big ones. Finally, when he converted, he made sure it was a mammoth one. Firstly, in his 28th innings for RR, Stokes registered his first 50+ score for the franchise. Secondly, this was Stokes' second century in IPL and both have been while chasing. He is the only batsman in IPL, to register two centuries while chasing.