There have been only a handful of cricketers who have gone on to play One-Day Internationals (ODI) and T20 Internationals (T20I) for two nations. Mark Chapman became one of the latest players to jump ship to New Zealand after playing 19 T20Is and two ODIs for Hong Kong between 2014 and 2016. His stint with Hong Kong involved playing the ICC Under-19 World Cup 2010 when he was just 15 and five years later in 2015, he became the first associate player to score a century on ODI debut. 
Nevertheless, Chapman has been toiling hard with Auckland in the domestic circuit and it has paid dividends as he has represented New Zealand in four ODIs, five T20Is and looks to add more to his tally in the coming months. Adding a Test cap to his kitty would indeed be a huge achievement for him and Chapman hopes that he is not very far away from one. "I feel like I've developed my long form game a lot over the last couple of years and I'm encouraged by some of my performances in the recent past. I hope that I'm not too far away from being in selection conversations when it comes to Test Cricket, but I'm very much focused on enjoying my cricket and learning from every game I play," Chapman, who celebrates his 26th birthday today said in a chat with Cricket.com.
He has been in top form at first-class level in the last two seasons, in which he has averaged 54 and 68.25 respectively. His knocks include a century against India A and more recently, he scored twin hundreds (143 & 146) against Northern Districts that propelled Auckland to a nail-biting one-wicket win after they successfully chased down 371 on the final day. 
In the same game, Northern Districts captain Joe Carter too slammed centuries in both innings making it the first instance in the Plunket Shield where two players have scored twin centuries in the same match.
Talking about that match, Chapman says," It was a great game of cricket, it's definitely one of the most exciting games of first-class cricket I've been involved in. The initial plan was to keep wickets in hand for the last session and back ourselves to chase whatever was required after tea. Unfortunately with the way things panned out we lost early wickets and had to consolidate. It wasn't until our wicketkeeper Ben Horne came out and started adding some impetus into the innings did things start to unfold for us."
"Ben and I put on over 200 runs at 6.5 runs an over for the 6th wicket, which upon reflection is quite staggering. It's amazing to think that after four days of cricket, on the penultimate ball of the game, all results were still possible. Thankfully for Auckland we managed to get over the line, which made contributing in a significant way even more special," Chapman who made his debut in the 2015-16 season added. 
Speaking of his bowling, which has fetched him 33 competitive wickets to date, Chapman says he loves to be able to chip in with the ball when required. "My bowling has been developing nicely over the last few years. I had a bit of a setback last winter when I had an operation on my shoulder, but I'm back on track with things now and loving being able to contribute with the ball. I feel it adds a point of difference to my game if I can offer some overs with the ball, and it complements my batting nicely."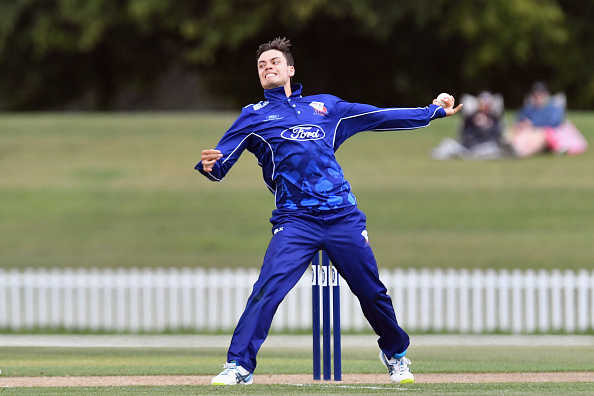 Chapman also looks back at his stint with Hong Kong fondly, but admits that it was bit of a challenge to get used to the first-class format in New Zealand.  "Playing cricket for Hong Kong has been a big part of my cricketing journey, and the opportunities with Hong Kong Cricket have taken me around the globe and to events I wouldn't have dreamt of experiencing at such a young age."
"I was fortunate with the timing of my progression into the domestic scene here in New Zealand, it seemed like the right time to pursue my dream of playing for New Zealand. Playing in a different environment always has its challenges but the biggest adjustment for me was adapting to the first-class format, as most of the cricket I played with Hong Kong was either T20 or one-day cricket." 
At the same time, he says he has really enjoyed the experience of playing for New Zealand. "I've really enjoyed my experiences so far with New Zealand, there's no greater privilege than representing your country. I've been in and out of the team a few times now, and whilst I haven't necessarily been happy with how things have played out, I feel like I'm learning something new every time I am exposed to international cricket. There's a new crop of Blackcaps cricketers coming through, the likes of Will Young and Kyle Jamieson, and I'd love to be a part of the next generation of Blackcaps going forward."
While Chapman does not believe in having big birthday bashes, he is sure to have a drink or two with his close friends. At the same time, he is relieved with things in New Zealand are much better off than rest of the world.  "We've been fortunate in New Zealand that things have resumed to our 'new normal', and things are starting to get back to normal on the training front. I'm into my normal off-season routine now of physical and skills training in the gym and the indoor nets. It's nice to settle into a routine and work on a few things that you don't necessarily get to work on during the season," the southpaw said.
COVID-19 has also put the future of the T20 World Cup in jeopardy, but Chapman is confident that the tournament will go ahead only if the ICC are convinced that it wouldn't harm those participating. "Everything is so uncertain at the moment with COVID, and as we've seen things change so quickly. But I'm sure if the ICC felt comfortable enough to hold the T20 World Cup as planned they would put all the necessary measures in place around player safety and health," Chapman opined. 
The way the 2019 World Cup ended, it left a sour taste in every New Zealand fan's mouth. While there were calls for the trophy to be shared after the teams could not be separated after the Super Over, it was cruelly awarded to England since they had scored more boundaries than their opponents. It was Chapman's Auckland team-mate Martin Guptill who was the last man out for New Zealand in the one over eliminator which reduced the team and their fans around the world to tears. 
Like many, Chapman too was watching the action unfold back home into the early hours of the morning. "It was an incredible game of cricket, filled with many unique and exciting moments. We may never see another game like it. I was gutted for the guys with the way things ended, but I have made peace with the result. The stars aligned with England that day, it just wasn't meant to be for New Zealand." Chapman, who by his own admission hates bowling to Guptill at the nets, said. 
Kane Williamson earned the world's admiration for the way he carried himself and the team after the loss. Moreover, it was a second crack at the cherry for New Zealand after they missed out at the MCG in the 2015 finale. Chapman who has played under Williamson for New Zealand says, "Kane is a down to earth guy, always open to chat and answer questions. His persona in front of the media reflects his nature behind the scenes."
Hence it comes as no surprise that Williamson is one of two players from the national team Chapman looks to constantly chat and learn from. "It's always great to catch up with the likes of Kane Williamson and Ross Taylor. These two in particular have a great understanding of the game and of batting. So I take every chance I get to catch up and learn as much as I can from them," Chapman reveals. 
While Chapman's rise in cricket has been a steady one, he has also put his engineering degree to good use and started a company called ESCU Sports - A brand focussed around designing modern protective cricket equipment. Talking about his new venture, Chapman said, "Running a business is something that has helped me balance the external pressures and expectations that come with being a professional sportsman. While it is still involved with cricket, it's something away from playing and training that helps me escape and shift my focus to. We launched our wrist-guards last year which were extremely well-received by players around the globe." 
The likes of Steve Smith, Ross Taylor, David Warner and Babar Azam have used the product and we might one day see Chapman emulate their records on the cricket field as well.