Ashes Test, Lord's Cricket Ground, decisive last day of the match and Jofra Archer steaming in with his tail up. On an uneven pitch, Australia is the only side that can lose the game. Assigned with the task to bat out approximately 50 overs, they are off to a poor start - 15 for two in 5.3 overs. 
These are the circumstances in which Marnus Labuschagne walked out to bat for his maiden Ashes innings. Wait, it gets more testing. The second ball of his innings - a 91.6-mph snorter - hits him on the grille of his helmet. It was a firm reminder of the ball that felled Steve Smith in the first innings; and enabled Labuschagne to take part in the Ashes. 
The 25-year old right-handed batsman was not a part of the XI. He had spent the first four days of the Test (the first day was a washout) watching the game from the sidelines. However, as ICC recognized one of cricket's many uncertainties - concussion - Labuschagne was told by skipper, Tim Paine on the morning of the fifth day that he will be replacing Smith as Test cricket's first concussion substitute. 
He had seen Archer's riveting spell in the first innings which sidelined Smith from the contest. And now he was going to face the same guy to begin his Ashes career. Second ball, BOOOM, right on the face. Watching the moment in the The Test, the Amazon documentary made on the Australian team's redemption from Sandpaper-gate, Ben Stokes can be seen gasping at leg-slip with his hands on the back of his head. 
Before Jos Buttler could rush into check on him from short leg, Labuschagne was back on his feet looking Archer straight into his eyes. Now, in a parallel universe, he doesn't get up. But we don't want to think about those possibilities as we are in such adulation of Labuschagne standing up for Australia's never-say-die spirit. Merely four deliveries later from Archer, he drove him through extra cover for four showing that the aforementioned incident was no attempt at deception. 
Unfazed by the blow, Labushchagne scored a well paced fifty (off 89 balls) taking every scoring opportunity. More importantly, he saved the Test for Australia. 
****
"I saw Marnus getting hit second ball off Archer and post that, the 15 minutes he batted, I said 'this player looks special'", said Sachin Tendulkar when he was in Sydney for the Bushfire Bash in February 2020. It may have given Tendulkar flashbacks of his own debut where he, although only scored 15, recovered after being hit by a bouncer on his nose. That was pretty much where Labusachagne would have been hit if he did not have the luxury of the grille. 
Tendulkar further elaborated, "His footwork was precise; footwork is not physical, it's mental. So that clearly indicated to me that this guy is mentally strong."
For long, the mental side of Labuschagne's game appeared to be his biggest obstacle. His talent was acknowledged by everyone who saw him play but he did not have the numbers to back his potential. Post scoring a fighting 83 on his first-class debut for Queensland, he had only four first-class hundreds in five seasons. At the time of his first call-up to Test cricket, he averaged in the mid-30s - an unsatisfactory performance for someone who debuted as a top-order batsman.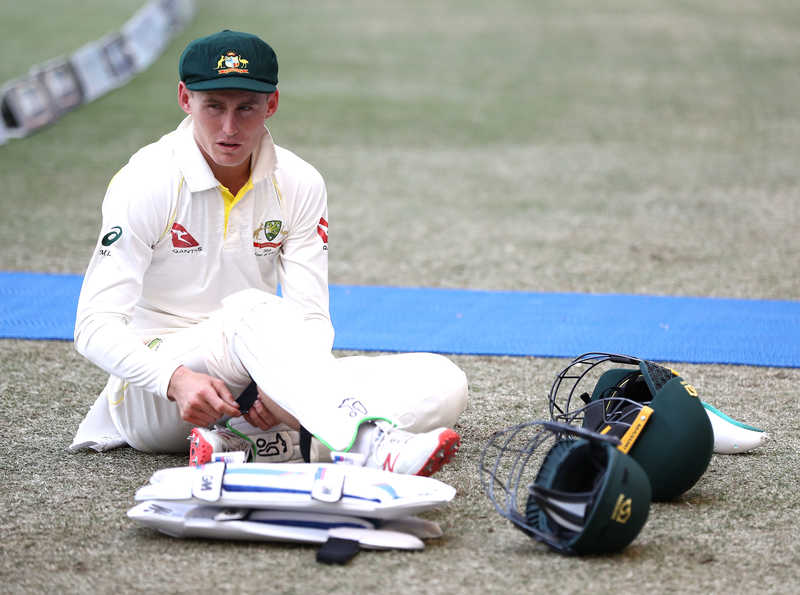 As it was with Smith, way back in 2010, Labuschagne was also picked for his maiden Test stint because he could bowl leg-spin. Australia's tour of UAE to play Pakistan in a two-match Test series in 2018 was also their first assignment in the aftermath of the sandpaper scandal and based on their role alone, the Queenslander was the closest thing to the suspended Smith, even though Smith was not bowling enough. 
He played in each of the two Tests, bowling 39 overs in the series while batting in the lower middle-order. His first Test innings ended without a run on the board. In the second Test, he got starts but fell to scores of 25 and 43. In the New Year's Test against India in Sydney, he failed to convert another start scoring 38. With Australia suffering consecutive series defeats, these unfulfilled starts were not acceptable. On his homeground, The Gabba, he scored 81 in the first Test against Sri Lanka but by that time, there was a palpable feeling that other batsmen deserved chances ahead of Labuschagne, purely based on first-class cricket performances. 10 runs in two innings in the Canberra Test while batting at four further fuelled this theory. 
****
He was the last man picked in Australia's 2019 Ashes squad. An innings of 41 on a treacherous pitch in Australia's intra-squad pre-Ashes trial match ultimately fetched him the last spot. Only 225 runs were scored in the first innings at the cost of 20 wickets and Labuschagne's 41 was the highest first innings' score on either sides.
Labuschagne's strongest aspect has been his preeminent professionalism towards the game, which in this case brewed him as the best man prepared for the Ashes, amongst batsmen of both sides. At a time when the world was focussed on the World Cup, Labuschagne was going through the grinds of his maiden county season. Playing 10 red-ball games for Glamorgan, he piled up 1,114 runs at an average of 65.5 including five hundreds. He was the second highest run-scorer in the championship, just 75 behind Hasan Azad who had played eight innings more. 
Hence, it was no surprise when the Queenslander seemed unperturbed by the moving ball in a tough series for batsmen. He scored 353 runs in seven innings at an average of 50.4. Smith averaged 110.6, Stokes scored 50.4 runs per dismissal and no-one else managed to average in the 40s which shows where the Ashes was retained. 
"I find it incredible that Marnus Labuschagne, Peter Siddle, Cameron Bancroft, James Pattinson and the like are invited over to play county cricket ahead of an Ashes series", said the then England coach, Trevor Bayliss hinting at a potential debate regarding the trade of overseas players in county cricket.
"There's no way Australia would allow England players to acclimatise in the Shield ahead of an Ashes series. And quite right, too. I think the ECB should have a look at that", he further elaborated in a conversation with ESPNcricinfo after his last stint with the side. 
****
Having sealed the number three spot in the Ashes - replacing his state team captain, Usman Khawaja - Labuschagne broke a streak of records in the home summer. 
The only thing missing in his successful Ashes campaign was a hundred. In his first three innings post the series against England, he amassed 185, 162, 143 in consecutive innings - the first two against Pakistan and the latter versus New Zealand. He became only the third Australian to score three consecutive hundreds at three and the first since Sir Don Bradman in 1937-38.
Now, he was after a double hundred. In the third Test against New Zealand in Sydney, he knocked that barrier too, notching up 215. He shattered the record for most runs in a five-Test Australian summer - 846 runs at 105.8 runs per dismissal. He had left Smith behind in that summer. 
The Test reveals a revealing and humorous deal between Labuschagne and Smith. During the first two Tests, Labuschagne was hired by Smith to pack his kit after every Test. In return, he would get a bat from him. Maybe for the similarities in their game but definitely for Smith's gigantic batting numbers, Labuschagne was highly influenced by the former Australian captain. He even adopted Smith's mysterious idiosyncrasies while leaving the ball and was jokingly called Smith's "sidekick" by his teammates. During that home summer, he left Smith behind in the number of runs taking the lead role in the batting line-up.
He is currently ranked three in ICC's Test Batting rankings, a staggering rise from a point where he was a fringe player only an year ago. In many ways, that rise was forged by the crucible of the Jofra Archer bouncer at Lord's, which Labuschagne took as a harsh reminder to watch the ball more closely rather than succumbing under it. He has now watched the ball closely enough to become the leading run-scorer in Test cricket since 2019. 
It must not be forgotten that it has only been six months of superlative form. Often, players are found out after one great season with opposition teams working out the concerned individual. But in Labuschagne's context, it will be a daunting task for world cricket to decode his watertight technique.