Pakistan have won back to back games to start their 2021 T20 World Cup campaign. Clinical is not always the word you would associate with them. But such was the dominance in their win over India, you would struggle to believe it was the Pakistan team in green that night. 
On Tuesday (October 26), they opted for a more believable route to beat New Zealand. It was a jittery chase for most part of the middle-overs. However, Pakistan continued playing in an un-Pakistan way to cross the finishing line. Shoaib Malik and Asif Ali, in fact, closed the game with more than an over to spare. They have now chased twice in the competition, without going to the last over. 
In a lesser complex of the two Super 12 groups, they are as good as almost through to the semis, beating two other strong contenders in their first two games. 
Did I mention they are playing in an un-Pakistan way. That is true and funny simultaneously because of the irony it holds. The tournament, being staged in the UAE, poses the perfect opportunity for Pakistan to play the way they have always wanted to approach this format. They have aced the world with their exploits in the UAE once before. 
When Pakistan sat at the top of the T20I team rankings in 2018, it was at the back of a spotless record in the gulf country. Pakistan won all their 11 T20Is they played in the Middle East between the 2016 T20 World Cup and the end of 2018. Resuming their love affair with UAE, they have extended their win streak to 13 matches. That is a lot of Ws next to each other. 
****
At their peak, Pakistan's focus lies in not scoring more than their opposition but restricting the opposition below them with their tight bowling. Hence, the lower the par score, the better it is for them. In Pakistan's 11 T20I wins in the aforementioned period, the average first innings total was only 139. 
In IPL 2020, when the BCCI sent their curators to UAE before the tournament, the average first innings total was 170. This year, in the second half of IPL 2021, it came down to 151. The drop in par score was a hint of things to come in the T20 World Cup and thus, a good news for Pakistan. The average first innings score in the Super 12 round until now has been 137, right up in Pakistan's alley. 
Babar Azam's presence, who made his T20I debut in 2016, has rendered these 150-ish totals bread and butter stuff for Pakistan. In those 11 T20Is in UAE, Babar scored 392 runs while batting in the top-order at a strike-rate of 116.7. However, the average of 49 assured Pakistan are never under pressure in pursuit of those 150-ish totals. Their first all-format batsman built the foundation of his career hunting down these par scores. 
Now he has a perfect foil in Mohammad Rizwan as his opening partner. In T20I cricket, he is at par with Babar in terms of strokeplay, if not ahead. The wicketkeeper batsman is the highest run-scorer in T20Is this year, aggregating 864 runs at an average of 96. The strike-rate is 138. Babar, second on the list with 600 runs, averages 40 while striking at 131.3. No other opening pair comes close to their consistency. 
In Babar and Rizwan, Pakistan have two batsmen to calm their nerves up top. It was a surprise at first but if you look at it, it wasn't really shocking that they razed down 152 runs on their own.
Combine these assured good starts with Pakistan's ability to combat spin. While other nations may huff and puff to get to these scores, Pakistan have the perfect recipe to milk these scores day in and day out. 
With the ball, they have a ripping pacer in Shaheen Shah Afridi, who has nine T20I wickets in the Powerplay at an economy of less than seven per over. The trio is the crux of Pakistan's T20 side. 
****
Against New Zealand, they ticked off more boxes. Shaheen started with a maiden but couldn't pick a Powerplay wicket. Babar and Rizwan couldn't see the chase through. But Pakistan found new heroes with both bat and ball.
Haris Rauf came to this World Cup without a granted spot in the XI and picked a four-wicket haul. His death overs' spell crippled New Zealand's tempo at a crucial juncture. Asif Ali both vindicated his selection and showcased the depth in Pakistan's line-up to his sixes. 
Shoaib Malik joined the squad in the eleventh hour, after an injury to Sohaib Maqsood. He was not a part of Pakistan's build-up to the tournament. He had last played T20Is in September, 2020. He is 39 years old. Yes, people were asking what is he doing playing another World Cup.
Walking in at 63 for three and the asking rate hovering around eight, Malik started slow. He was 12 off 15 when he doubled it in Mitchell Santner's 18th over. The perfectly timed acceleration closed the gate on the Kiwis. 
***
It is definitely an early bored call but with these pieces coming together, Pakistan seem to be the best team in the competition as yet. There are openers who don't let the panic sink in, the middle-order is apt for the conditions, their bowling attack has all variations covered: both left-arm and right-arm pacers to clock 140 kph consistently, a variation bowler in Hasan Ali, a leg-spinner, a left-arm finger spinner and also a batting all-rounder who can bowl off-breaks when required. The last of this is a part-timer's role but crucial in T20 cricket. India exhausted a spot on Ravichandran Ashwin only to bowl off-spin against left-handed heavy batting line-ups.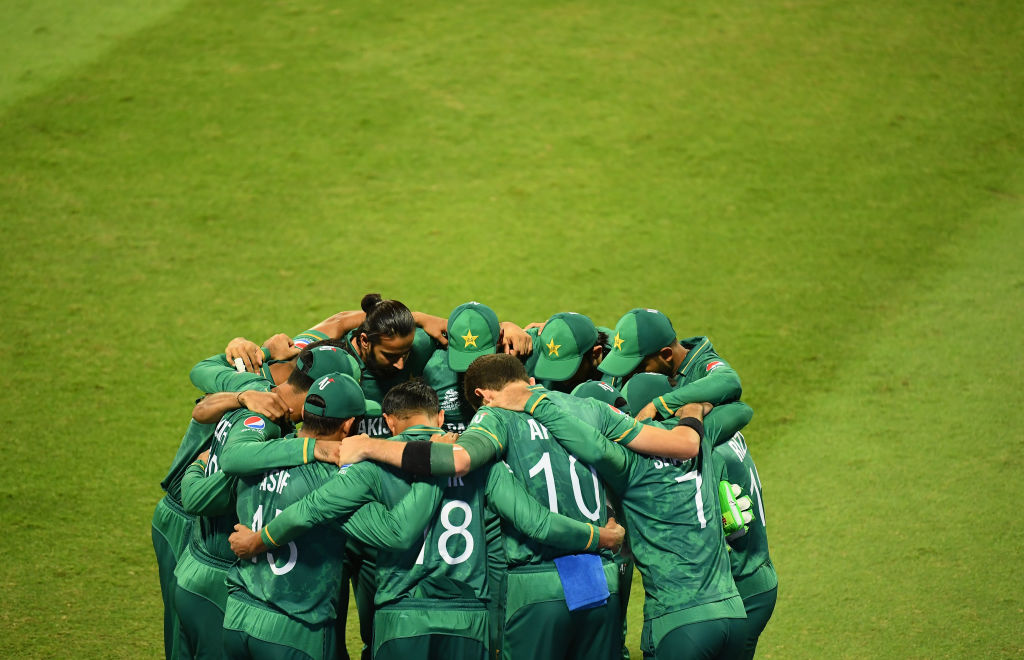 Always been a bowling side, Pakistan is the opposite of the West Indies' unit, the defending champions. That does not mean they are the perfect side. There has not been a prefect T20 international team. But this seems Pakistan's most proficient squad at an ICC event in a long time. The tournament being played on the sluggish tracks of UAE has ironed out the limitations in their batting. No humorous run outs and drop catches, the kind of stuff they are infamous for, renders them a tighter unit. The question is, can they culminate this form in glory. 
To end on another ironical note, the tournament shifted to UAE from India. Little did anyone know that the shift will fall in the favor of their arch-rivals.