It is not too often that you see an individual who has scored 31 (29) be awarded the Man of the Match award, even in a low-scoring game, when a handful of other players from his own side have outperformed him. It is even rarer for someone to land the MOTM award via a sensational piece of fielding. 
Yet, in the context of the game, such was the magnitude of what Kane Williamson did; he changed the complexion of the entire match in half-a-second. Indeed, deep down, Sunrisers knew that they had won the game the moment their skipper's direct hit caught Glenn Maxwell short of his crease. 
Even RCB skipper Virat Kohli alluded to the same. "Maxi's [Maxwell] run-out was the game-changing moment in terms of momentum," Kohli said post the game.
Maxwell was on 40(25) before Williamson's direct-hit sent him packing. He was toying with the SRH bowlers, Rashid Khan included, and the prospect of him taking RCB over the line looked inevitable. 
Which is why SRH believed when a suicidal run-call led to Maxwell's demise. They knew that, despite the presence of AB de Villiers, they had the upper hand. And ultimately their intuition proved to be true as RCB faltered in the chase. 
That the wheels came off for RCB once Maxwell departed is not a concern. The Victorian, during his stay, did indeed look like he was batting on a different wicket, and, with or without his presence, chasing 50 off 6 overs on that Abu Dhabi track would have been a very, very tough ask. 
What is, however, a huge concern is that it has now come to the point where RCB are only winning if Maxwell pulls a rabbit out of the hat. 
Against both Punjab Kings and Mumbai Indians, it was Maxwell's knocks that made the difference for the side, at least with the bat.
Versus Punjab, Maxwell, on a sluggish Sharjah surface, walked in on the fall of back-to-back wickets, and played out his mind to take the side to an above-par total. He struck at 172.72 when no other batter who faced more than 10 balls was able to strike at more than 127, and his stunning onslaught proved to be the difference.
Maxwell played a less-explosive hand against Mumbai, but one that was equally, if not more important. Kohli, after a brisk start, put the hand-brakes on after the powerplay and it was Maxwell who dragged the side to a par total. He struck 56 off 37 balls, took the burden of accelerating upon himself and blasted the side to 165/6. Eventually, the total proved to be big enough for RCB to register a 54-run win. 
Today, he almost pulled off yet another miraculous heist but it wasn't to be. 
What should ring alarm bells for RCB is that they are time and again finding themselves in a situation where they are 'needing' Maxwell to do something special. Almost similar to their dependence on de Villiers last season.
The table above sums up RCB's dependence on Maxwell. Quite astonishingly, in 8 wins this season, Maxwell has had a crucial hand to play in six of them. The only match, in fact, which RCB have won this season without any contribution from Maxwell is the one against RR in Mumbai, where the openers put on an unbeaten 181-run stand.
Contrarily, the team has faltered every time he's failed. Maxwell has not scored over 25 in only four occasions this season, and each of those matches have seen Kohli's side lose the game. He did a lion's share of the work today against SRH, and even then his teammates were incapable of taking the side over the line. 
Who is to blame?
A middle-order batsman being overburdened is often due to top-order batters failing to do their job properly and in RCB's case, too, that is true. Kohli and Devdutt Padikkal, on paper, are one of the best opening pairs in the competition, but the duo have had little to no impact since the commencement of the UAE leg. 
For starters, Kohli and Padikkal have not been prolific in the second leg. Both the openers have been inconsistent, have averaged under 33 and have failed to take up the load of run-scoring the structure of this side requires them to do.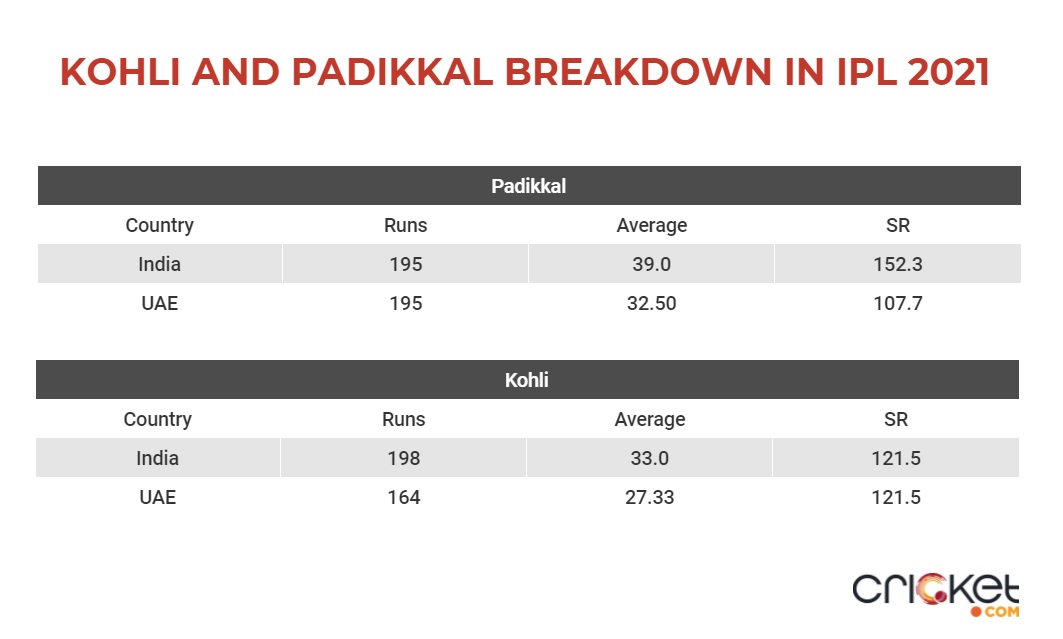 But there is an even bigger issue with the duo: both the batters have proved to be a burden for the team post the powerplay.
RCB have maintained a RR of 8.1 in the powerplay in the second half, which is the third-best in the entire competition. This is largely due to the aggression of Kohli, who has struck at 145.6 in the phase. 
Yet come the middle-overs, the openers' showing has turned into a disaster.
In overs 7-15 in the UAE leg of IPL 2021, Kohli and Padikkal, quite flabbergastingly, have maintained a SR of 88.9 and 89.7 respectively. Among batters to have faced 50 or more balls in the phase, only Kane Williamson has batted at a slower pace. 
What this abysmal strike rate has ensured is put Maxwell and de Villiers in a position where they are needed to deliver to rescue the innings, particularly whilst batting first. Given Maxwell is the designated 'middle-overs specialist', the onus has always been on him to do the rescue job. To his credit he has nailed the task with godly consistency, but every time he's faltered, so has the side. Such a dependence on one batter is unhealthy. 
What needs to happen for RCB going forward
RCB have all but blown the opportunity to finish in the top two and that's bad news. It essentially means that they can ill-afford to slip up, and will have to be near-flawless hereon to lift the IPL 2021 trophy.
Their bowlers have risen up to the challenge and have been delivering game-in and game-out, and it is now up to the batters to do the needful. 
Luckily they have Maxwell in prime form, but the responsibility should now fall on the shoulders of Kohli and Padikkal to deliver. 
Not only will the side need the two openers to score a bigger share of the runs, it will also need them to significantly improve their scoring rate in the middle phase. 
By consuming a plethora of deliveries and scoring at less than run-a-ball, all Kohli and Padikkal are doing is essentially piling more pressure on Maxwell to score a ton of runs at an unrealistic strike rate. They are also, on top of that, delaying the arrival of de Villiers, who is yet to face more than 20 balls in a single innings in the second half of IPL 2021.  
RCB have been lucky enough for Maxwell to have fired four games in a row in this UAE leg, but come the playoffs, the law of averages could very well catch-up. History suggests that it will be game-over for them if and when it does; the onus is now on their top-order to prove otherwise.