Any big side enduring a disastrous World Cup campaign generally invariably garners attention and sparks debates and discussions about the need for a revamp. 
India are still very much alive in this ongoing T20 World Cup, but the discourse has already started. And quite unsurprisingly, a vast majority of the takes, which have emerged from either the mainstream or social media, have been reactionary. 
Those takes - such as people asking for banishment of 80% of the current squad - are better off ignored. 
But that being said, regardless of whether India progress to the semi-finals, there are underlying issues in this side. And those issues were laid bare by world-class opponents in the team's first two Super 12 matches, where both Pakistan and New Zealand did not have to break a sweat en route to victory.
Magically solving issues mid-tournament is not possible, and is an unrealistic expectation, but problems can always be acknowledged first and then addressed later.
With the three-match T20I series against New Zealand kicking-off in just under a fortnight's time, we look at the two serious, underlying issues plaguing the side that need immediate addressing, and also delve into potential solutions for the same.
Lack of intent against spin in the middle-overs
You could almost sense the shock and disbelief in the voice of the commentators when India did what they did against New Zealand, in the middle overs. They did not find the fence even once during overs 7-15, and they just let the Kiwi spinners dominate proceedings.
Between overs 7 and 15, the duo of Mitch Santner and Ish Sodhi delivered 36 balls and conceded just 26 runs. In other words, India batted at a SR of 72.2 against spinners in that phase.
They fared much better against Afghanistan on Wednesday, but the overall numbers do not make for pretty reading. So far in this Super 12 stage, only Afghanistan, Australia and West Indies have batted at a lower strike-rate against spin during the middle overs.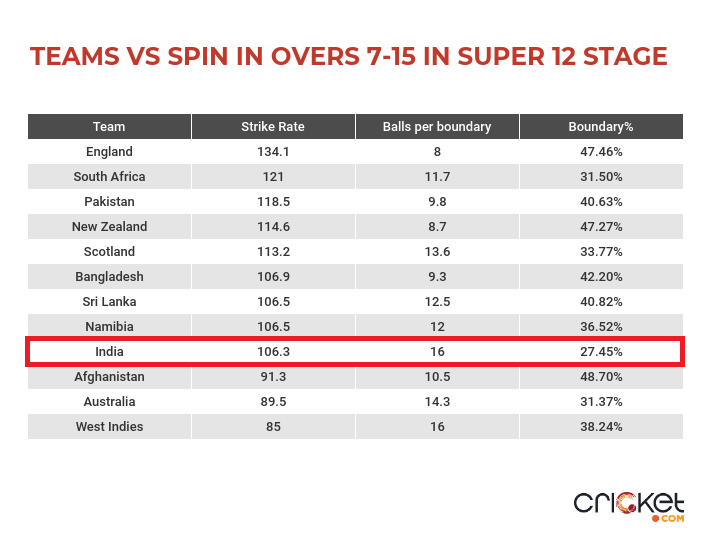 But this is not an issue which has popped up out of nowhere. It is not like the Indian batters forgot how to quickly score versus spin as soon as the World Cup started. It is just that, to date, it is a problem that has been conveniently overlooked. 
Indeed, from the start of 2019 till before this T20 World Cup, India scored at a SR of just 124.2 against spin in overs 7-15. This is a figure that has not been bettered by only three sides - Australia, Sri Lanka and Bangladesh.
And this slow scoring versus spin is just a reflection of individuals' general approach. 
Among the batters who featured in the starting XI against Afghanistan, Rohit and Suryakumar Yadav are the only two who have struck at over 110 against spin since the start of 2020 (in all T20s, IPL included). That most of these batters' average is over 40 suggests that they have the skill to negate spin, but either are too conservative or are not confident enough to take chances.
The solution for this? The first and obvious option is to make it clear to these players to be consciously more aggressive against the spinners henceforth. IPL franchises might get away with one or two individuals being slow against spin because there are other individuals who can make up, but it becomes a disaster for India when all these slow-scorers are clubbed together. There needs to come a point when these individuals should consider it a weakness and work on it.
But with there being plenty of room for experimentation between now and the next T20 World Cup, there is always the option of trying out individuals who are already super efficient versus the spinners during the middle-overs. 
Since the start of IPL 2020, Prithvi Shaw, Mayank Agarwal, Sanju Samson, Nitish Rana and Ruturaj Gaikwad have, by some distance, been the best Indian batters against spin in overs 7-15. In IPL 2021, Venkatesh Iyer showed glimpses that he too could be effective against the right match-up.
Now, it goes without saying that all these aforementioned batters are not strong against all spin-types, but batting in T20 cricket is all about identifying the right match-up and maximizing your output. Despite boasting certain weaknesses, there are batters in the list above, who, even if they are batted out of position, could bring about a change in the way the side approaches playing spin in the middle overs.
Who will be a perfect fit for the main XI? That can only be found out through experimentation.
Drying-up of wickets in the powerplay
In our mid-Super 12 review last week, we saw how teams pretty much win 100% of their games when they take 3 or more wickets inside the powerplay. 12 games have passed since, but the trend has remained pretty much the same.
It does seem, though, that teams can rest easy whenever they encounter India. For the Men in Blue seldom hurt teams up-front.
Not Namibia. Not Scotland. So far in this Super 12 league stage of the World Cup, it is India who have been the worst bowling side inside the powerplay. 
Not only have they taken the fewest number of powerplay wickets among all sides, they also have boasted the worst average and strike rate.
And as was the case with the spin-in-middle-overs problem, this is not an issue that has come as a bolt from the blue. It is an underlying problem that has been overlooked over and over again.
ALSO READ: India have a bowling headache and it is not Hardik Pandya
From the start of 2019 till prior to the ongoing World Cup, no side took fewer powerplay wickets than India. Only Sri Lanka boasted a worse average, while, again, no team had a worse strike rate.
India tried a host of bowlers during this period, of which Deepak Chahar turned out to be the most successful. Ironically, however, he did not make the World Cup squad.
Chahar was pipped by Bhuvneshwar Kumar and Mohammed Shami who, let's say, have their own shortcomings. 
While Bhuvneshwar has struggled to take wickets despite being economical, Shami has excelled on neither front. The problem has been exacerbated in this World Cup due to both bowlers being terribly out of form. 
Bumrah is indeed a gun bowler with the new-ball, but he is far more valuable at the back-end. Bowling two overs of Bumrah in the powerplay is probably India's best bet, but by doing so, they will significantly weaken the potency at the death. It is a ploy, unless absolutely necessary, not worth implementing.
Which is why the team needs bowlers who can strike up-front, and do so regularly. 
Data starting from IPL 2020 reveals that Chahar takes more wickets up-front than any other seamer, but there are also the likes of Arshdeep and Siraj who strike frequently with the new ball. 
Missing from the list above (due to the IPL 2020 cut-off) is Delhi Capitals' Avesh Khan, but he was the third highest wicket-taking Indian seamer in the powerplay in IPL 2021. 
Be it Shardul, Natarajan, Saini or Prasidh, team India have shown that they are not afraid to experiment with enforcers and/or death-bowlers in white-ball cricket. It is high time they also start trying out strike bowlers who can rock opponents early, for the incumbents are not doing the job anymore.