Jasprit Bumrah's homecoming
Jasprit Bumrah made his Test debut in January 2018 and since then India had played eight matches at home, prior to the first Test against England in Chennai. But, in none of those matches, Bumrah was part of the Indian side. He had played 17 Tests away from home. This is the most Test played in away conditions before making his first appearance for a player. Darren Ganga from West Indies also played 17 away Tests before playing his first home Test. 
Joe Root – Third youngest to 100 Tests
At the age of 30, playing his 100th Test, is a certain accomplishment. It displays the amount of success a player has had. Joe Root made his Test debut against India in the historic series-winning (2-1) feat for England in 2012. In his debut innings itself, he made a mark with a knock of 72. In this span of eight years, Root has been one of the most successful batsmen and a captain. All his milestone matches have been against India in Tests. His debut against India in Nagpur, his 50th Test in Visakhapatnam and 100th in Chennai. Interestingly, he has a 50+ score in all of those. 
Two Indian umpires officiating a match
It is a rare sight to see two home side umpires in action on the field nowadays. Because of the pandemic and certain travel restrictions, most of the matches are seen with both local umpires officiating. In the first Test, after 27 years, for the first time two Indian umpires were officiating. The last time it happened was in 1994 against Sri Lanka in Ahmedabad. 
Most 50+ scores after 100 Tests 
There is always a talk about who can break the great Sachin Tendulkar's record, by runs or by centuries. Root is certainly one of the contestants in the race. After his 100th Test, he has 69 scores of over fifty (includes centuries), the most by a batsman after 100 Tests. This is certainly an indication that Root is on course for the record. Among English batsmen, Root is in the second position in terms of 50+ scores, as he pipped past Ian Bell's tally of 68. In terms of runs, only Sir Alastair Cook (12472) and Graham Gooch (8900) are ahead of him.
First batsman to hit a double Century in the 100th Test 
It is a dream for any player to play 100 Tests for their team and Root when he walked in for the toss, it was fulfilled. But, it didn't stop there. Coming on the back of a sensational Sri Lankan series, Root continued his dominance. On the first day, he went on to score a century and became the ninth batsman in Tests to do reach the landmark in his 100th Test. On the second day, Root became the first-ever batsman to score a double century in his 100th Test. Prior to Root's feat, Inzamam-ul-Haq held the record when he had scored 184 against India in 2005. This was not the only record he etched to his name, there were a flurry of them.
•    This was Root's third away double century, which is the second most for an English batsman. Wally Hammond has five double centuries away from Home 
•    Root is the only England captain to score multiple double hundreds. This was his third as a captain and all three have been in a span of 15 matches. 
•    His score of 218 in the first innings is the highest score by an England batsman in India. Previously, Mike Gatting had scored 207 at the same venue in 1985. In addition, all the three double centuries from England batsman against Indian in India have come at the MA Chidambaram Stadium.
•    Root's score of 218 is the second-highest score by an England captain in Tests. Graham Gooch had scored a mammoth 333 at Lord's in 1990.
Consecutive 150+ scores for Joe Root
Root has always been criticized for not converting his fifties to 100's, but when he converts he makes sure they are daddy hundreds. Out of the twenty centuries, Root has gone past 150 in five of those and 200 on another five occasions. In his last three matches, he has gone past 150 in all, two of them being double century. He became the seventh batsman overall and second from England to score three 150+ scores in three or more consecutive matches. Kumar Sangakkara holds the record with four in four. 
Second highest total for England in India
Generally, the teams batting first in India go on to score a decent enough total. On a pitch that looked and behaved flat, England piled on runs, thanks to a sensational double century from their skipper. England hoisted a mammoth total of 578 in their first innings, which is the second-highest total for them in India. Their highest came in 1985, which was also at the same venue. More to their accomplishment, since 2011, India have conceded 500+ totals on four occasions on home soil and three of those have been against England. 
A sinful crime   
India have been one of those teams that have been tidy when it comes to bowling no-balls, especially after that 2017 ICC Champions Trophy Final blunder from Bumrah. But, in this match, especially in the first innings, they have been sinful of bowling them one too many. Indian bowlers had bowled 20 no-balls in the first innings and seven in the second. The most gruesome aspect of those no-balls was, spinners had bowled 14 of those. Ravichandran Ashwin who hadn't balled a no-ball for over 20k balls was also involved in the unparliamentary crime. The 27 no-balls bowled in the first Test is the most by India in a Test since 2011. 
Fifth most overs bowled by India in the last 50 years
It is a rare sight to see India toiling hard with the ball in home conditions. In the first Test, after losing the toss on a flattish pitch, India conceded 578 runs after bowling 190.1 overs. Adding the no-balls they bowled in the first innings, they bowled 193.4 overs. Since 1970 in home Tests, India have bowled 190+ overs only five times. This was the fifth most number of overs bowled by India in this time frame. 
Ravichandran Ashwin's long haul
A Test match in India without Ravindra Jadeja and Kuldeep Yadav, meant longer spells for Ashwin. Without any bite from the pitch, Ashwin had to toil hard for wickets. He bowled the most overs among all and also, the 55.1 overs bowled by Ashwin in the first innings is the most he has bowled in an innings of a Test. Previously, at the Adelaide Oval, Ashwin bowled 53 overs. In India, this is the third time he has bowled 50+ overs in an innings.
Three consecutive 50+ scores for Rishabh Pant at home
The young wicket-keeper has been in sensational form with the bat. In the first innings, Rishabh Pant scored yet another half-century on home soil, his third in a row. He joined Virat Kohli in an elite list of Indian players to score three or more 50+ scores in their first few innings at home. Kohli scored five 50+ in his first five home innings. Fascinatingly, all his three scores at home have been in the nineties. 
Washington Sundar impresses with the bat
It has been an impressive short journey for the lad from Tamil Nadu. He made his debut in unusual circumstances, but has made a mark in both the matches he has played. He has scored a 50+ in both the matches and both have come batting at number seven or lower. Among Indian batsmen who made their debut batting at number seven or lower in their first couple of matches, only Rahul Dravid managed to score 50+ runs in consecutive matches. 
Ashwin becomes the third spinner to bag a wicket off the first ball
Though in sub-continent conditions, spinner bowling the first over of the innings is a common sighting, picking up a wicket off the first ball of the innings had never happened. In fact, there have been only three occasions of this rare feat. The last instance was way back in 1907, 114 years ago when Bert Vogler of South Africa dismissed Tom Hayward of England in the first ball of the innings at the Oval in 1907. The first happened in 1888, Bobby Peel of England dismissed Alec Bannerman from Australia at Old Trafford. Ashwin joined this elite group when he dismissed Rory Burns off the first ball in the third innings. 
James Anderson and his love affair with India
James Anderson's love for wickets against India in Tests continued irrespective of the conditions. Anderson has 115 wickets against India in Tests, the most by a bowler against India. Only two bowlers have bagged more than 100 wickets against India, the obvious one is Anderson and the other is Muttiah Muralitharan (105). Most of Anderson's wickets (84) against India have come in English conditions. In India, he has 31 wickets in 20 innings at an average of 29.8. In Tests, Anderson has bagged more than 100 wickets against two nations. Out of which, against India he has the most and against Australia he has 104.  
Most consecutive wins before a loss for India
Beating India in India has always been an uphill task, especially in recent times. Prior to the first Test, since 2011, India had lost only three in 43 matches. Since their loss against Australia in Pune in 2017, India had been unbeaten in 14 consecutive matches. To better that, India had won all their previous eight home matches starting from August 2018 (vs Afghanistan). The loss in the first Test marked the most consecutive wins before a loss for India at home.  
Most wins for an England captain
Undeniably, this match has been one of the most fruitful ones for Root. Playing in his 100th Test match, Root engraved numerous record to his name. First with the bat and then the win was the icing on the cake. The win in the first Test was his 26th for England as a captain. He is now levelled with Michael Vaughn for the most wins as an England captain in Tests. Root has a 55.3 percent win record as a captain for England. Among England captains with more than 20 matches, only Mike Brearley with 58.1 percent has a better record.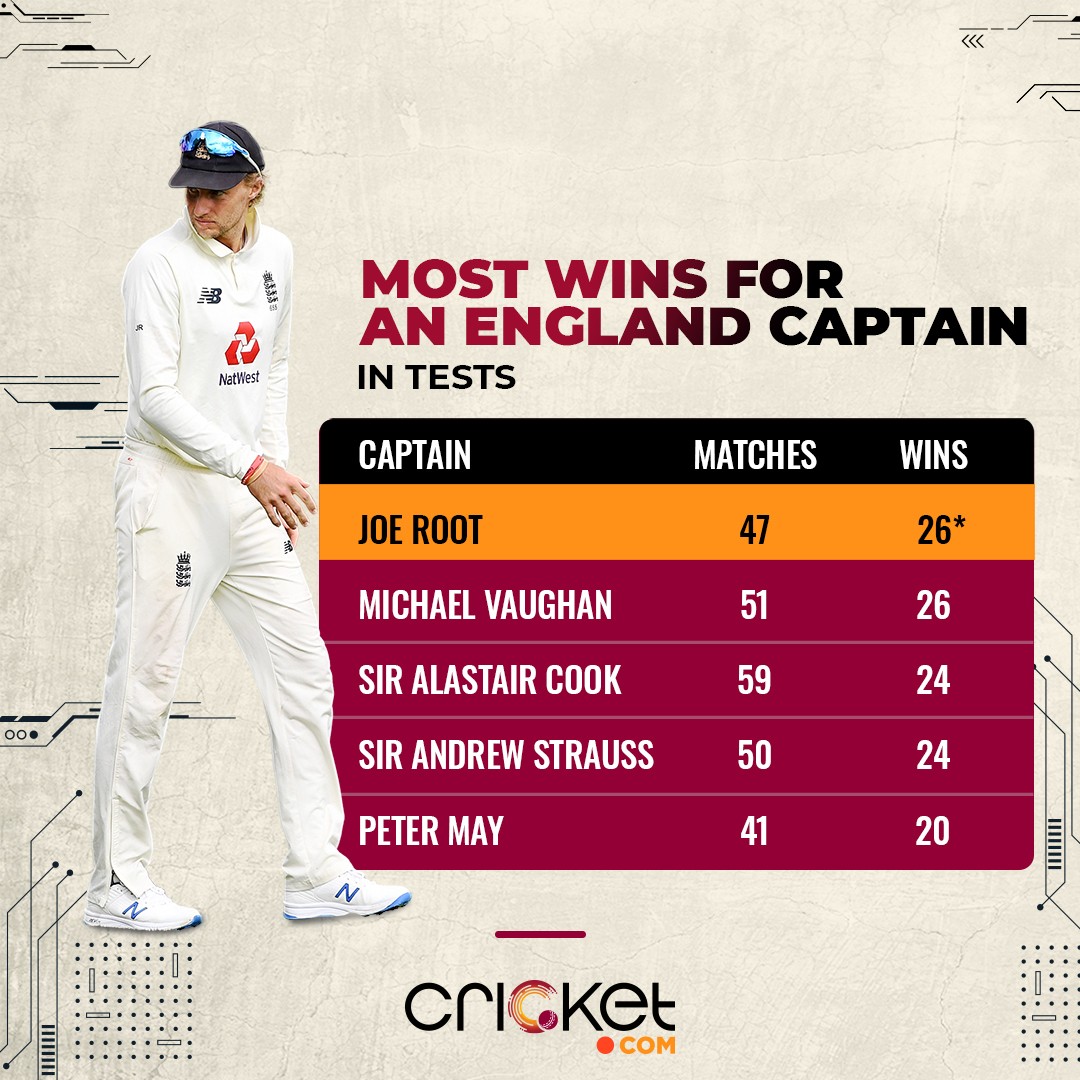 Sixth consecutive away win for England
In Tests since 2018, England have played seven series away from home. Their start against New Zealand wasn't great as they suffered a series defeat. They then followed it up with a win against Sri Lanka when they whitewashed them in their backyard. But, suffered defeats against West Indies and New Zealand in 2019. 
However, since their series against South Africa in December 2019, they have played seven matches and won six in a row. These six consecutive away wins is the joint second-longest streak for England in away Tests. From 1911 till 1914, they had won seven, their longest streak. In addition, this was the sixth consecutive win for England in Asian conditions, starting from 2018 against Sri Lanka. Only Australia have managed a longer streak of wins in Asia (7) starting from October 2002 against Pakistan till October 2004.
Root's strong grip in Asian conditions
As a non-sub-continent nation captain, a win in Asian conditions is always special. As for Root, he has been exceptional. He has captained England for six matches in Asian conditions and has won all of those. His first tour in Asia as a captain was against Sri Lanka in 2018, which he won three-nil. Again, when England toured Sri Lanka in 2021, Root won both the Tests. He has now followed that up with another win in Chennai. Root now has the most wins in Asia for an England captain