After the legendary Diego Maradona had retired from professional football, there was always talk about finding the 'New Maradona'. This led to many upcoming football talents labelled as such, mostly from Maradona's home country of Argentina. This has been such a huge deal over the years that the term even has a Wikipedia page.
While a few failed to live up to such extraordinary expectations, there were some players like Pablo Aimar and Juan Roman Riquelme among others who turned out to become world-class footballers. But no-one until the emergence of Lionel Messi really lived up to that hype and reached the heights that his manager at the 2010 World Cup had managed to as a footballer.
The obsession with finding a rising talent and comparing them with an iconic sportsperson is not just restricted to football. It happens across all sports. In cricket, we've seen Virat Kohli labelled by some as the 'New Tendulkar', while Australia's search for the 'New Warne' has been going on for years.
Hence, it was no surprise that when KL Rahul was climbing up the ranks in Indian domestic cricket, he was often seen as the next Rahul Dravid. Same state team, same name – so, why not?
The younger Rahul was also initially seen as a batsman who was much alike Dravid – technically sound and more suited to the longer format of the game. And at the start, his career did follow the trajectory of those assumptions – he was performing exceptionally well in first-class cricket while his batting form in the shorter forms was a bit inconsistent apart from the Vijay Hazare Trophy in 2012/13 when he managed 403 runs at an average of 67.16.
Following a superb 2013-14 season in which Karnataka won their first Ranji Trophy title in 15 years and he was the second highest run-scorer in the tournament that season, Rahul was among the names being considered for a place in India's Test team. While he didn't make the cut for the tour of England, following twin hundreds in the Duleep Trophy final later in the year, the right-handed opener was picked in the Test squad to tour Australia where he'd make his international debut.
One-Day International (ODI) cricket still seemed a bit far-off at the time though. Not only had he been inconsistent in domestic List A cricket back then, he hadn't made a mark in the Indian Premier League (IPL) which was slowly turning into a prerequisite to becoming a member of India's white-ball teams.
It was during IPL 2016 when Rahul would greatly boost his credentials in the shorter formats. Part of Royal Challengers Bangalore (RCB), he was not a regular member of the playing XI at the start of the season. He was, in fact, dropped for the away game against Gujarat Lions, but it was then that he got his lucky break. Just before the match in Rajkot, Mandeep Singh got injured during warm-up and, as a result, Rahul had another shot – one which he would take with both hands, scoring a fine half-century. Two more 50+ scores followed in his next two innings and he had sealed his place in the RCB line-up.
On the back of an excellent IPL season and the fact that several of the regular players were rested, Rahul was picked in India's ODI and T20I squads for the tour of Zimbabwe in June 2016. He made full use of the opportunity presented to him by becoming the first Indian man to score a century on ODI debut and then followed it up with an unbeaten fifty in his third innings.
Following that impressive start, he had to wait until January 2017 to play his next ODI series due to injury. Injuries, in fact, were beginning to derail his career at the time. While he failed to make an impact in the one-day series in early 2017 against England, he was ruled out of the IPL and Champions Trophy later that year. The timing was awful because he had perhaps his best series as a Test batsman against Australia which took place just before the aforementioned tournaments. It seemed like it was the perfect time for him to secure his place in all three formats of the game at the international level, but it wasn't to be.
With Rohit Sharma and Shikhar Dhawan being one of the most prolific opening pairs in ODI history, it was difficult for Rahul to break into India's 50-over team in the year that followed. His poor performances in Sri Lanka hadn't helped either. But a stunning IPL season with Kings XI Punjab in 2018 – 659 runs at an average of 54.91 and a strike rate of 158.41, which included the fastest fifty in the tournament's history – saw the Karnataka batsman back in India's ODI XI.
With Rohit and Dhawan inseparable at the top of the order, Rahul had to make do with batting at number four – a position at which he had performed admirably for RCB in the IPL two years earlier. But after just one failure in ODI cricket against England, he was dropped from the team – it was even more surprising when you consider that he had scored a magnificent T20I century against the same opponents a couple of weeks earlier. The fact that he wasn't getting a consistent run in the side certainly didn't seem to help him.
The number four position for India had been a worry for a few years heading into the 2019 World Cup. Ambati Rayudu seemed likely to get the nod for the big tournament, but poor form in the home ODI series against Australia and in the IPL saw the former India Under-19 captain miss out. There were three contenders for the number four spot in the squad selected for the marquee event: Vijay Shankar, Dinesh Karthik and Rahul.
In the first warm-up match against Bangladesh, it was Rahul who was given an opportunity to bat at number four with Shankar at five. While the latter was dismissed for just two, the former notched up a sublime hundred. With this, the Bengaluru-born batsman had made the number four spot his own ahead of the tournament.
While he played a couple of decent cameos at that position, he would soon have to move back to the top of the order as Dhawan was injured and later ruled out of the World Cup. Rahul impressed with fifties against Pakistan and Bangladesh, and finished the league stage with a hundred against Sri Lanka. But a failure in the semi-final against New Zealand was a setback.
A tour to West Indies soon followed and with Dhawan returning, Rahul was back on the bench. He wasn't considered for the number four spot and was in the squad as a back-up opener. Soon after, he was dropped from the Test team following poor performances in the Caribbean. After promising displays at the World Cup a few months earlier, Rahul was back to square one – square one in this case was domestic cricket.
For his white-ball career, this proved to be a blessing in disguise as the Karnataka batsman was among the runs once again and played a huge part in his team winning both the Vijay Hazare Trophy as well as the Syed Mushtaq Ali Trophy. His confidence was back and it could be seen in the home ODI series against West Indies when he returned to the playing XI with Dhawan absent due to injury.
While Rahul had impressive performances to show in the series against the Windies – scores of 102 and 77 in the second and third ODIs respectively – his place was once again uncertain as Dhawan returned for the ODIs against Australia in January 2020. But Rahul kept his place – this time, not as an opener, but another appointment with the middle-order awaited him.
While he scored 47 while batting at number three in the first ODI, it was in the second match where he'd move up a few gears. With Rishabh Pant missing out after being hit by a Pat Cummins bouncer in the first game, Rahul was picked as the wicketkeeper. He had donned the gloves in the first ODI as well after Pant's injury, but in Rajkot, he was picked in the XI as India's gloveman for the first time in his career. It was not something entirely foreign to him though as he had kept wickets regularly in the IPL and domestic cricket.
This extra responsibility seemed to spark some new life into Rahul's ODI career. While he had been scoring runs in the format in the preceding months, he was criticised by some for his strike rate. Batting at number five with Shreyas Iyer securing the spot above, Rahul made an excellent 52-ball 80. Yes, he had scored more runs in an innings previously but this was the best knock of his ODI career.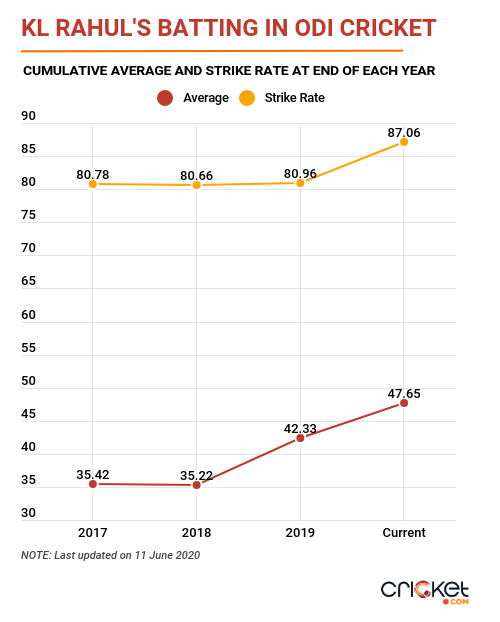 Interestingly, Rahul's big break in ODI cricket came in Rajkot – the same ground where he had turned his IPL career around in 2016.
Rahul's performance behind the stumps was also satisfactory. And suddenly, from being the back-up opener, he was a wicketkeeper-batsman who batted at number five. Superlative performances in the ODI series in New Zealand followed and Rahul seems to have clinched a place in India's XI in 50-over cricket for now.
From a specialist batsman to a wicketkeeper-batsman in ODI cricket for the Men in Blue – doesn't that remind you of someone else?
KL Rahul's career isn't following the same trajectory as Rahul Dravid's did, especially with regards to Test cricket. So, he's perhaps not the 'New Dravid'. But one thing is for certain – the younger Rahul certainly bares similarities to the former India captain when it comes to willingly going out of his comfort zone in one-day cricket to create a beneficial situation.