Since the inception of ODI cricket, Australia has been one of the most accomplished team. 575 wins in ODIs with a win percentage of 63% is proof of it. The cherry on top is they are five-time World Cup winners, most for a team in ODIs. Behind every successful team there lies a leader who plays an important role. Great teams are blessed with great leaders. Australia is also one of those teams who have produced fantastic captains. In the ODI format Greg Chappell, Kim Hughes and Mark Taylor were fantastic leaders. The World Cup winners, Allan Border, Steve Waugh, Ricky Ponting and Michael Clarke have kept the Australia flag high on the world stage. 
Ponting was undeniably the most successful Australian captain in ODIs. In fact, his records were one of the best among all captains in the format. Clarke who succeeded Ponting as the captain may not have the records matching his predecessor's, but he certainly took Ponting's legacy forward. Among Australian captains who have led their side for more than 30 ODIs, Clarke's win percentage is just behind Ponting.
Clarke's records as skipper both home and away has been exceptional. In both conditions he had a win percentage of over 60. In fact, his home record was better than any of the Australian captains with more than 30 ODIs as captain. Among Australian skippers, Ponting dominates everyone in Asian conditions as a captain in terms of win percentage. For Australian captains who have captained more than 10 ODIs in Asian conditions all of them have been decent. Clarke has a win percentage of 67 in the 18 matches he has captained in Asia.
But what separates Clarke from the lot is his batting in Asian conditions. In general, his numbers in Asia as a batsman is better than his home record, in terms of average and centuries that is. As a captain, he amplifies it even more. In the 18 matches as skipper in Asian conditions he has scored close to 1000 runs at an average of 86.0. Among non-Asian captains who have scored more than 500 runs, his average is at the pinnacle. To be a successful batsman in Asian conditions, one's got to be extremely good against spin. His average of 70.5 against spin is evident of why he was so successful as a batsman, overall and even as captain.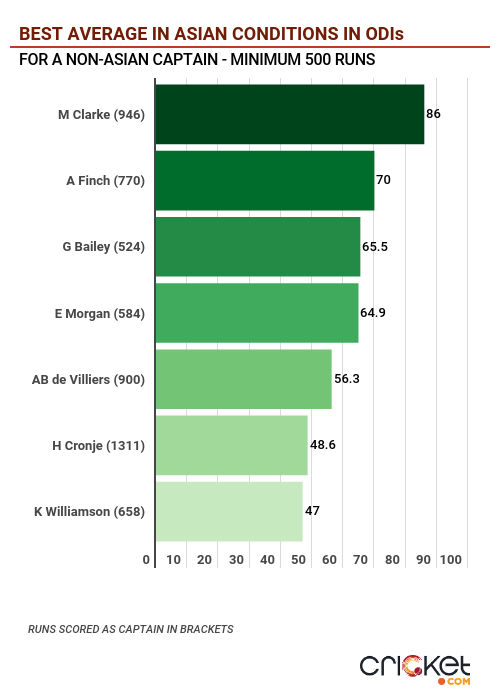 Clarke wasn't a full-time captain till the end of the 2011 World Cup. He was just the XO (executive officer or a standby commanding officer) when Ponting still was at the helm. In the first few years he showed no signs of extra pressure. The added responsibility seemed to have augmented his batting records as captain. However, since 2013, he struggled to convert his starts. Since 2008 till the end of 2012, Clarke had an average of 49.8 as captain in 50 ODIs. But, since 2013, his average dropped from 49.8 to 37.0. Though he struggled with the bat, his leadership qualities never faltered. 
In 2008 he captained Australia for 5 matches and never lost. The following year he won 70% of the matches. The only year his win percentage dropped below 50% was in 2012, barring 2010 where he captained only 3 matches. Though, towards the end of his career, his captaincy got better and better. He announced that he would retire from ODIs at the end of 2015 World Cup. A World Cup title for Australia under his captaincy was a fitting end. 
Anyone's crowning glory would be when you are the part of a World Cup winning Team. It is even more special when you are the flag bearer of it. Clarke joined the elite club of World Cup winning captains of Australia in 2015. He was the 4th Australian captain to lift a World Cup after Border in 1987, Steve Waugh in 1999 and Ponting in 2003 & 2007. 
Clarke's success made sure Australia had the rightful successor. Filling in the shoes of Ponting as a captain was certainly a huge task and Clarke did it with a lot of aplomb.