Virat Kohli doesn't play reckless shots in Australia. It is a truism that is entrenched in his batting philosophy just like his approach to an ODI run-chase. Yet, with India reduced to 15/5 in the Adelaide Test, Kohli played that one shot which he didn't attempt in the entire first innings. What followed afterward would go down as one of the most shambolic moments in Indian cricket history and for Kohli, it was a blip never-seen-before with his blade not hitting a single century in the entire 2020 across formats.
The year was, in fact, a dichotomic representation of the Indian skipper's sojourn in the first World Test Championship Cycle. Of the six teams he played in the time frame, only against Bangladesh and South Africa could he average beyond 50. His overall average of 43.85 across 14 Test matches might seem decent to the eye, but factor out that unbeaten 254 he hit on a lifeless Pune track against South Africa, it drops to a poor 31.15. 
Was it the Law of Averages catching up with the Delhite or was it simply the case of a temporary blip just extending its course? A career right out of the pages of a fiction book, Kohli's high standard has been challenged in this two-year time frame as has been his authority as one of the most feared batsmen in the world. ICC Rankings might defy logic at times but this time, his Test Batting rankings of #5 tells a story of its own.
It had all started in the West Indies, right after the 2019 World Cup in England, as Kohli managed a minuscule 136 in four innings with a highest score of 76. Knowing the kind of dominance he had on the American land during the previous tour in 2016, this was an abnormal fall but in a way, everyone is allowed that luxury a few times. The problem arises when it becomes a regulation.
The insane dominance of Mayank Agarwal and Rohit Sharma in the 2019 home season meant India didn't need Kohli enough to showcase his dazzling avatar of 2016. India were on a rampaging run yet Kohli left a mark in Pune and Kolkata - the second of which under extreme conditions of the day-night Test against Bangladesh. Despite flying under the radar, Kohli still averaged 158.50 against SA and a terrific 68.00 against Bangladesh to warm himself up for far bigger and tougher challenges of 2020.
For every single soul in the world, 2020 was the year to forget. The civilization was put to test with a colossal humanitarian crisis as the Covid-19 pandemic wiped away many lives from the planet earth. For Kohli, it was also the year he would want to forget from a cricketing standpoint too. Not only did he hit a 2014-ish low in New Zealand, but also seemed vulnerable on the pitch. 
The Indian skipper managed just 38 runs at an average of 9.50 across two Tests - his lowest in any series since debut. His lack of assertiveness was evident from the fact that he managed 13.6% false shots in that particular series - way higher than his career average of 11.3%. A figure of forlorn and detested beyond words, Kohli needed a new lease of life. The pandemic-induced lockdown allowed him the much-needed rest he needed to re-energise himself.
However, it didn't. Of course, his 74 in the only match he played against Australia before taking the paternity leave was a superbly crafted one, but back home against England, his bat remained eerily silent. Moeen Ali and Jack Leach had a wood over him and Kohli succumbed. In Chennai, he played two crafty innings but three-digit scores eluded. Never ever has he had to face such an uncomfortable conundrum at home.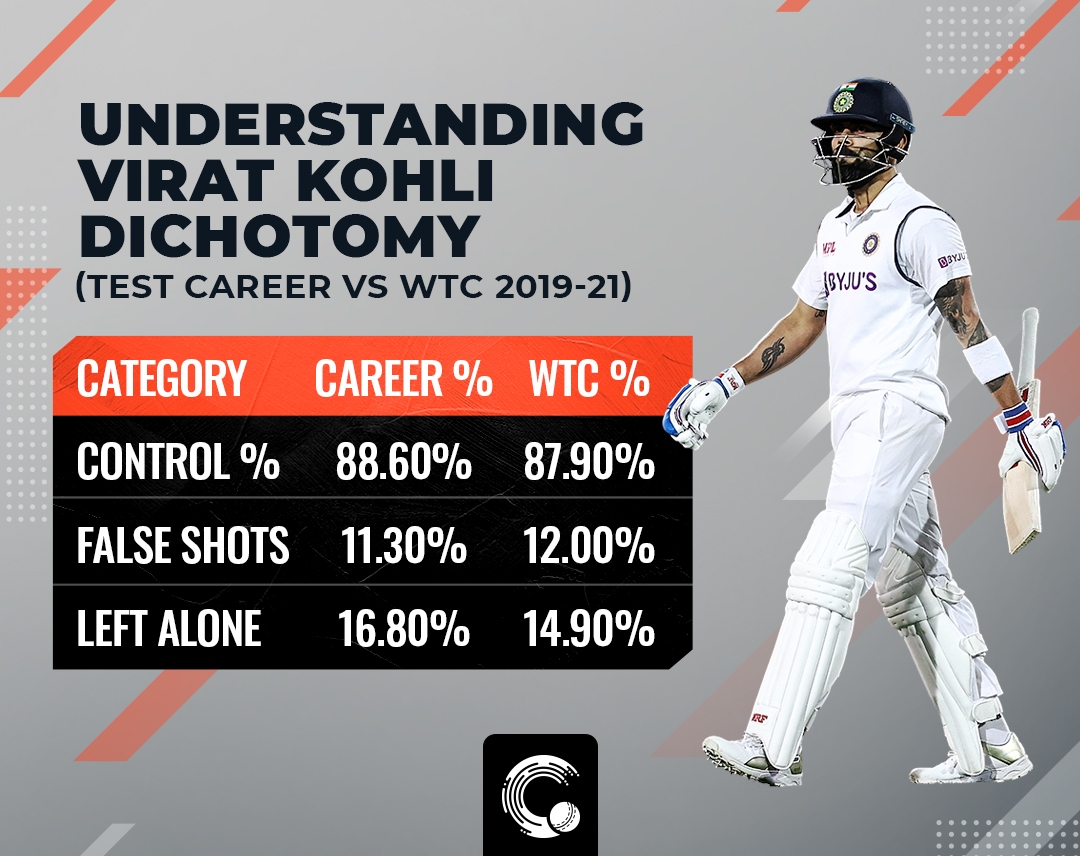 To get a clearer view, let's factor in a few numbers. In his 91-match Test career, Kohli's control percentage is 88.6% with a false stroke percentage of 11.3%. One of the most impressive attributes, which handed him success in countries like England, South Africa, and Australia was his ability to leave the ball alone which he has done 16.8%  time. However, in the first WTC cycle, all of these numbers have taken a massive dip. His control percentage fell down to 87.9% while the false shot percentage got to 12 His leave percentage was down to 14.9, making him prone to catch dismissals.
The World Test Championship final has given Kohli a chance to turn that around and get to that elusive three-figure mark. Kohli might not have anything to prove nor the lack of a century will have any bearing on his legacy as the finest all-format batsman of our generation but for Indian fans, it is prudent that he does steal the show as he did three years ago in the British nation, defying all odds on his way to conquer his final frontier. On Kohli rests the hope of a nation.