Could you please split the Test careers of Murali, Warne and Kumble in two halves and let me know their figures? – Kiran Shetty on Twitter
I presume this is what you require. From the tables below, you will observe that for all these three bowlers there is a drastic improvement in the bowling strike-rates in the second half of their careers.
I remember three Indian left-handers making centuries against Pakistan at Kolkata in 2006. Is this the only instance in Test cricket? - Suresh Desai on Facebook
The match you are referring to was the Bangalore Test match against Pakistan in December 2007, when Sourav Ganguly, Yuvraj Singh and Irfan Pathan made 100-plus scores. In Test cricket, three left-handed batsman scoring centuries in the same innings is the record and this has occurred only on four occasions. The details are given below:
Three left-handed batsman making centuries in the same Test innings
Australia (Justin Langer 104, Matt Hayden 136, Adam Gilchrist 118) vs N Zealand at Brisbane in Nov 2001
England (Marcus Trescothick 132, Andrew Strauss 136, Graham Thorpe 118*) vs S Africa at Durban in Dec 2004
India (Sourav Ganguly 239, Yuvraj Singh 169, Irfan Pathan 102) vs Pakistan at Bangalore in Dec 2007
West Indies (Chris Gayle 102, Shiv Chanderpaul 147*, Brendan Nash 109) vs England at Port of Spain in Mar 2009
Notes: 
- England at Durban is the only side to do it away from home.
- For the record, there are 103 other instances of two left-handers making centuries in same Test innings.
How often has an Indian Test XI had no players from Bombay/Mumbai. If so, how many Tests has been played without a Mumbai player and what has been the results of these Test matches – Aniket Kulkarni on Twitter
The first time this occurred was at the Eden Gardens at Kolkata against West Indies on 31 December 1966, which was India's 96th Test match since their first in 1932. However, India lost the Test by an innings and 45 runs on 5 January 1967. 
Since then, in just five occasions no Mumbai player was involved in a Test match for India, which is less than 1% (0.92%) of the total Test matches played by India. The overall results of these matches are: India won 3, lost 1, drawn 1.
What has been the lowest total successfully defended in a side in T20 internationals? – Ajay Paul on Twitter
In a 9-over a side truncated World T20 qualifier match in Belfast on 3 August 2008, Ireland in their 9 overs successfully defended their 43/7 against Bermuda (41/8). However, the record in a full match of 20 overs by each side the record is 96/9 (20 overs) by West Indies when they beat Ireland 85/8 (20 overs) by 11 runs. 
Could you list the top performances by Indian night watchmen in Test history? - Harikrishnan U on Twitter
Wicket-keeper Syed Kirmani is the only night watchman to make a Test century for India. He made 101 not out while coming into bat at #5 before the likes of Yashpal Sharma and Kapil Dev at the Wankhede Stadium, Mumbai against Australia in November 1979. India had lost Gavaskar just before the close at the score of 231/3 on the opening day when Kirmani was sent in to join GR Viswanath (then 9 not out).  Next day he reached his maiden Test century. Earlier in the series, Kirmani had made a 57 as a nightwatchman at #3. He made another fifty (58) at Old Trafford in 1982 this time at #5. 
The second-highest by an Indian night watchman is the 84 by Amit Mishra at the Oval also at batting position #5 in August 2011. Kirmani has made three fifty-plus scores, while Mishra has two such scores while batting as a nightwatchman for India in Test matches.
The table below has the details: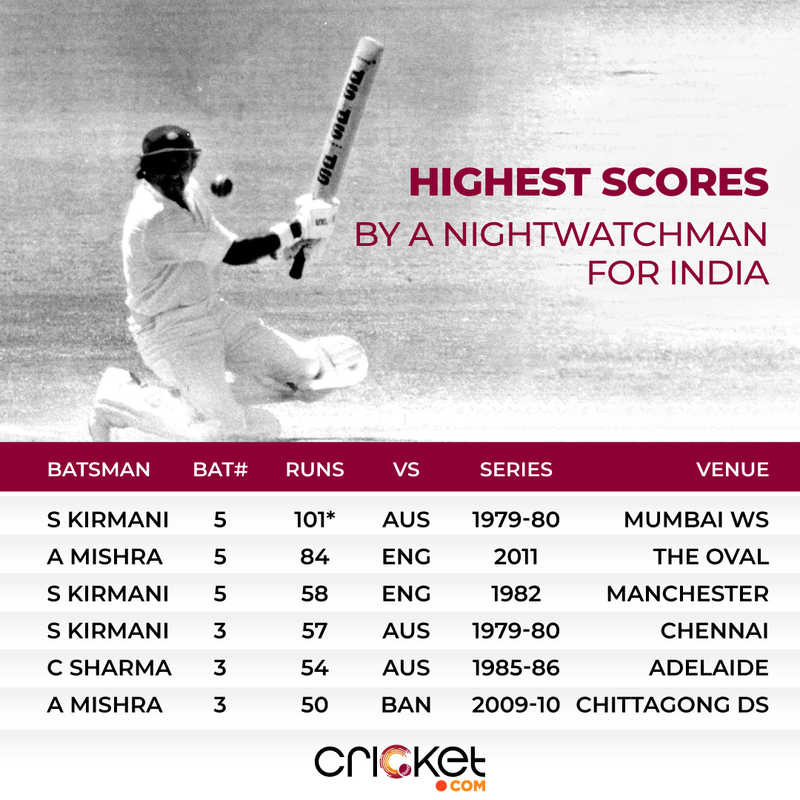 All records mentioned above are correct and updated as on 23 August 2020 
If you have any cricket-related questions, then ask them using the #AskMohan and #StatsBurst hashtags on our social media channels. Reputed statistician, Mohandas Menon will be answering the selected questions.