Q) How often has Virat Kohli been dismissed by the same bowler in a Test match? – Kapil Sharma on Facebook
Twelve bowlers have this distinction of claiming the wicket of Virat Kohli twice in a Test match and so far, no bowler has been able to do it twice. In the recent Chennai Test match, England's Moeen Ali became the latest to achieve this. Interestingly, Kohli on his Test debut was dismissed twice by the West Indian paceman Fidel Edwards at Kingston in June 2011, and also on both occasions, he was caught by keeper Carlton Baugh. 
Then a few months later in November 2011, which incidentally was Kohli's first-ever Test at home at the Wankhede Stadium in Mumbai, another West Indian leggie Devendra Bishoo got him twice in the match. Below is the list of all such bowlers in Test cricket. 
Note: 
** Kohli was also caught twice by the same keeper Carlton Baugh at Kingston 2011 (debut Test match!)
** Lyon and Patel dismissed him twice LBW at Delhi in 2013 and at Indore in 2016 respectively.
+ in successive Test matches.
Q) Is Axar Patel's seven wickets the most taken by a debutant left-arm spinner for India? – Himanshu Shah on Twitter
Axar Patel's 7/100 in the recent Chennai Test is now the second-best performance by a left-arm spinner on Test debut for India in a Test match. Dilip Doshi's match figures of 8/167 also that this same ground against Australia in September 1979 is the best by an Indian left-arm spinner on debut. Following these two was then an 18-year-old Ravi Shastri who claimed 6/63 at Wellington in 1981. 
It's worth a mention that Doshi was then aged 31 but still managed to claim over 100 wickets (114) for India in a career spanning 33 Test matches.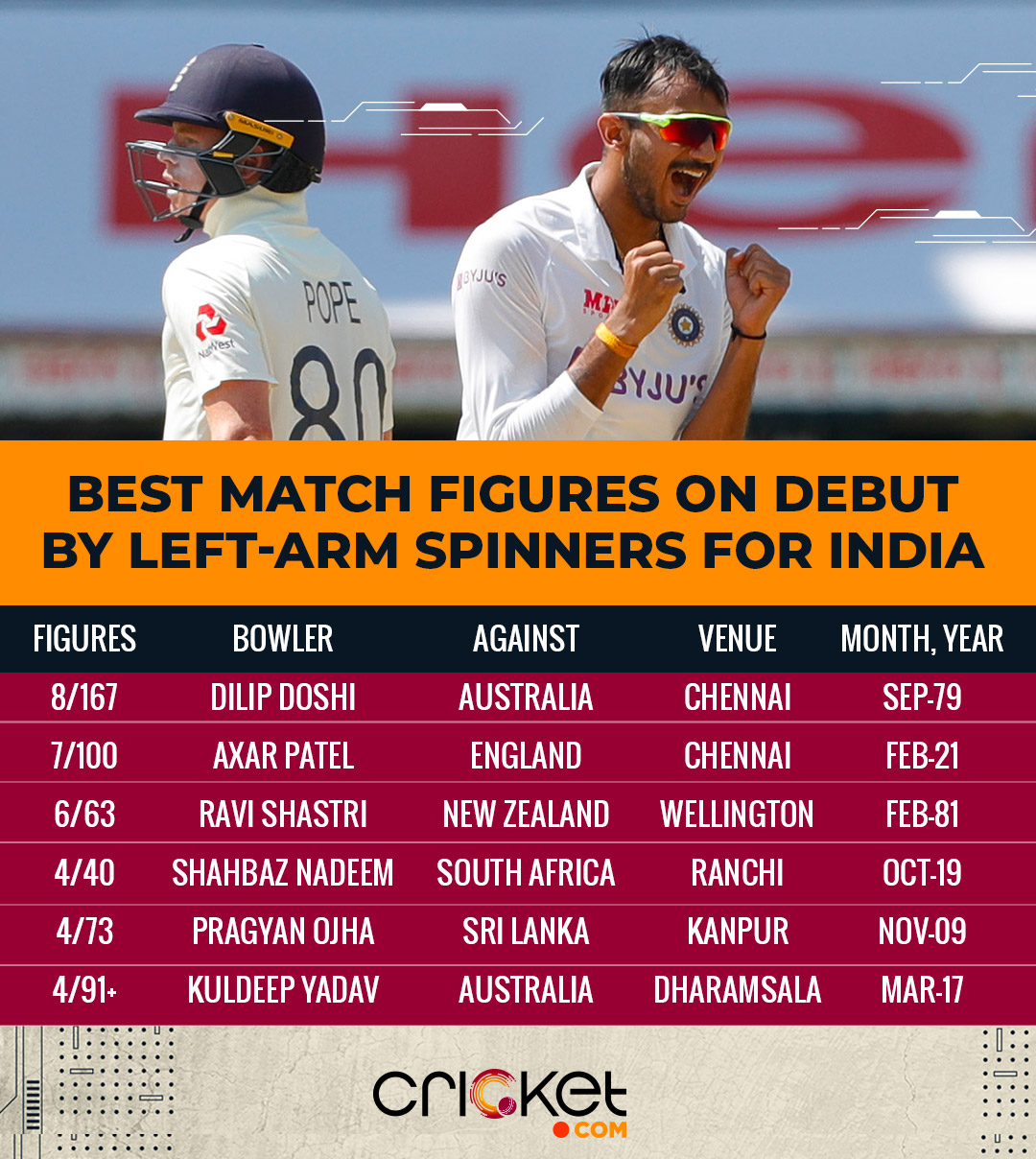 Note: Kuldeep Yadav is the only unorthodox bowler (left-arm wrist spin) in the above list. 
Q) The England side in the second Test match at Chennai did not concede a single extra in India's innings after bowling nearly 100 overs. Is this some sort of a record? – Ashish Vatsal on Twitter
In the first innings at Chennai, India made 329, without any extras added to their total. This, in fact, is a record in Test cricket for the highest total made by a side without any runs coming from extras. The credit to this record should be given to the English bowling side and especially to their wicket-keeper Ben Foakes. 
The previous record was held by the Indian bowling side and their wicket-keeper Naren Tamhane in Pakistan's total of 328 at Lahore in 1955. However, in the Lahore match the Indian bowling side was on the field for 187.5 overs, while in the recent Test at Chennai, the English bowling side achieved the record while delivering just 95.5 overs. The table below, dominated by the England fielding side, lists all the instances of sides not conceding an extra while delivering 90 or more overs in a Test innings.  
Note: India's 329 at Chennai is now the highest total in Test cricket history that has no extras. 
Q) In the Karachi Test against South Africa two Pakistani players Fawad Alam and Nauman Ali, aged 35 and 34, made a century and claimed a five-wicket haul respectively. Is this pair the oldest to make a 100 and take a five-wicket haul in the same Test? – Waqar on Twitter
There are several instances in Test cricket of players older than Fawad and Nauman to make centuries and take a five-wicket haul in the same match. For Pakistan, some of the older pairs have also achieved this in the same Test. Younis Khan and Saeed Ajmal were both 36 years old – when the former made 177 and the latter claimed 5/166 at Galle in 2014. 
Another such instance came in the Abu Dhabi Test match against Australia when Misbah-ul-Haq (then aged 40) made centuries in each innings (101 & 101*).  The other contributors in the match for Pakistan was a 36-year-old Younis Khan who made a double century (213), with 35-year-old Zulfiqar Babar, claiming a five-wicket haul (5/120).