If you think it is too late for this article, we might agree with you. But world cricket has been bewitched with seven Tests scheduled compactly in January, 2021, which included a captivating series Down Under between two powerhouse nations of world cricket. Better late than never, here is the decade review of all Test-playing nations, from 2011 onwards. 
10 years is a long time. All teams have gone through various highs and lows. Hence the conclusion is based on how the teams went into the decade and where they stand now. A key component of the following set of brief studies is how all the teams dealt with the transition phase. All the stats below are until December, 2020.
India
Ranking in January 2011: #1 in Tests, #2 in ODIs
Ranking in December, 2020: #3 in Tests, #2 in ODIs, #3 in T20Is
High-points: Won the 2011 World Cup and the 2013 Champions Trophy, won their maiden Test series on the Australian soil in 2018/19
Low-Points: Test series whitewash in England, in 2011 and Australia, in 2011/12, lost Test series to England at home in 2012
India won 42.1 percent of their overseas Tests between January 2001 and December 2010. Over the next 10 years, that percentage dropped to 29.6. 
India's progress through the recently passed decade describes that numbers and rankings only show one side of the picture. Despite a drop in win percentage overseas and the ranking, India had one of the better decades in Test cricket. 
For one, they survived the turn of the generation better than most other sides. India's new crop of batsmen did well after early hiccups that were majorly before 2015, and despite a summer of 36 in Adelaide, they converted it into one of the most memorable series wins by any visiting country. But more importantly, India acquired the only piece of weaponry that had eluded their arsenal throughout their Test history - a lethal pace attack. 
MS Dhoni entered the decade focusing on spinners but Virat Kohli, his successor, shifted it towards the pacers. He identified his pacers as an asset to win overseas. 2018 onwards, India's pace attack averaged 15.3 runs per wicket at home and 24.1 overseas, both the best amongst all Test sides - a breathtaking stat for anyone familiar with India's earlier struggles in that department. 
The pace attack engineered a memorable series win in Australia in the 2018/19 season and tested England and South Africa in their own den. The current Indian team have sharper tools to win overseas than its predecessors. It was evident in the way they won the recently concluded Border-Gavaskar Trophy, with half of their first choice players unavailable due to injuries or personal reasons.
At home, India elevated their invincible status, losing only three of the 43 Tests they played from 2011 to 2020. In addition, they dominated the lower ranked sides - Sri Lanka and West Indies (also Bangladesh, though with a smaller sample size)
In ODIs, India had the highest win percentage in the decade - 52.4. They swept two ICC tournaments, though both in the first half of the decade - World Cup, 2011 and Champions Trophy, 2013 - and will rue not adding to their trophy cabinet despite coming close a few times. 
Post the 2015 World Cup, ODI cricket went into the fifth gear and India caught up, maintaining their number 2 ranking. They possess the format's modern-day greats - Virat Kohli and Rohit Sharma in the batting department and Jasprit Bumrah with the ball. Add a maverick like Hardik Pandya and it is hard to pull this side down even in the near future. In the T20Is, India made it to the World Cup final in 2014 and the semifinal in 2016. 
What lies ahead: India would want to sustain the benchmark they have set for themselves. More Test victories will be the topmost priority alongside travelling the extra mile between knockouts and the trophy in white ball cricket. Although, the road in T20Is seems a bit topsy-turvy with the team still hunting for the right set of players. 
New Zealand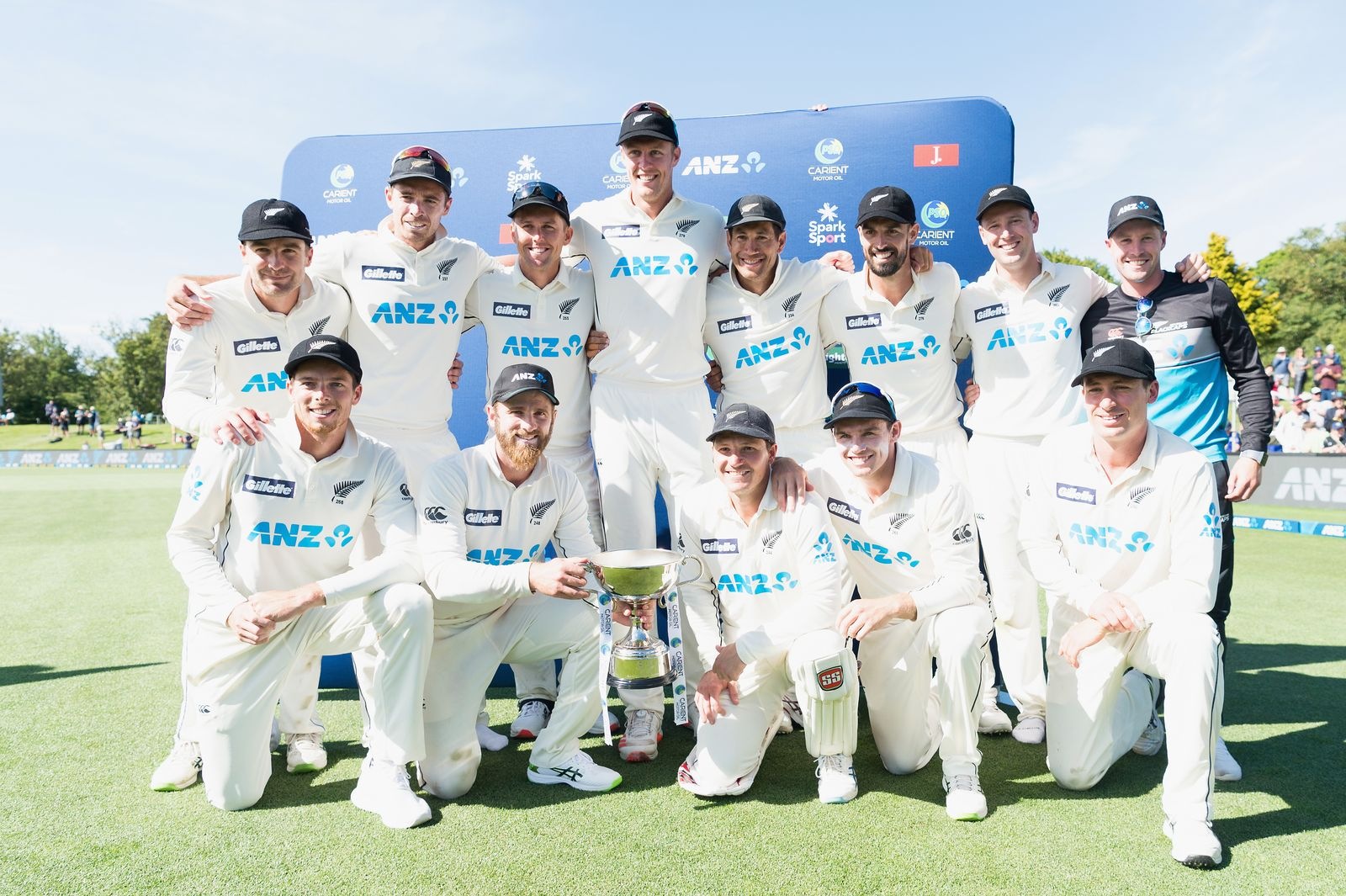 Ranking in January 2011: #8 in Tests, #7 in ODIs
Ranking in December, 2020: #1 in Tests, #3 in ODIs, #6 in T20Is
High-points: Two consecutive World Cup finals, in 2015 and 2019, number 1 Test ranking, Test series win against Pakistan in UAE, in 2018
Low-points: 45 all out against South Africa in 2013, 3-0 whitewash in Australia in 2019/20
New Zealand walked out of 2020 as the most improved team of the decade. They made massive strides, emerging from the label of "Dark Horses" to become serious contenders to win anywhere on the globe. 
In ODIs, they smashed the semifinal barricade to play not one but two World Cup finals, and pushed both England and the cricketing rule book to the edge. In Tests, they became the number one side for the first time. A lot of it has to do with the Kiwis assembling their most complete side in every facet of the game, shrugging the days when they were a group of utility cricketers. 
It began with an influx of quality fast bowlers. When they played their first Test in 2011, none of Trent Boult, Neil Wagner and Kyle Jamieson had made their international debut. Also, Lockie Ferguson and Matt Henry had not appeared in domestic cricket.
In other departments, Mitchell Santner is a like-for-like replacement for Daniel Vettori, including the spectacles. BJ Watling has been a top class wicketkeeping-batsman in Tests. Tom Latham, another debutant during this time span, established himself as an opener in Tests and a reliable middle-order wicketkeeping batsman in ODIs. Only John Wright has played more Tests for New Zealand as an opener. 
Kane Williamson had been on a steady pathway to prove the late Martin Crowe's prophecy right, who in 2015 said that Williamson will be the highest run-scorer for New Zealand in Tests. Ross Taylor continued to be as consistent as he was back during his younger days. 
In addition, New Zealand were led brilliantly, first by Brendon McCullum and then Williamson. Positive cricket, tactical shrewdness without compromising on the spirit of the game - Williamson carried the Blackcaps embracing the same principles with which McCullum left. 
Another aspect which made them the toughest side to beat was their never say die attitude. McCullum's triple hundred in a 738-ball long stand with Watling (in the Wellington against India) is a prime example of their innumerable back-to-the-wall performances in the decade. 
What lies ahead: The Kiwis never looked as strong as they look right now. The only potential question mark against them is if they have the batting for high-scoring games in white-ball cricket and whether they can correct their Test record in some of the overseas countries. For that, it is important that they start touring more. They would also hope that the success in the past decade will enlarge their fanbase and they won't be stuck with two-match Test series.