We started with reviewing spinners in the last article, and this article takes a look at the pacers.
Criclytics has a match rating index for each match, which measures the impact the individual had in that match relative to others. What it also measures as an input is a layer added in which talks about the win% impact a player had for each ball bowled in the IPL. We have tried isolating just the win% impact for each player in each match to understand how their spells have contributed to winning the match.
We will continue with the same metric (win% added). To give an example: If Ravindra Jadeja has bowled 2 overs, and the team win% has moved from 56 to 58, and then 71 to 64, then Jadeja's impact in over 1 is +2 and in over 2 is -7 which has a net impact of -5 for that game.
Jasprit Bumrah's spell vs RR of 4-20 came at a time, when MI were way ahead in the game and it moved the win% by just 9 points. It helped them close the game, but it was not the deciding spell to swing the match impact wildly. Bumrah's 2/18 against KXIP had twice the match impact that it did against RR, giving a match impact score of 19.
Which teams have used pace better with respect to match impact?
From the teams that have been ousted, one notes that success has come largely through the international recruits. This is shown in the green zones in the below figures for the respective bowler types that have yielded in a positive match impact (sum of all match impact). Sam Curran (CSK), Trent Boult (MI), Kagiso Rabada and Anrich Nortje (DC) are some of the foreign imports who seem to have done well for a longer period. 
The only team that has been a disappointment with their pacers completely has been the Rajasthan Royals. Despite having Jofra Archer as the #1 bowler by impact, their other pace bowling stocks have been pulling down the impact for the team.
An interesting number to observe for CSK (7th spot just above RR), has been that their sum of bowling impacts for pace bowlers have been better than their spinners. Among impact generated by pace/medium pace resources for teams, CSK's medium pace bowlers have generated the maximum positive impact. It might sound strange, given that DC, KKR and MI have a fast bowling arsenal that is dressed to kill, but their bowling impacts have largely been bolstered by their spin attacks for DC and KKR. MI's pace units have been a lot better than their spin bowling, but have not been in the thick of things when it comes to influencing match impact. A Bumrah four-fer may still not swing match impact wildly, despite the wickets since MI may have been well ahead. That way it's important to check the context of how match impact needs to be seen.
While the data takes into account all types of bowlers within that discipline/bowling type, it's interesting to note that spinners have had a higher impact this IPL than their pace counterparts. SRH with Rashid Khan and KKR with Varun Chakravarthy (130 and 72 Win% impact change). A little lower on the impact scale, but positive nevertheless are Ravichandran Ashwin, Axar Patel, Washington Sundar and Yuzvendra Chahal with +45, +34, +31 and +13 respectively. 
Which pace bowlers have generated maximum % of impact in their games?
This metric tracks consistency rather than the individual brilliance of the magnitude of win% impact, pretty similar to what was done for spinners. 
While Jason Holder has played a lesser number of games, he has been part of SRH's Phoenix-like rise on the points table. 4 out of his 5 performances have all been positive impact performances.
Top of the charts is RR's Archer with 11 positive impact performances in 14 games. The good point also is that the magnitude of his performances have also been good with his top 5 performances featuring in the Top 50 Win% impact bowling performances. 
The talking point however is Bumrah who has just raced to the Purple Cap with a 4-fer against DC in the 1st Qualifier. 3 of Bumrah's spells are in the top 50 ranks for bowling figures sorted by Win% Impact. After a relatively slow and sedate start against RCB and CSK in the first week, Bumrah has warmed up and is raring to go full throttle for MI in their quest to defend the IPL crown this year.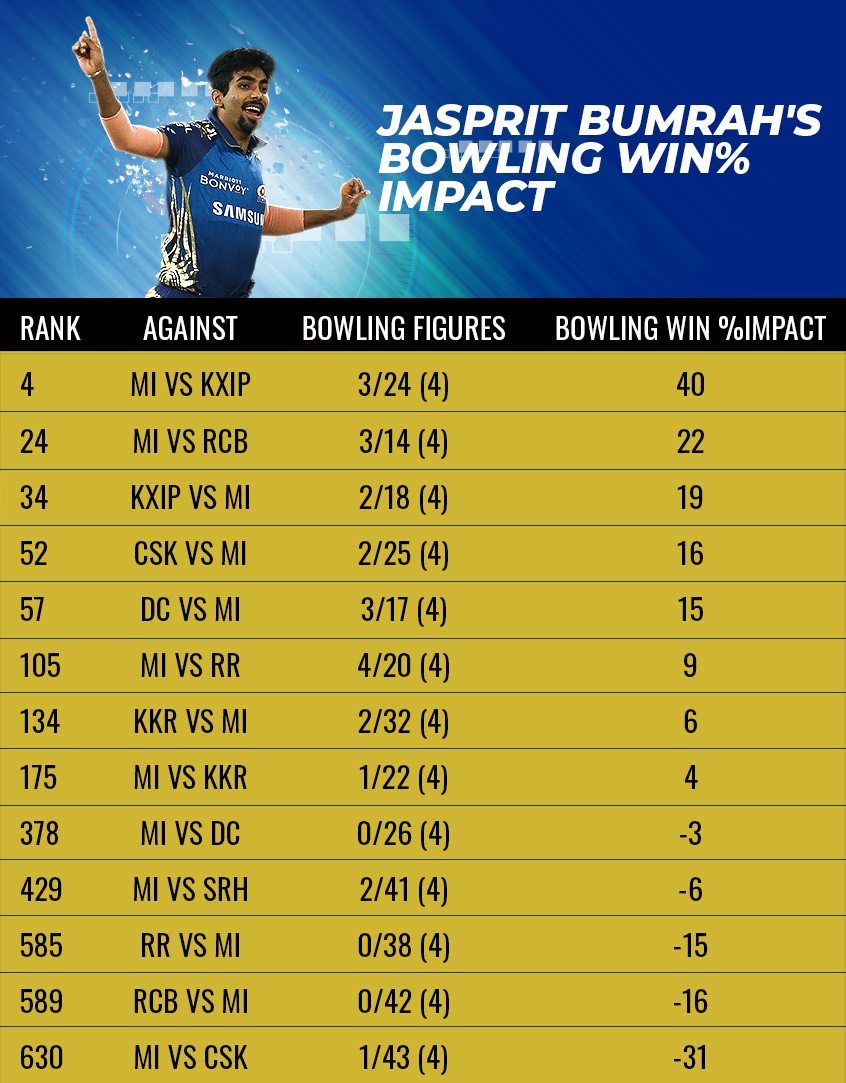 The second list of bowlers who have done well but have not quite been consistent have been the following bowlers. These bowlers are marginally lesser on the number of times they have recorded a positive impact performance. 
A good addition in this list of top bowlers are 2 young uncapped Indian bowlers, T Natarajan (SRH) and Arshdeep Singh (KXIP), who have impressed with their lengths in at least 3 matches. As they play more competitive cricket, they would hopefully improve and be more valuable to their sides. 
Who have been the most underwhelming bowlers in the league stage?
One important measure to look at is the same win% impact, instead of looking at absolute economy rates or strike rates. A 10-run over in the 19th over could have contributed more to the win% than a 7-run over in the Powerplay.  That way the win% normalises the apples to oranges comparison of looking at bowlers who specialise in different phases of play. 
Ankit Rajpoot, Tom Curran, Khaleel Ahmed, Ben Stokes and Prasidh Krishna have been very disappointing in their limited performances with the ball. Behind them are Isuru Udana, Marcus Stoinis, Harshal Patel and Mohammed Siraj. Stokes and Stoinis's negative bowling impact has been cushioned largely by their positive match-winning batting returns. 
5 of Rajasthan Royal's pace bowling unit features in this negative impact list, and that's what pulled them down despite having Archer in the side to wrest back control. 
(Image Courtesy - BCCI)