Two teams, both coming off important wins and both placed neck and neck on the points table will go head to head in Match 28 of IPL 2020, in Sharjah on Monday (October 12).
Both Kolkata Knight Riders and Royal Challengers Bangalore have won four games each so far this season and are currently placed third and fourth on the points table respectively. This game, however, is extremely crucial to either side as a win here will take them closer to securing a place in the playoffs.
As far as the head to head record is concerned, Kolkata hold the edge. The two sides have played 25 encounters over the years with Kolkata winning 15 of those while Bangalore have taken 10. In the last five encounters between these two sides too Kolkata have a fair 4-1 lead.
However, this year it is a much balanced Bangalore unit on display and it won't be as easy for Kolkata as it has been over the last few times.
IPL HEAD-TO-HEAD
Overall: Matches – 25 | RCB– 10 Wins | KKR – 15 Wins
Last 5 Matches: RCB – 1 Win | KKR – 4 Wins
Suggested Teams
While you could go for the above team, you also have the option of choosing your own team from cricket.com's Fantasy Research Centre. Based on algorithms we come up with six different teams that could fetch crucial points.
Ground details
Match 28 will be staged in Sharjah. This one statement in some ways lays out the fact that the encounter will be a high scoring affair. In addition, both Kolkata and Bangalore boast of some of the biggest hitters in world cricket and we could once again witness scores in excess of 200+.
The average first innings score so far in IPL 2020 in Sharjah is a high 212/5 with teams batting first having won four out of the five encounters. Kolkata have played only one game at this venue in IPL this year which they lost to Delhi Capitals while Bangalore are yet to play at this venue.
The surface in Sharjah has fairly and squarely suited batsmen as the average run rate of 10.1 suggests. They have scored at 31.9 runs per wicket with the bowlers managing a wicket only every 19 deliveries.
Having said that, the previous encounter played at Sharjah – DC v RR – did not see those huge scores but considering the shorter boundaries and flat surface that could be a one-off affair.
TEAM COMBINATION
Both sides are studded with superstars of the highest order and keeping in mind the high scores at this venue you should pick as many top-order batsmen and hard-hitting all-rounders in your side as possible. As far as the bowlers go, the reading isn't too great at this venue but they have managed to pick a few wickets. Pacers have easily been the more dominant entity here. They have picked 76.5% of the wickets to fall at a better average and strike rate in five matches so far this IPL season at Sharjah. The fast bowlers have picked wickets 46 wickets to fall striking every 17.6 balls as compared to spinners who have a bowling strike rate of 27.6.
Going by this statistic, you should go for Andre Russell and Chris Morris in your side as the all-rounder choice. Among the batsmen could opt for the likes of Virat Kohli, AB de Villiers and Dinesh Karthik while among the bowlers the likes of Navdeep Saini and Yuzvendra Chahal could be considered.
There are also a few interesting matchups to look forward to
Virat Kohli, arguably Bangalore's finest batsman up against Kolkata's prime spinner Sunil Narine should be a riveting battle. The Bangalore captain has come up against Narine in 16 innings and has scored 134 runs against him being dismissed only twice. But there is a very interesting column to note here, the strike-rate column, which reads only 100.8. This shows that Kohli doesn't like to take unnecessary risks against Kolkata's ace spinner.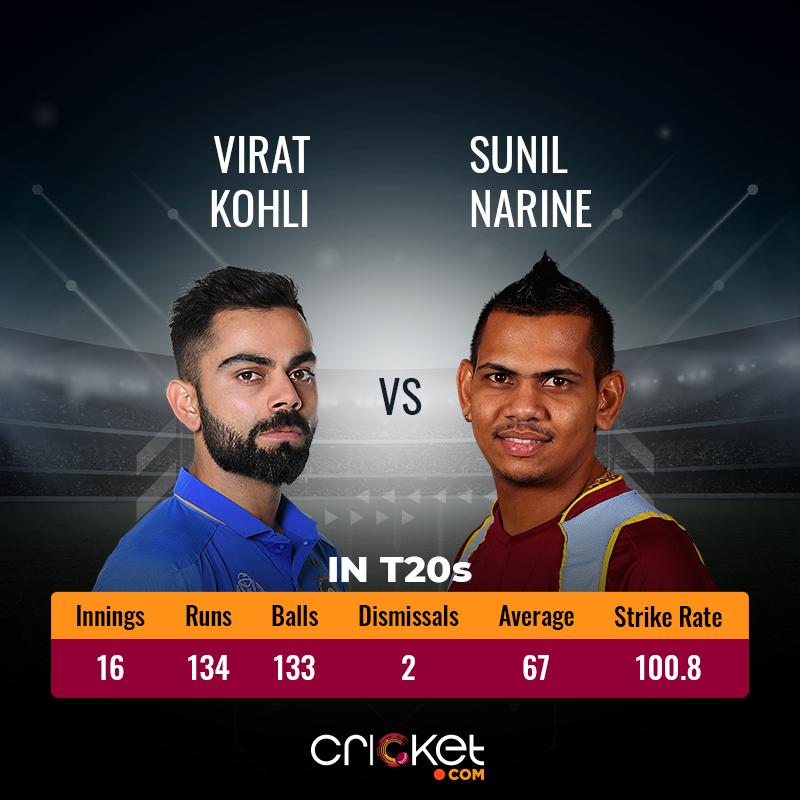 It is no secret that the Sharjah boundaries will be the centre of attention once again and with the shorter boundaries, the hard-hitters will also come into play. Kolkata boast of probably one of the best T20 batsman in the world in Andre Russell and the Sharjah boundaries will be on his radar. One Bangalore bowler he'd like to target is Yuzvendra Chahal against who he has a stellar record. In 4 T20 innings against Chahal, Russell has smoked 61 runs in 30 balls, being dismissed only once. Chahal is probably Bangalore's key man and if Russell can get the better of him, Virat Kohli will have few options left. 
Another interesting battle to look forward to is between Chris Morris and Dinesh Karthik. The Kolkata captain gained some form in the game against Kings XI Punjab but he will have to be careful against Morris against whom he has fallen 4 times in 10 innings and averages only 10.8.
Captain Selection
With scores of 0, 9, 12*, 55, 28 and 51, AB de Villiers has blown hot and cold so far in the IPL but with keeping in mind the short Sharjah boundaries and the inexperienced Kolkata bowling unit, you could go for him as the captain. The only bowler capable of challenging the might of de Villiers in the Kolkata unit is Sunil Narine but having been reported for a suspect action last match, it remains to be seen how badly the off-spinner's confidence has been dented. This where de Villiers can make merry. The South African does not have a great record against Kolkata in IPL – average of 27.85 with 2 scores of 50+ in 17 T20 innings. He will not get a better chance to change that number.
Our Criclytics player projection predicts, de Villiers could score 15-35 points in this match.
X-Factors:
He might not have had a great start to this year's IPL but Virat Kohli is certainly showing that class is permanent. In his last three innings, the Bangalore captain has scores of 90*, 43 and 72*, and certainly looks like a man on a mission. Furthermore, he has a terrific record against Kolkata. In 22 innings against them, Kohli has smashed 674 runs at an average of 35.47. This includes 4 50s and 1 century. Surely, he will be looking to extend his good run of form.
Our Criclytics player projection predicts Kohli could fetch 21-48 points in this match.
Kolkata's highest run-scorer so far this tournament, Shubman Gill certainly looks like he has come of age. The 21-year-old has scored 220 runs in 6 innings so far averaging a strong 44. Gill should also fancy Bangalore's bowling who certainly haven't been at their best.
Our Criclytics player projection predicts, Gill could fetch 17-45 points in this match.
The first person one would think of when the shorter Sharjah boundaries are being discussed has to be Andre Russell. What Russell can do on a good day has no limits. The only thing that can go against him is his fitness and you should wait till the toss to make a decision on Russell. In addition, he has a mind-blowing record against Bangalore. In 9 innings against them, he has scored 323 runs averaging 53.83 but what stands out here is the strike rate – 227.5. No ground is big when Russell gets going and if he can find his range, Bangalore better watch out.
Our Criclytics player projection predicts, Russell could score 12-58 points in this match.