In a straight knockout match, Sunrisers Hyderabad (SRH) face Royal Challengers Bangalore (RCB) at Abu Dhabi with everything on the line. With three wins out of three, SRH managed to sneak past RCB into third place, while their opponents, are going into this game on the back of four straight defeats. The two teams have won one game apiece this season so far when facing each other – RCB clawed their way back in Dubai to win by 10 runs and in Sharjah, SRH chased down the target comfortably. 
Overall, SRH have won nine out of their 16 matches, while RCB have won seven. However, Bangalore have a 3-2 advantage in their last five meetings.
IPL HEAD-TO-HEAD
Overall: Matches – 16 | SRH – 9 Wins | RCB – 7 Wins
Last 5 matches: SRH – 2 Wins | RCB – 3 Wins
Suggested Teams
While you could go for the above team, you also have the option of choosing your own team from cricket.com Fantasy Research Centre. Based on algorithms we come up with six different teams that could fetch crucial points.
Ground Details
As many as 20 matches have been played at the Sheikh Zayed Stadium, Abu Dhabi. The batsmen have scored at a run-rate of 8 – the lowest among all three venues this season. A wicket has fallen every 31.6 runs, 23.7 balls apart.
The average first innings score at this venue is 163, while in the second innings, the corresponding number is 152. However, the last five matches have been won by the chasing team and as a result, the team winning the toss are most likely to bowl in this crucial tie. 
Also keep in mind that it has not been easy to clear the fence at Abu Dhabi this season. A six has been scored every 23.6 deliveries at this venue, which is the worst ratio when you compare Dubai (20.8) and Sharjah (9.8). Hence, playing along the ground, with minimum risk is going to be key at this venue.
The pacers have picked up 67.3% of the wickets in the 20 matches so far while the spinners have accounted for 32.7%.  While in the first 10 games at Abu Dhabi, the pacers had a wicket every 28.9 runs, 20.7 balls apart, in the next 10 they have struck every 34.3 runs with a gap of 24.2 deliveries. It is a similar case with the spinners as well. In the first half at this venue, their bowling average was 31 and strike-rate was 24.8, but in the second half, the corresponding numbers increased to 35.1 and 29.8 respectively.
It is therefore safe to assume that batting has become a lot easier and as earlier mentioned, the team chasing have gone on to win five continuous matches here, it might benefit you if you pick some quality batsmen from the team batting second.
There could be a few interesting match-ups too.
No bowler has dismissed Virat Kohli more than Sandeep Sharma in T20 cricket. The SRH quick got the better of the RCB captain even on the previous occasion and overall, he has dismissed Kohli on seven out of the 12 times they have come up against each other. While Sandeep already has a psychological edge going into this battle, the onus will be on the India skipper to set the record straight.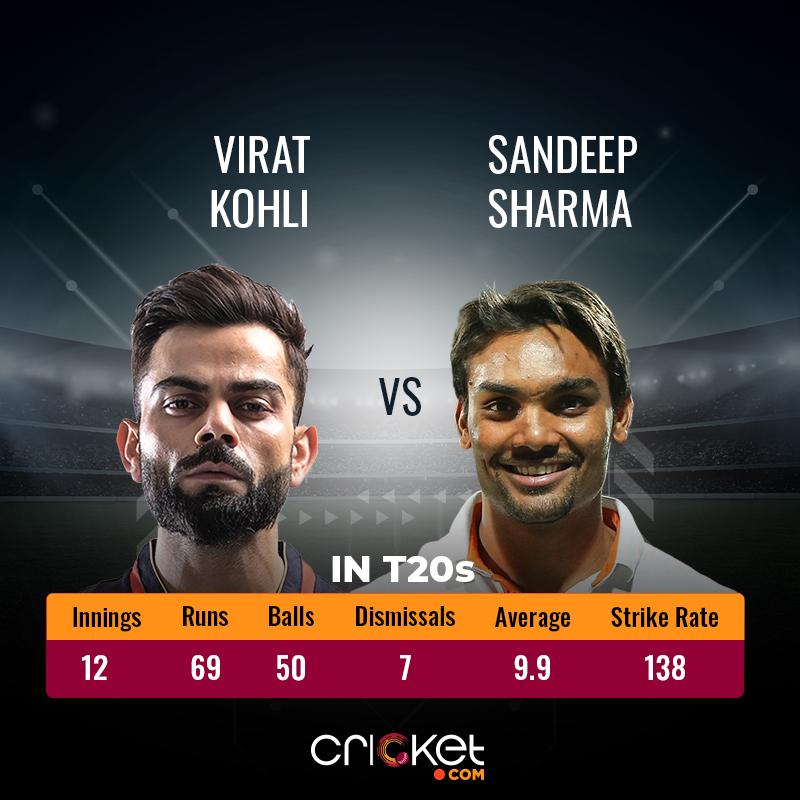 Chris Morris has dismissed David Warner just twice – once when the met for the very first time in Champions League T20 in October 2012 at Kingsmead and more recently in IPL 2017 in Hyderabad. Warner has really not had much trouble when coming up against Morris as his average of 32 and strike-rate of 128 depicts. Both players have been in good form for their franchise and this promises to be an exciting contest early on.
Yuzvendra Chahal has gotten the better of Manish Pandey on both occasions this season so far, giving away just five runs off 11 deliveries in the process. This battle could be a crucial one as whoever wins it, could very well tilt the game in their side's favour. As it stands, it is Chahal who has the edge, but one cannot discount Pandey making a strong comeback against the tweaker.
Captain selection
One of three batsmen to score 500-plus runs this season, David Warner will once again be key to  SRH's success in this match. He has a couple of fifties in his last five innings, which includes a brilliant unbeaten 85 in the previous match against Mumbai Indians With Warner back in form ahead of this crucial tie, it could bode well for his team, who are chasing their second IPL title in four years. Warner starts off a bit slowly in the Powerplay (SR 129.6), but shifts gears in the next nine overs, scoring at a strike-rate in excess of 140.
Our Criclytics player projection predicts, Warner could score 17-40 runs in this match.
X-Factors
Out of his 19 wickets this season, Rashid Khan's 18 wickets have come in the middle phase at an average of 14.3, strike-rate of 16.7 and miserly economy rate of just 5.1. The Afghanistan legspinner can turn the match on its head in a matter of a couple of overs. He will mostly be up against two of RCB's best batsmen – Virat Kohli and AB de Villiers in the middle phase. How he goes about things against them could determine the outcome of the match. Given his form this season, you could bank on Rashid to come out of the battle with flying colours.
Our Criclytics player projection predicts, Rashid could pick up 1-2 wickets in this match.
In a battle of two world-class legspinners, Yuzvendra Chahal is not too far behind when it comes to his contest with Rashid Khan. Yuzi with 15 wickets between overs 7-15 is just three shy of Rashid and has struck more regularly as his strike-rate of 15.7 shows. Chahal with 20 wickets this season is the leading wicket-taker among spinners. He had an off day against DC in the previous encounter, which was the first time in nine innings he failed to pick up a wicket, but he will look to put that behind him and bowl a match-winning spell.
Our Criclytics player projection predicts, Chahal could pick up 1-2 wickets in this match.
Many a times this season, there have been eyebrows raised about RCB's intent in the middle-overs and it is Virat Kohli, who has taken the brunt of such criticism. Despite that, Kohli has scored the most runs in the middle phase with 273 runs at 56, with a strike-rate of just 110.1. While there is no question about the quantity of runs he has scored, the pace at which he scores them is the issue. However, that should not stop you from picking him in your team as in fantasy cricket, the amount of runs is what matters the most, not the pace at which a batsman gets them. Given that the stakes are high, Kohli might deliver at his best in this match.
Our Criclytics player projection predicts, Kohli could score 15-38 runs in this match.