Forty and raring to go. Few cricketers are fit and in form at an age by which their colleagues are looking for coaching gigs. For Harbhajan Singh, the passion to continue playing is not limited to the lucrative IPL. After 22 years of competitive cricket, there is a still a burning desire to don the India jersey once more.
"If you can do well against them in IPL, you can do well in international cricket", Harbhajan spoke to ESPNcricinfo about bowling to the top batsmen. He knows his bowling numbers well when he talks about "bowling predominately in the powerplay and middle-overs and getting wickets". In over 1 to 15, no other bowler matches his tally of 124 wickets. 
As cricket moves from Tests to T20s, the importance of economy rate increases. Harbhajan's numbers seem even more impressive when we realize that his overall economy rate in overs 1-15 is 7 and against left-handers, a mere 6.4. 
Among left-handers, Suresh Raina and Chris Gayle are the legends of the IPL. Harbhajan has got the better of them on five occasions each. Neither has a strike-rate more than 110 against him. He has also dismissed David Warner on four occasions with the Australian striking at a rate of only 119.2 against him. 
Harbhajan does not mention bowling at the death as he has bowled only 44.3 in over 16-20. But, his record of 10.3 balls per wicket is the joint second-best with Lasith Malinga, among bowlers with 40 or more overs in this phase.
Things did not begin well for him in the first season of the IPL. The infamous mishap with S Sreesanth cut his season short after only three matches. Since then, he has played eleven or more games in every season. Passing under the radar with other bigger names in his team, Harbhajan holds the record of most overs bowled by a bowler in IPL.
A maiden in a T20 game is rare as a hat-trick in Test cricket. With six maidens, he shares the record of most among spinners with Amit Mishra.
Until IPL in 2017, Harbhajan and Virat Kohli were the only two players to represent only one side for 10 seasons. Two got reduce to one after Mumbai Indians released Harbhajan ahead of the 2018 season. 
Call it CSK's strategy at the auction or how MS Dhoni makes his players seem, but rags for others have been riches to them often. One of CSK's strength has always been: success at home. With seven matches at home in every season, even a victory percentage of 70% there boosts the chances of finishing in the top four. 
Using the conducive wicket at Chepauk well, Harbhajan has the best economy and balls per wicket record there since his arrival in CSK in 2018.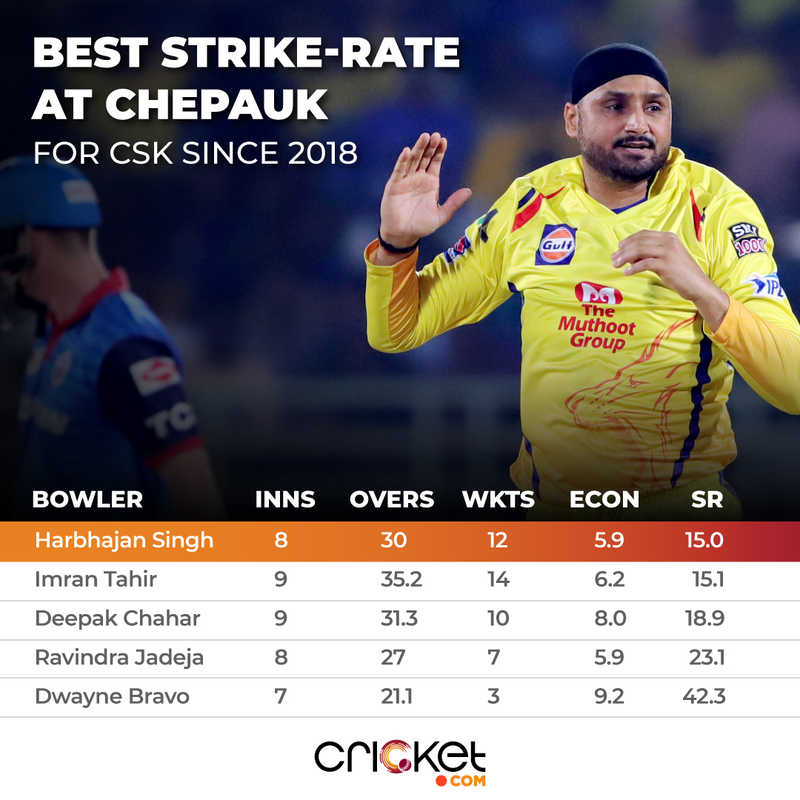 Harbhajan Singh has been a part of the title-winning team on four occasions. Only Rohit Sharma has won it five times. Stepping up on big occasions, Harbhajan has an envious record in knock-out matches.
Harbhajan found a place in the top-10 bowlers of all time in our analysis. Here is an in-depth overview of our methodology-
We assess the bowlers across the adjusted economy and adjusted strike-rate. The calculation of these adjusted values take into account the following observations-
In the overs 1-6, the ability to pick wickets is relatively more important than keeping the runs down
In the overs 7-15, both aspects are equally important
In the overs 16-20, containing runs edges the ability to pick wickets
These help us arrive at weights for economy and strike-rate across the three phases. Using these weights across the three phases, we calculate the adjusted economy and adjusted strike-rate. 
There are 160 bowlers with a minimum of five overs in each phase. After calculating the adjusted economy and adjusted strike-rate for them, we check the average values. The average adjusted economy rate comes out to be 8.6 whereas the average adjusted strike-rate is 25.3. 
The next step is to check how far ahead each bowler is on the two parameters from an average adjusted value. For this, we look at their standing on deviation in the adjusted economy and adjusted strike-rate. This helps us identify the bowlers whose economy and strike-rate are – 1) better than the average values; 2) closer to the average value; 3) further away from the average value
More negative the value of deviation for economy rate and strike rate, the better is the bowler's performance than the others. Imran Tahir, with a deviation from average adjusted strike-rate as -10.1 is way ahead in the league of the ability to pick wickets. Sunil Narine with the deviation of -1.8 from the adjusted economy is the one that keeps the batsmen the quietest.
Based on this analysis, Harbhajan's score across economy and strike-rate in every phase puts him at the number fourth spot among the top IPL bowlers. 
Harbhajan last played for India in a T20I more than four years ago. With a plethora of young spinners to choose from it is unlikely that the BCCI will turn to the forty-year-old. "They will not look at me because they feel I am too old," he has a realization of a dim ray of hope as well. It will not be due to a lack of knocking on the door on his part.