For someone who started following cricket in 2016, it will be hard to fathom that Sri Lanka played five out of the last 10 finals in ICC events in the decade before. But that is the quality they upheld in their cricket team. After playing the Qualifier round the Champions Trophy 2006, they made it a habit of reaching the finals, being the finalists of five out of the 10 ICC events until the 2015 World Cup. This is a terrific record to go with the title win in the T20 World Cup in 2014. 
Fast forward to 2021, the dynamics of Sri Lankan cricket have turned upside down. It took them their sixth attempt to get off the mark in the ongoing cycle of ICC Men's Cricket World Cup Super League. With eight points in six games, Sri Lanka is placed last on the points table amongst the 12 sides who have played at least one game. They are below Ireland, Zimbabwe and Afghanistan. Given they have only six more ODIs scheduled until February 2022, that too against the top nations like England and India, there is a good chance we will see them playing the Qualifier round to compete in the 2023 ODI World Cup. 
The downfall of Sri Lanka cricket is apparent since 2015, the last time they had the magical trio of Mahela Jayawardene, Kumar Sangakkara and Tillakaratne Dilshan playing together. It was the Quarterfinal of the 2015 World Cup. That was the last time Sangakkara and Jayawardene appeared for Sri Lanka while Dilshan retired in 2016.
A drop in numbers was expected given the retirement of high profile players but what's astonishing is the magnitude of the slump. It all boils down to the way they have dealt with the transition phase, especially in the batting department. 
Comparing their batting numbers to that of India, Bangladesh and Pakistan bring all three flavors to the comparison - the dominance of India, the steady growth of Bangladesh and the tumultuous nature of Pakistan. Sri Lanka have constantly been on the lower side of all these three fronts since 2016. At times when the batting numbers witnessed unprecedented heights, Sri Lanka went crashing towards south. 
Between 2010 and 2015, Sri Lanka's top six batsmen scored 30,882 runs. Sangakkara scored 20.6 per cent of these runs. Dilshan contributed 18.8 per cent while Jayawardene's share was 13.4 per cent. Overall, these three were responsible for over 50 per cent of Sri Lanka's batting numbers. 
Sri Lanka had pinned their hopes on Angelo Mathews, Dinesh Chandimal and Lahiru Thirimanne to take the baton from these greats but the hopes didn't materialize. Mathews has missed out on 44 per cent of Sri Lanka's matches in ODI cricket, most of them owing to recurring injuries. Chandimal and Thirimanne have missed 52 and 76 per cent of these games due to their inconsistency. None of them went to Sri Lanka's ongoing tour of Bangladesh. 
There is also Kusal Mendis who unfortunately has more ducks in international cricket than hundreds.
With the likes of Wanindu Hasaranga, Akila Dananjaya, Lasith Embuldeniya, Suranga Lamal, Dushmanta Chameera and a few more, Sri Lanka have the bowling resources but without apt support from the batsmen, it means little. 
In fact, since 2016, Sri Lanka and West Indies are the only two major ODI nations with a bowling average greater than the top 6 batting average. Needless to say, it is an unpleasant stat for any side, irrespective of the format.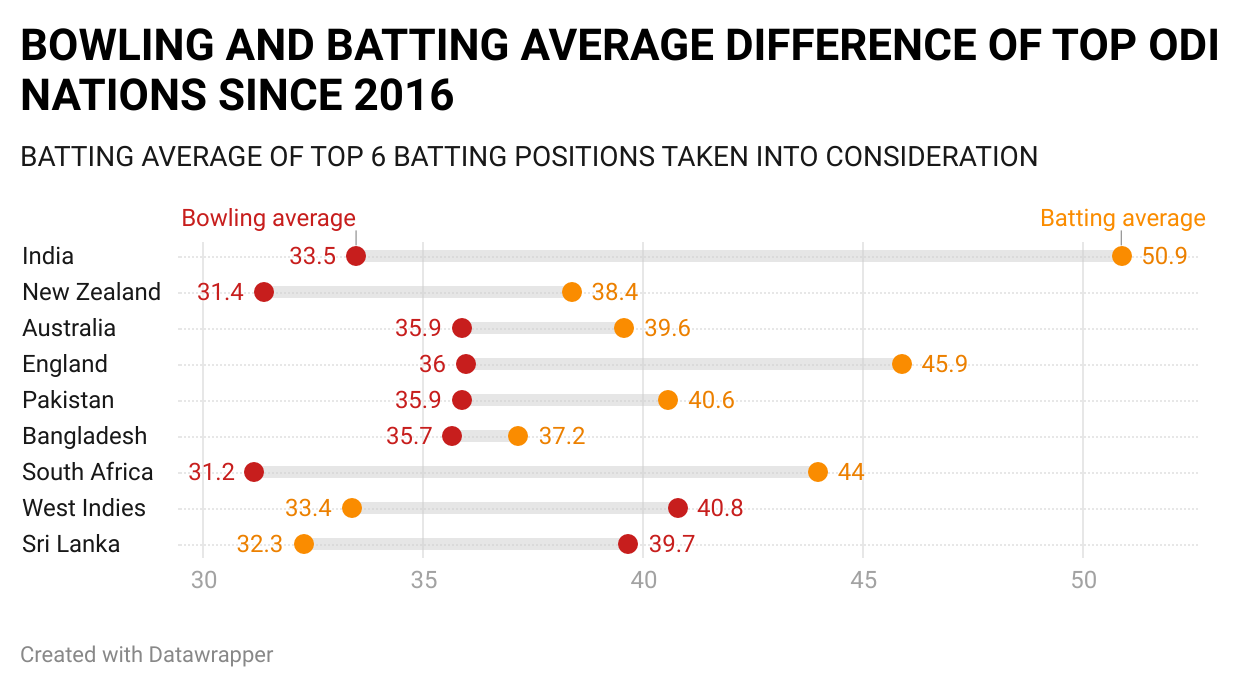 Amongst all this, Sri Lanka have played musical chairs for the captaincy seat. Since 2016, Sri Lanka have had nine ODI captains, the latest being Kusal Perera in their recently concluded ODI series in Bangladesh. What is more shocking is that the preceding captain, Dimuth Karunaratne has been scrapped from the current side. Mathews, their most experienced player, had the same fate.
In addition, there has been constant friction within the board officials and between the board and the players. In the most recent controversy, the players refused to sign the contracts offered to them by Sri Lanka Cricket. Former cricketer and the current chairman of the SLC committee responded saying, "They should start winning games for the country rather than complaining." These strong words hint at the tussle to continue. 
A combined result of all these factors has led Sri Lanka to some of their most embarrassing cricketing moments of late. In ODIs alone, they have not won a single bilateral series overseas since 2016. At home, they have lost five of them, involving a 2-3 defeat at the hands of Zimbabwe, in 2017. They have been whitewashed six times. They lost all their nine games across formats against India at home in 2017. 
In Bangladesh, they were close to their seventh whitewash but were saved by an inspired performance by their new captain, Kusal Perera and a stunning bowling performance by Chameera. 
When SLC announced the squad for this series with a number of experienced players omitted and a new captain to lead, coach Mickey Arthur explained, "We've started on a journey with what we think is a team that will play in 2023". What the series highlighted was once again the absence of firepower with the bat and the door is still open for the old pros to fill that void. But, they need to put their hand up, which has not been the case. 
"The door's not closed on anybody. Certainly some senior players can come at any given time depending on performances", said Arthur. 
Currently, a lot of things need to go right for Sri Lanka to make it to the 2023 World Cup. Remember that only two out of the 10 teams in the World Cup Qualifiers will make it to the 2023 ODI World Cup. However, Sri Lankan cricket has stood for resilience ever since its inception. One can expect it stays the same and they fight their way through, pinning this as a passing phase.