October 30, 2021
"It all depends on how we take the field mentally and how we counter that. All that matters now when we step out onto the field is what kind of mental frame we are in."
October 31, 2021
"To be brutal upfront, I don't think we were brave enough with bat/ball. We obviously didn't have much to play with the ball. We were just not brave enough in our body language when we entered the field and NZ had better intensity, body language."
The two lines above are Virat Kohli's words from the pre and post match respectively. All you have to do is add the 'Directed by Robert B. Weide' end-credits and music in between the two and VOILA, there you have your viral meme ready to go.
Except this isn't a meme. 
Juxtaposing these two statements will actually tell you everything you need to know. Kohli's words pretty much sum up what happened in Dubai on Sunday, a day that can arguably be labeled the worst in the country's T20 World Cup history: India simply did not show up.
It is as simple as that. 
India were physically present but that was about it. What transpired on the field was no different to what would have happened in the hypothetical scenario of the Kiwis coming up against eleven mannequins.
This is not a knock on India or the players. Every now and then, every team tends to have days like this. India themselves have had plenty arguably worse, some in the past decade alone.
But if we are to reduce this defeat to one reason, it is that no player, barring Jasprit Bumrah with the ball, showed up. 
This game was not like the defeat against Pakistan last week where they were blazed, flayed and outplayed by a team that was hungrier. Here, India just…..lost. Or more accurately, they just let New Zealand win the game.
And that is what has left the entire world, even those who vehemently dislike the side due to its popularity and the media-hype it gets, flummoxed. 
If we are to draw Football parallels, India's eight-wicket loss to New Zealand on Sunday is the equivalent of England losing a World Cup quarterfinal against Netherlands 8-0 without attempting a shot or a tackle. Yes, it was that bad.
The Dissection
For the second match running, India lost the game with the bat. Were they toothless with the ball? Absolutely. But even if India had lost the game inside five overs, there is no point blaming the bowling when the batters managed 110 off 20 overs without getting bowled out, not showing an iota of intent.
The team, without a doubt, was unlucky on the toss front, but it would be the height of denial and delusion to blame the toss after scoring at just over five-an-over on a good batting wicket.
Did India muck-up the batting order?
Given each of the Top 6 batters failed, it would be disingenuous to nit-pick and hold individuals responsible. Put simply, the disastrous showing on Sunday was a collective failure. 
But that being said, the merit of certain decisions can be questioned.
Ishan Kishan, in the absence of Suryakumar Yadav, opened the batting, presumably to show intent up-front. Kishan's switch to the top forced multiple reshuffles in the batting order as while Rohit slipped to No.3, Kohli found himself batting at No.4. The question, though, is: was it the smartest of decisions?
There is no denying that Kishan is at his very best in T20s when he opens, and the numbers back up the claim. Since 2020, he is averaging nearly 54 as an opener, as compared to just 27.81 elsewhere. But even discarding the benefit of hindsight, did India err by promoting the southpaw, given the composition of the side?
For ultimately, the move meant that New Zealand had the advantage of bowling the leg-spinner and the left-armer immediately post the powerplay to Rohit and Kohli, two of India's slowest batters against the ball turning away. And the match-up ended up working perfectly for the Kiwis as Kohli and Rohit could combinedly score just 10 off the 21 balls they faced against the two spinners, not striking a single boundary.
This tame passage play could have been avoided had they held back Kishan, who has struck at nearly 148 against left-arm spinners and leg-spinners since the start of last year. In fact, as recently as the warm-up game against England, Kishan showed how destructive he could be against a favorable match-up: he took 27 runs off the 10 balls he faced of Adil Rashid.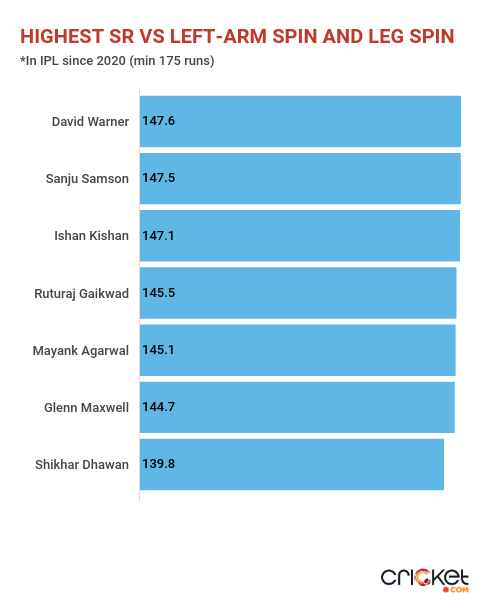 It is also puzzling that India felt the need to open with Kishan as the designated 'intent-machine', as Rahul, in the warm-ups, showed he can be just that. Against England Rahul struck a 23-ball fifty and proved that he can seamlessly transition between aggressor and accumulator. 
Opening with Rohit and Rahul might also have forced New Zealand to burn more overs of Sodhi and Santner up-front, in turn making life easier for Kohli, who is as indomitable against pace as he is vulnerable versus spin. 
India's approach on Sunday, top-to-bottom, was questionable, but it is hard not to think that they did not utilize their resources effectively either.  
Hardik Pandya's inexplicable knock of no intent
Hours before the game, visuals emerged of Pandya taking minutes of advice from team India's mentor, MS Dhoni. What they spoke remains a mystery, but if we are to take a wild guess based on Pandya's showing with the bat on Sunday, it does look like the phrase 'take it deep' stuck with the Baroda lad.
Because Pandya consolidated, consolidated, consolidated and consolidated without showing any intent till the penultimate over.
Now, it has to be said that Pandya walked in to bat at an uncomfortable position. At 48/4, he and Pant had no other choice but to rebuild, and, to their credit, the duo did a laudable job for a handful of overs.
But rebuilding needs to be done with the ultimate goal of reaching a total that is winnable, or at least par. In Pandya's 24-ball stay, his approach suggested that he felt that even 120 would be a defendable score, a thought-process that, as New Zealand showed, was flawed. 
The right-hander defended a staggering 45.8% of the balls he faced and also struck a solitary boundary, which also only came in the 20th ball he faced. 
It is one thing to struggle to time the ball - which Pandya also did - but to attempt no aggressive shots until the final three overs, when the team is struggling to get to the 100-run mark, is bizarre. 
The Pant-Pandya partnership, and the Pandya innings in particular, allowed the Kiwis to bowl where they wanted, and ultimately made life even more difficult for India. At no point were the New Zealand bowlers put under pressure or forced to re-think their plans.
The presence of Thakur - and Jadeja above him - also, if anything, provided more incentive for Pandya to be more proactive in the way he batted.
Not too long ago, in March against England in the third ODI, Pandya walked in at No.6 and turned the game on its head with a 44-ball 64 when India were in a spot of bother at 157/4. How India would have wished for him to play a knock with similar intent on Sunday, regardless of whether it would have influenced the result.
Are India regretting their squad selection already?
Prior to the start of the World Cup, skipper Kohli was quick to defend the place of Bhuvneshwar Kumar, who got pasted across both the warm-up games.
"No, not at all [concerned]," said Kohli about the right-armer's dwindling form, and further asserted that "his experience, as I said, is going to be priceless for us."
Clearly, these words are no longer true. Because Bhuvneshwar's listless showing against Pakistan turned out to be the straw that broke the camel's back as India, on Sunday, left out their once-premier new ball bowler.
And as Kohli burnt three overs of Chakravarthy and two overs of Bumrah inside the powerplay, when the team was in desperate need of wickets, you could almost sense the Indian skipper's regret. The regret of knowing that he had no other reliable bowler he could throw the ball to - not only in the XI but in the entire squad.
That begs the question: are India regretting their squad selection already?
Bhuvi's axe suggests that India no longer trust him, and if Shami was one of Kohli's go-to bowlers, he would have bowled up-front against New Zealand. That didn't happen. Jadeja had an off-day, but it is worth remembering that he is not always CSK's fifth bowler. Even this season, Jadeja did not complete his quota of 4 overs in half the matches.
ALSO READ: India have a bowling headache and it is not Hardik Pandya
You wonder now, with India on the brink of elimination, if Kohli wishes he had a Siraj or a Yuzvendra Chahal or a Deepak Chahar at his disposal. For even if India were to bring in both Ashwin and Rahul Chahar, it would make no significant difference to the potency of the bowling.
Batting, without a question, has let India down, but the toothlessness of the bowling is an equally serious concern. Maybe we'll know the extent of its seriousness when India inevitably bowl first against Afghanistan in Abu Dhabi on Wednesday.