Heading into this match, both Kolkata Knight Riders (KKR) and Royal Challengers Bangalore (RCB) find themselves in the top four. While KKR are fourth with 10 points, RCB are one place above with 12.
The Super Over win against Sunrisers Hyderabad (SRH) would have come as a huge relief for the Knight Riders who had lost their two matches before that. On the other hand, the Royal Challengers have been in good form, winning three out of their last four games.
While RCB were victorious when the two sides met earlier this season, KKR have the edge when it comes to overall head-to-head record in the Indian Premier League (IPL) – winning 14 out of 25 contests against the team from Bengaluru. While RCB have won the last couple of fixtures against KKR, the latter won five consecutive matches against the former before that.
IPL HEAD-TO-HEAD 
Overall: Matches – 25 | KKR – 14 Wins | RCB – 11 Wins
Last 5 Matches: KKR – 3 Wins | RCB – 2 Wins
SUGGESTED TEAMS
While you could go for the above team, you also have the option of choosing your own team from cricket.com's Fantasy Research Centre. Based on algorithms we come up with six different teams that could fetch crucial points.
GROUND DETAILS
This will be the 14th match of the season at the Sheikh Zayed Stadium in Abu Dhabi. In 13 games held at this venue in IPL 2020, teams batting first have a slight edge, winning seven times (once via a Super Over).
KKR will be more familiar with this venue than RCB as the two-time IPL champions have already played six matches (four wins) in Abu Dhabi this season. On the other hand, this will be the second game for Virat Kohli and co. in the capital city of the United Arab Emirates (UAE) – they defeated Rajasthan Royals here earlier this month.
In Abu Dhabi, the average run-rate in IPL 2020 so far has been 8 which is the lowest among the three stadiums hosting matches this year. The batting average here has been 29 which is higher than it is in Dubai (27.8) but lower when compared to Sharjah (33.2).
While wickets have fallen less frequently in Abu Dhabi (21.6) than they have in the other two venues in IPL 2020, the average first innings total here is 164 which is the lowest.
TEAM COMBINATION
In the 13 matches in Abu Dhabi this season, pacers have taken 88 wickets while spinners have accounted for 44 dismissals. Just like the other two venues, pacers have taken wickets more frequently at the Sheikh Zayed Stadium during IPL 2020 as well – the bowling strike rate for pacers is 21.6 while spinners have taken a wicket every 26.1 deliveries here.
While spinners have a much better economy rate (7.3 vs 8.3), wickets are more important in fantasy cricket, so there is reason to be inclined towards selecting more pacers in your team.
There are some fine fast bowlers who will be playing in this match as well. Based on their performances in their respective teams' previous matches, Chris Morris and Lockie Ferguson look like very good options to consider.
We've not selected Andre Russell for this match because of two reasons – (i) concern over his fitness as he didn't look 100% while bowling the final over of Sunday's match, (ii) he has a batting average of 11 in the UAE in T20 cricket. But you can still consider him because of his outstanding record against RCB – batting average of 48.4 and strike rate of 223.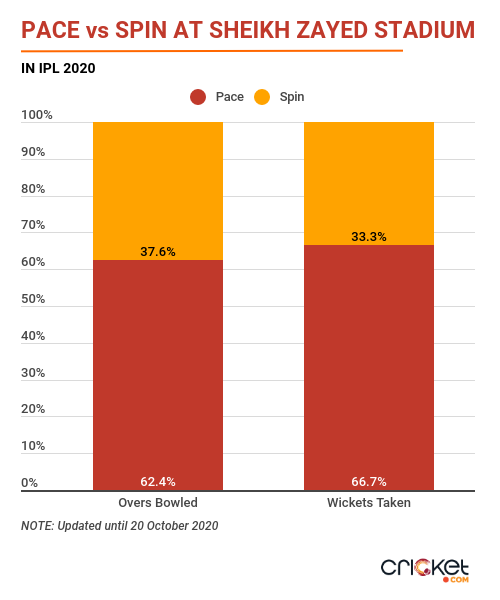 There could be a few interesting match-ups too.
KKR's middle-order hasn't performed as well as they should have so far this season but Eoin Morgan has done reasonably well. On this occasion, it'll be interesting to see how Morgan fares against Yuzvendra Chahal in the middle overs if this contest takes place. In T20 cricket, the England and KKR captain has struggled to score quickly against Chahal until now.
Dinesh Karthik might have had a torrid start to the season but looked in good touch in KKR's previous match as a finisher. So, it wouldn't be a surprise if he takes up a similar role against RCB as well. Meanwhile, Chris Morris has been excellent since making his RCB debut. So far, Morris has had the upper hand in this contest, dismissing Karthik four times in 33 deliveries in the T20 format.
After sitting out a few matches, Kuldeep Yadav returned to KKR's line-up and bowled an economical spell against SRH. If he plays this match, it'll be interesting to see if the KKR management give him the new ball because of his outstanding record against Aaron Finch. Kuldeep has dismissed Finch four times in just 25 deliveries in T20 cricket.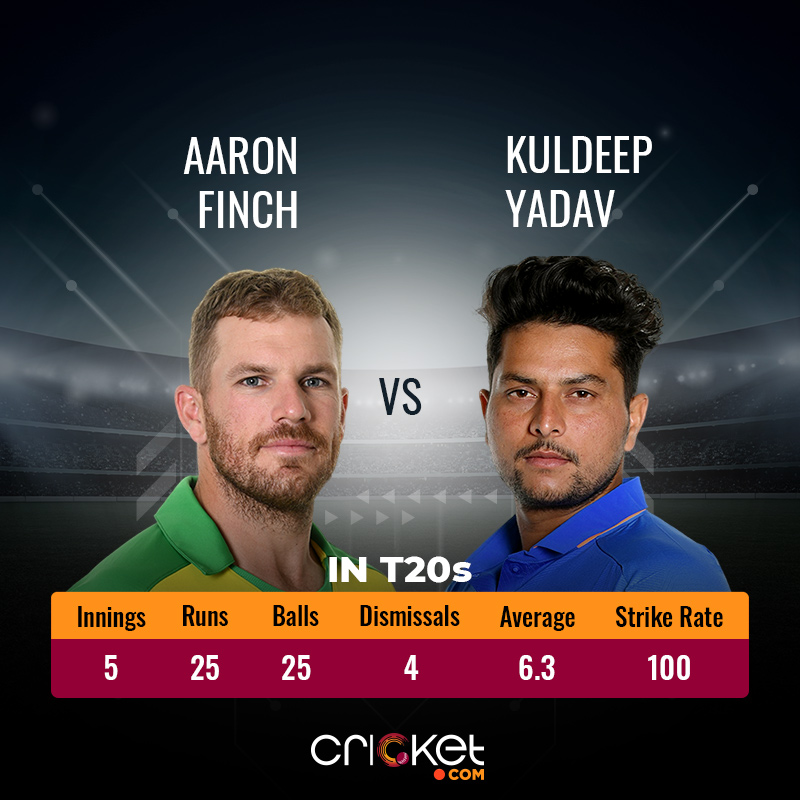 After a poor start to IPL 2020, Virat Kohli has anchored RCB's innings quite well in recent games. Here, the middle-overs battle between Kohli and Lockie Ferguson could be really interesting to watch. Ferguson will be high on confidence after his brilliant showing against SRH on Sunday. The India and RCB skipper has a batting strike rate of 215.4 against the New Zealand and KKR pacer, but a sample size of only 13 deliveries isn't the greatest of indicators.
CAPTAIN SELECTION
Virat Kohli currently has a batting average of 57.8 in IPL 2020 – this is despite him scoring just 18 runs in his first three innings of the season. While his strike rate isn't as high as we'd expect it to be, runs matter more than anything else when it comes to batting in fantasy cricket and Kohli has been very consistent with regards to that in recent matches. He has scored 30+ in his previous six innings and in five of those knocks he crossed 40 as well.
Our Criclytics player projector predicts Kohli could score 17-40 runs in this match.
X-FACTORS
As mentioned above, accumulating runs matters much more than a good batting strike rate in fantasy cricket. While Shubman Gill has worries regarding his scoring rate this season, he has been quite consistent in getting good scores. In nine innings, he has managed 311 runs at an average of 38.9 in IPL 2020 so far. He has been dismissed for a score of below 20 just twice this season until now.
Our Criclytics player projector predicts Gill could score 13-36 runs in this match.
Death-over bowling has been an Achilles heel for RCB for a few seasons, but they have improved with regards to that aspect lately and that has shown in their results as well. In recent matches, Chris Morris has been really good for them in that part of the innings. Among bowlers with 5+ wickets this season, Morris currently has the best strike rate (10.7). At times, he can also get you some handy points with his batting.
Our Criclytics player projector predicts Morris could score 10-27 runs and could take 1-2 wickets in this match.
After his heroics against SRH on Sunday, it's hard to ignore Lockie Ferguson. KKR's bowling hasn't been up to the mark so far in IPL 2020, but Ferguson's performance in his first match of the season will be a source of encouragement for the Morgan-led team. Since 2017, Ferguson has a bowling strike rate of 18 in T20 cricket which shows that he's a reliable wicket-taker.
Our Criclytics player projector predicts Ferguson could take 0-1 wickets in this match.
Former KKR captain Gautam Gambhir has gone for three allrounders and four bowlers in his fantasy XI for this match. Here's what he had to say about his team combination.
(Image Courtesy - BCCI)