On Friday night, well past India's bedtime, many sports fans were glued to their Television or streaming devices to witness something extraordinary. As Novak Djokovic pushed Rafael Nadal to his limit in Paris, it was montaged as the highest order of sporting excellence. Within 24 hours of that marvelous game, or perhaps that legendary third set, it would've been difficult for any sportswomen or men to achieve something close to that. But perhaps, Mark Wood's effort would. 
On a lifeless Edgbaston wicket, not only the Durham pacer bent his back with insane regularity, never for a moment did he seem like he would give up. 145kph rockets were thrown in to test New Zealand players' patience before Stuart Broad and Olly Stone reaped dividends by scalping out the tail-enders. However, that didn't mean England were on top of the proceedings.
In the first session, Ross Taylor continued from where he had left off on Day 2 but this time, with more authority. He almost doubled his strike rate in the first session, taking a special liking towards Olly Stone and Stuart Broad. However, the shot that reaped him the maximum rewards - cover drive - turned out to be his kryptonite when he failed to middle a Stone delivery, only to be edging to James Bracey behind the stumps. 
At 292-4, the game could've gone either way, but it was to the credit of Henry Nicholls and Tom Blundell that the visitors raced towards a substantial lead. In the second half of his innings, Nicholls seemed a bit tentative against the Wood-Stone combo before the Durham pacer sent him back to the hut with a well-directed short ball. 
Blundell was waging a lone battle at one end and then he finally found some solid support from Ajaz Patel and Trent Boult. The tail-enders provided some lusty blows with regular boundaries to help the visitors reach 388, bagging a lead of 85 runs in the first innings.
The wicket had flattened out and with the sun out in full flow, England openers needed to bide time to cross past the lead figure and then add some more. But what transpired out in the middle was a tragicomedy few would've envisioned. Matt Henry turned up the volume with a spell of absolute ferocity that saw him swing the ball both ways apart from seaming from the deck to leave Rory Burns and Dom Sibley in dire straits.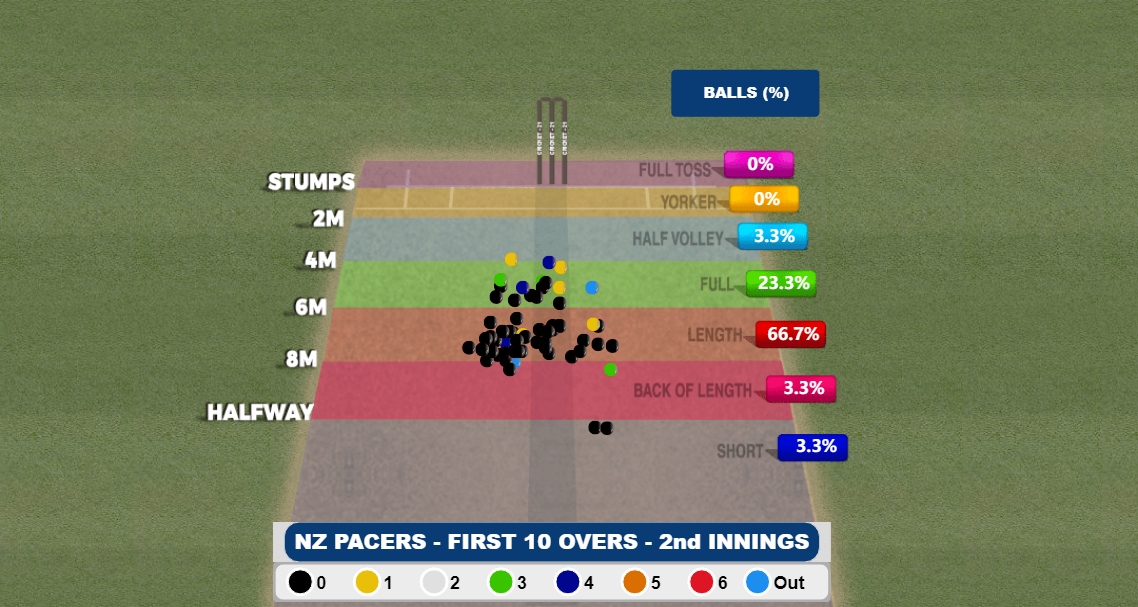 Before anyone realized the impact, England were down by three wickets for 30 - all three going to Henry's books. Neil Wagner had a definitive plan of pitching it up or keeping the ball at a good length to force the batsmen commit to it. Ollie Pope's tentative prod and struggle to judge the bounce gave Wagner his first wicket of the day just before Daniel Lawrence fell without troubling the scorers.
Already 85 runs behind in the first innings, 58-5 in the second innings was not something England would like and they needed their talismanic skipper Joe Root to step up to the occasion. However, the English skipper's struggle in home conditions continued further as he took as many as 50 deliveries to score his first boundary. Meanwhile, Ajaz Patel showed his own flighted magic by deceiving James Bracey and Root in no time. Bracey, whose ascent to the international level was celebrated, could manage just 8 runs to add to his two ducks in the previous two innings. For a moment, it seemed like England would suffer an innings defeat but they had a certain Mark Wood to thank for.
Wood's enterprising 41 in the first innings was at the heart of the hosts crossing the 300-run barrier and the second innings was no different. He treated Wagner and Boult with absolute disdain yet fell prey to the former for 29. However, luckily for England, they crossed past the 100-run mark and saved themselves from the embarrassment of an innings defeat. At stumps, the hosts had a lead of 37 runs, with James Anderson and Olly Stone batting for the last wicket.